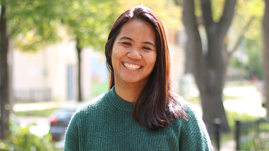 Hannah Guerrero
Campus Minister
University of Winnipeg
Staff since: September 2021
Hannah loves helping students become risk takers and servant leaders for God on their campus and in the world around them.
Hannah got her start with InterVarsity as a student leader and an intern at the University of Winnipeg. Her educational background is in Community Development and Policy Studies.
When she's not helping students grow in their knowledge of God's goodness and love for them, Hannah enjoys hiking and going to cafes. Her go-to Bible verse is Isaiah 43.