HOPE-INFUSED ART CHALLENGE
In times of uncertainty and sickness, unmet expectations, loss and lack, injustice, division and discord we can shift our perspective—turn what we see and experience on its side—and look at it in a whole new, fresh way. We can long for something different and ask where is there hope in these broken places? Where are there ways to help and lead others to find freedom, life and love? And then…anticipate that something unexpected and beautiful can emerge right before our eyes.
Hope is longing for something with hands wide open, ready to receive. It's the living in the not quite yet, but one day will be. It's witnessing glimmers of light happening despite the dark places through our relationships, in the beauty and rhythms of creation, in laughter, longing and love.
WHAT is the HOPE-INFUSED ART CHALLENGE?
In October 2020, all InterVarsity staff were invited to participate in the Hope-Infused Art Challenge: a challenge and invitation to reflect on and take stock of the current reality and its impact on our lives, nation, and ministry; and then ask where do you see and find hope? Through submissions of artwork: including photos, paintings, poems and songs, staff across Canada reflected back beautiful and inspiring pictures of hope!
Untitled
Sarah Penny​
Poem
Hope is far more spacious than we give it credit for​
Hope has room for frustration​
it has room for struggle and doubt​
it welcomes the visit of lament​
and righteous anger​
Hope allows a place for Darkness to reside​
it sits within its company​
shares a meal with it​
and doesn't rush it out the door when the plates are cleared
Hope is content to hold space with Darkness​
because even though Darkness may linger​
and in the view of the neighbors​
it may overstay its welcome​
Hope is content to host Darkness for however long it stays​
Hope is not taxed by it​
it is not suffocated by it​
rather it is sustained by a source of Light​
that Darkness is unable to diminish​
Hope holds a flame that cannot be extinguished​
and maintains a warmth within the home​
a guiding light​
despite the company of​
cold and disorienting Darkness​
and when Darkness has finished its stay​
Hope continues to reside within the home​
nurturing and illuminating​
as seasons come and go​
and when Darkness knocks once more on the door​
Hope opens it and sets the table​
able to host deepest sorrow​
and not be consumed by it​
Yakhal​
Paolene Nepomuceno​
Mixed media​
lately,​
hope looks like patient waiting,​
or longsuffering, ​
in the darkness.
it is in lament –
cries unheard,
prayers unanswered,
works unfinished,​
– that we sit in longing.​
through this fire,​
our grief and sorrow​
burn as incense to our Christ.​
we are being refined –
o my soul,​
peace,​
be still,
– into pure gold.​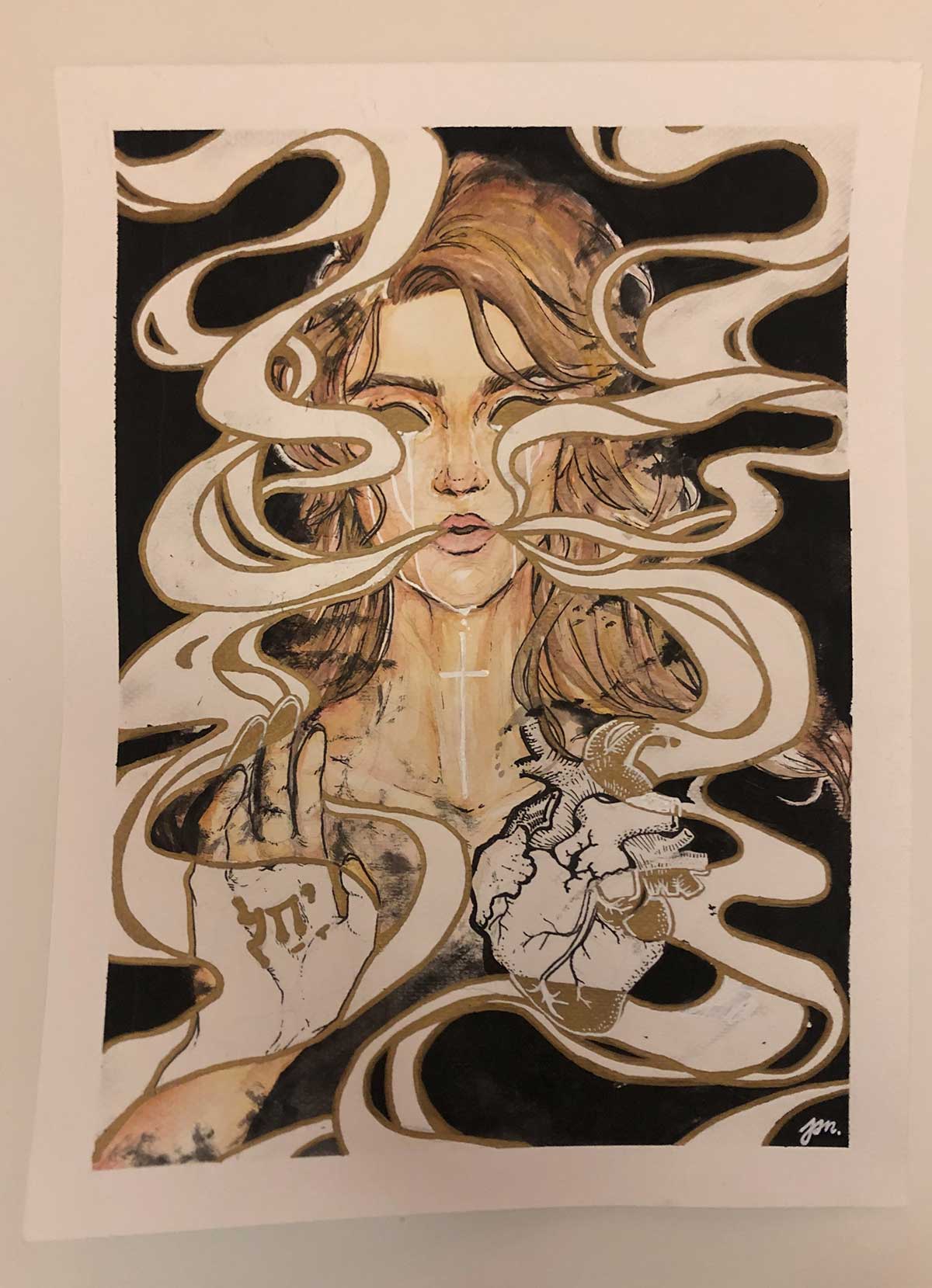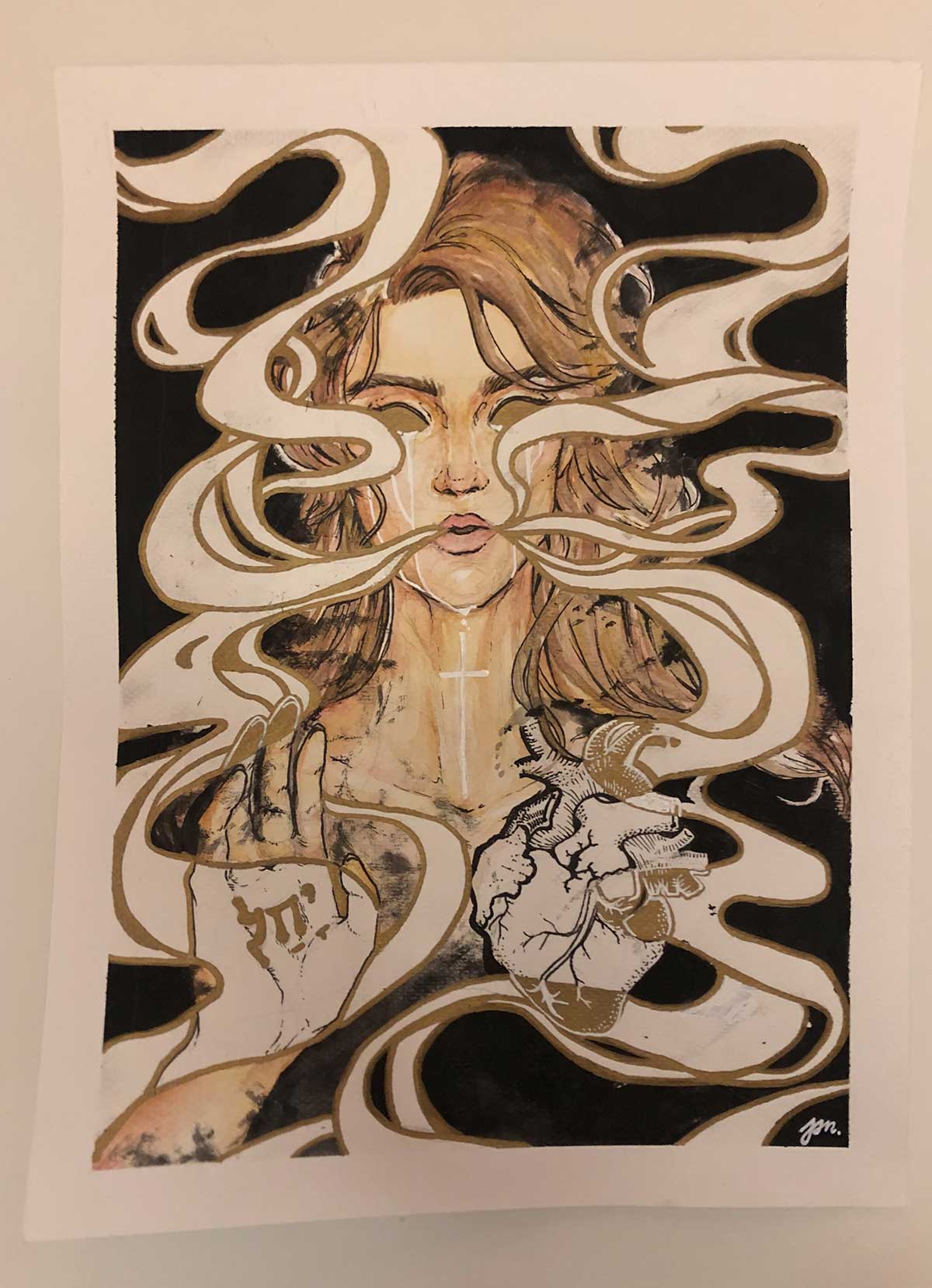 Hope in Uncertainty
Tony Lai​
Video​​
"Wishing is ubiquitous, but it can be kind of an escape from reality. Hope is different because it has to do with facing reality," Jon G. Allen​
Hope is not a wish. It is a readiness to move; Waiting for the car to arrive; then jumping in the car and driving off into the future. Hope is in God who has come and is coming and will come again.​
Crocus
Alanna Waines​
Poem
Crocus.
Your velvet soft violet peaks amidst the sleeping grasses.​
You bloom and fade quickly.​
Strong and resilient despite your soft touch.
You emerge from the winter cold.​
A promise. ​
A simple sign of hope.
The sun rising each morning is oft ​
Too regular. Too constant. Too assumable​
To keep its profundity.
But you,
You breathe life and beauty into places recently barren and lifeless. ​
You emerge having hidden amidst silence and cold. ​
A harbinger of warmer days to come.
As the water begins to flow quicker…breaching the ice that has blanketed its winding course…
You gaze on.
​Life begins anew. ​
A New Chapter. A New Season.
Hearts soften. Hope Renewed.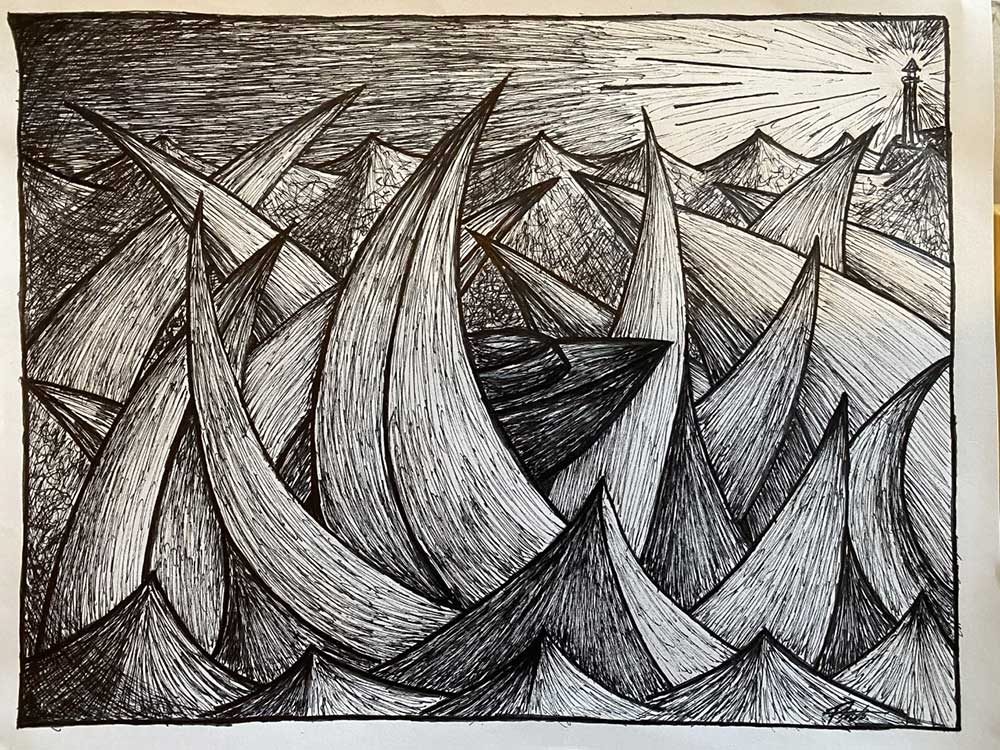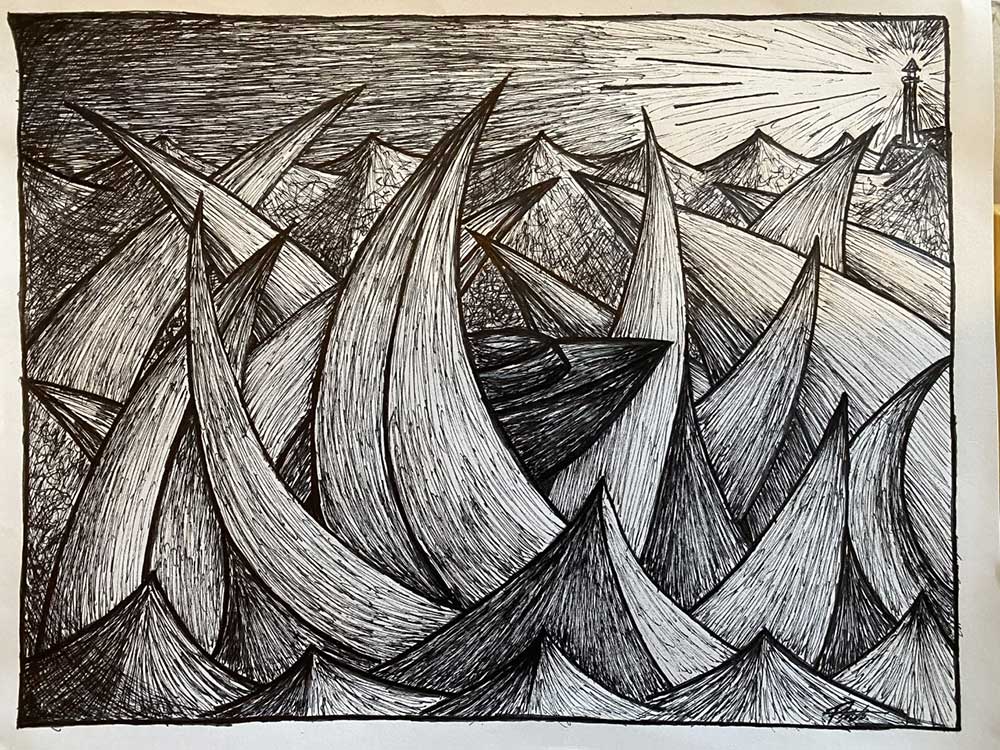 Hope
I want to hope in God, not an outcome​
not a prize, not this path of control​
that drops everything into my empty hands​
I want to rest in hope as something​
that's already happening to me.
I am unfolding, trying on new layers of nakedness,​
more helpless than I imagined possible​
but also fully here.
My hands are useful but not holding​
the world.​
Somewhere beyond the rim of tomorrow​
things are happening which I may​
or may not have expected​
Today I taste hope,​
let it become part of me,​
light a candle for what I haven't yet​
discovered, mourn the loss​
of all the plans I had​
instead of hope.
Already-But-Not-Yet​
Susan Norman
Poem
This is designed to be a participatory poem to be read aloud. The audience joins in (enthusiastically) with "All those legs" when the reader gives a signal.
Read poem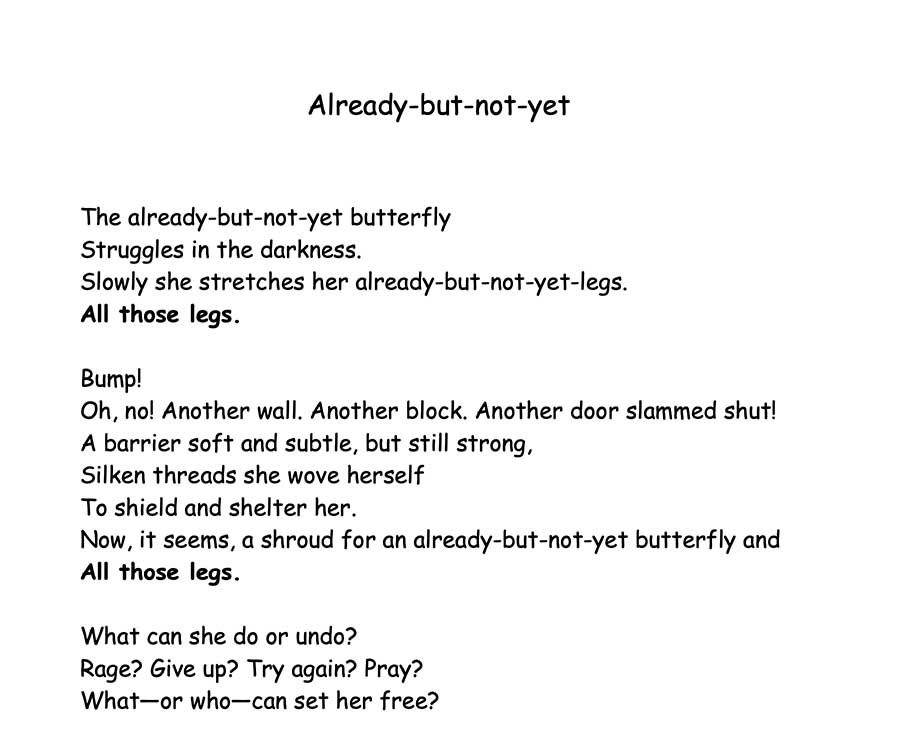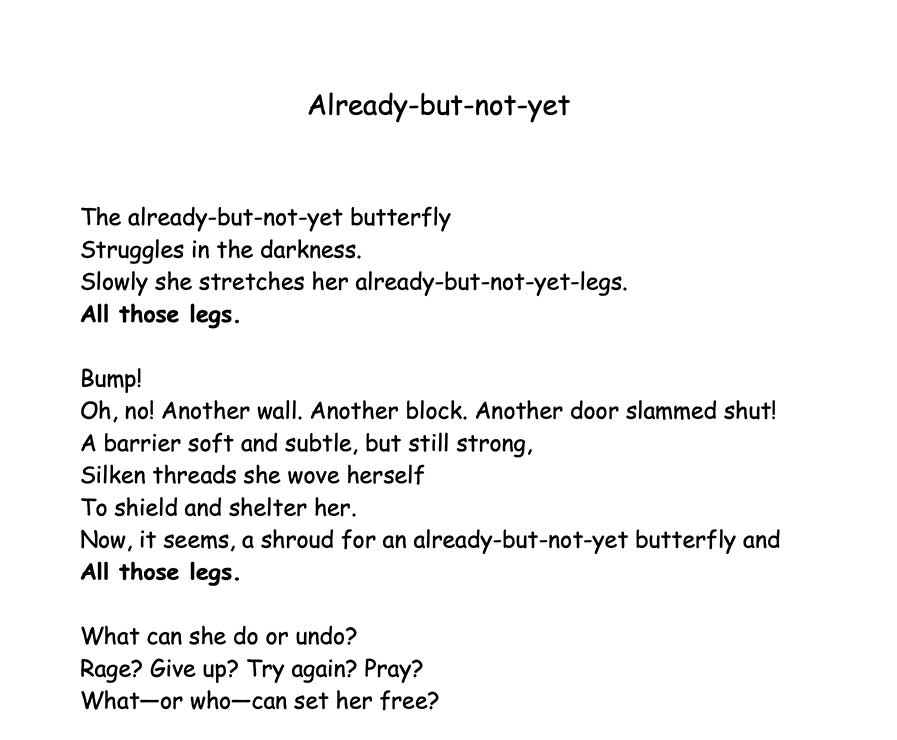 James Siebert​
Photo
Here's a photo that, to me, represents hope in the midst of the storm. The clouds were billowing, yet an osprey was soaring freely, high in the sky. Isaiah 40:31 says,​
"…those who hope in the Lord will renew their strength. They will soar on wings like eagles; they will run and not grow weary, they will walk and not be faint."
James Siebert​
Photo
This picture (taken by me) represents hope. Though there is brokenness and death, there also is life. God is working creating beauty out of ashes. I am reminded of Isaiah 61:1-3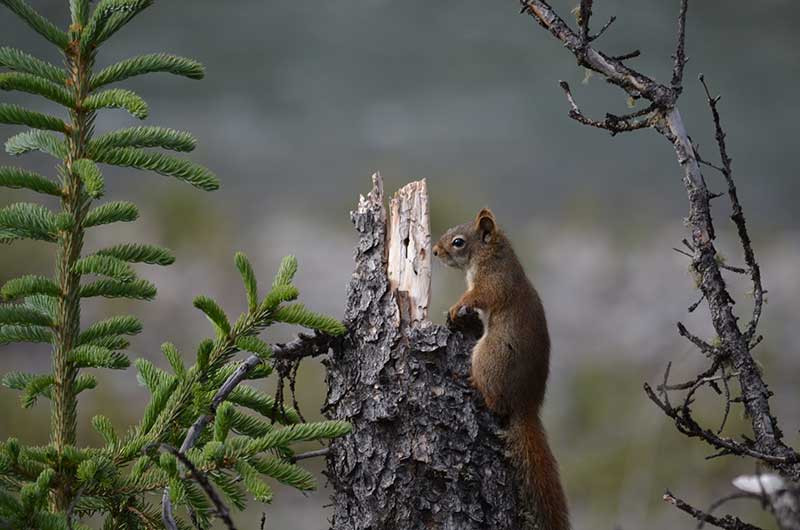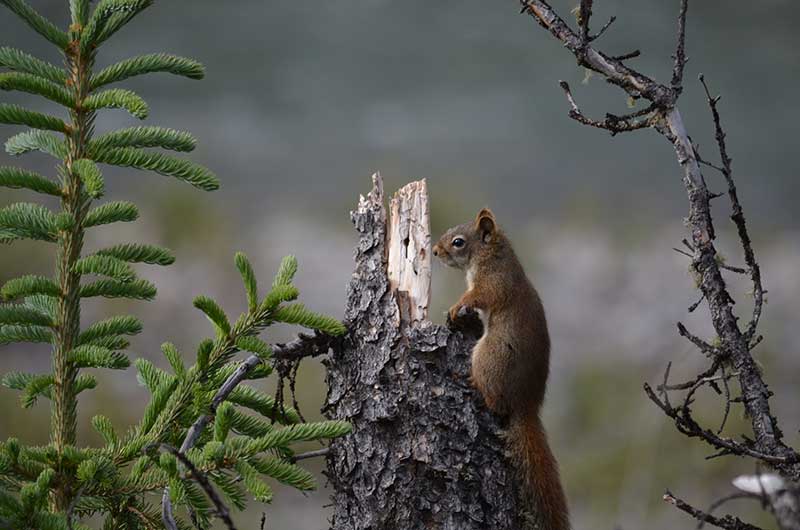 Light at the End of the Tunnel
Hannah Guerrero​
Painting
The tunnels I am walking through in this season look like waves. However, Jesus continually invites me to walk on water and to look at Him; my hope and trust are found in the Light of the World. The painting is inspired by Isaiah 43:2, Matthew 14:29, and John 8:12.​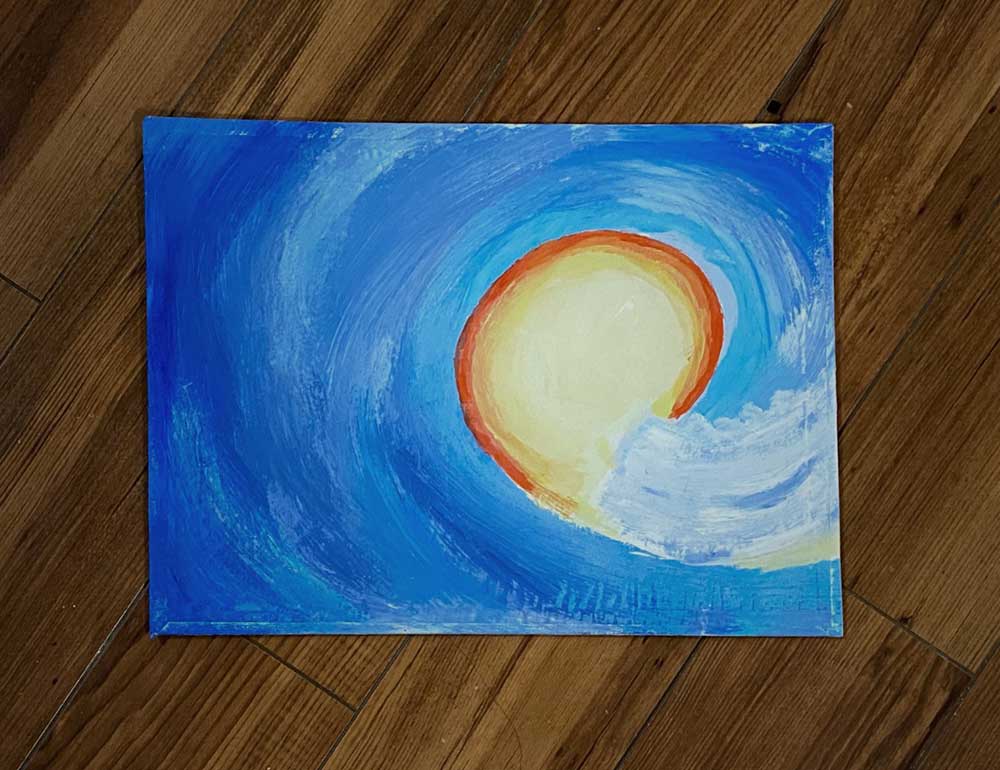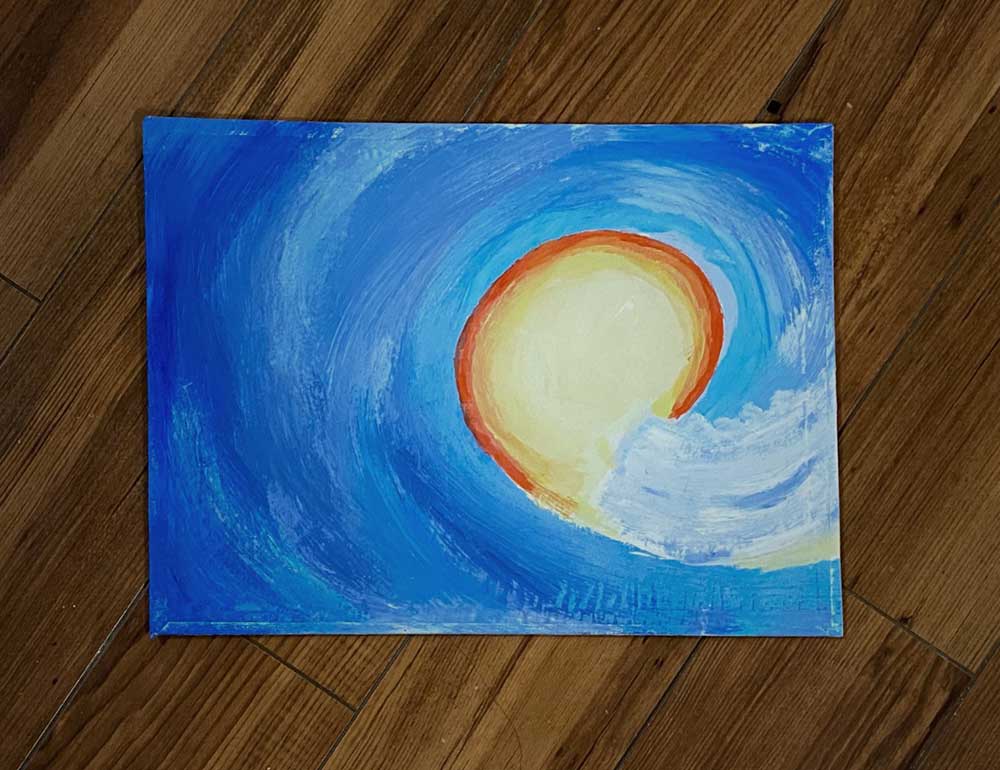 Raindrops
Archi Balakumaran​
Crochet square​​
Representing God's hope in the midst of a storm.Referencing God's covenant with Noah and Jesus calming the storm.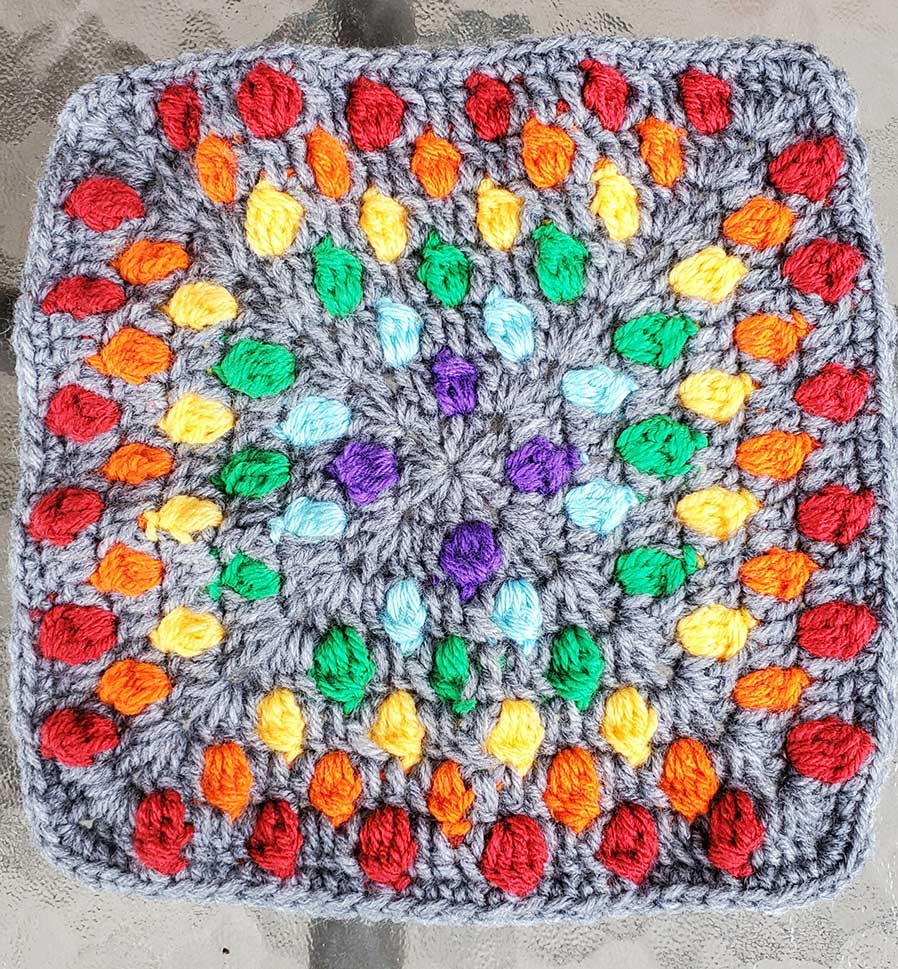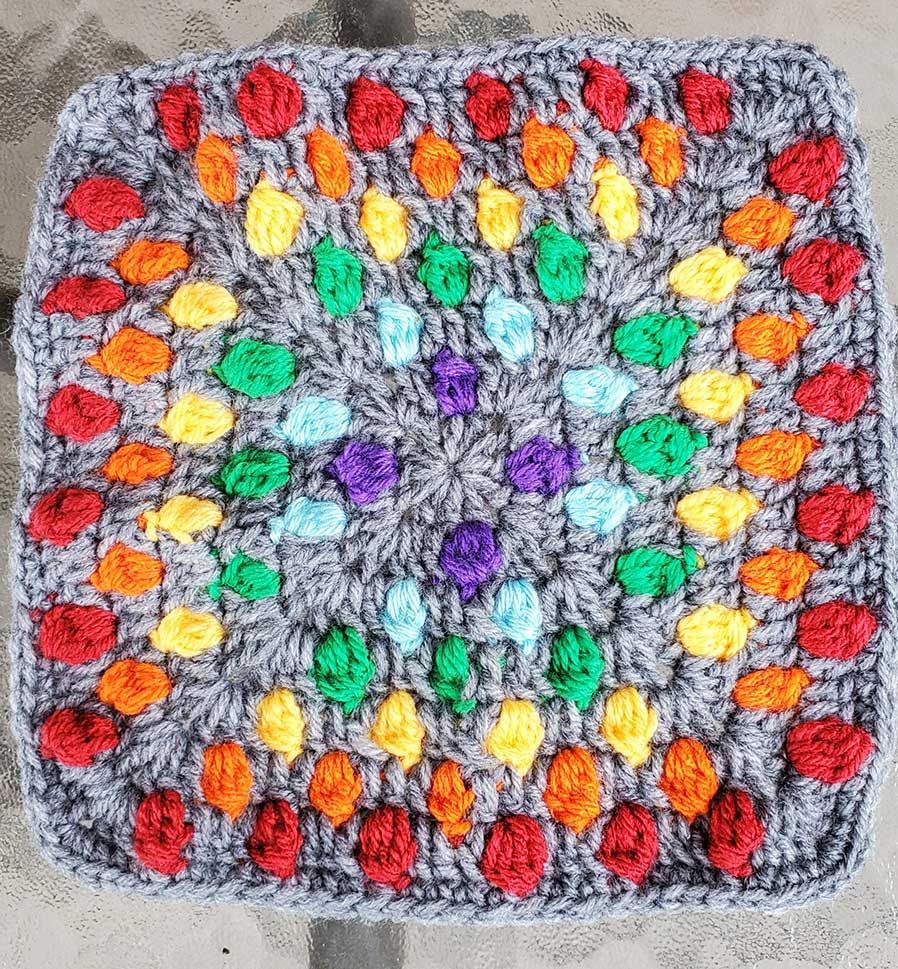 Janna Ehrenholz​
Quilt​
These quilts are made (in part) from recycled denim. Using old jeans and other preloved materials gives the fabric a new lease a life; something that is always hopeful!​
I made these quilts as gifts for my family members. The smaller one is for my sister and is made of 66% recycled materials. My sister gives me hope because of her perseverance.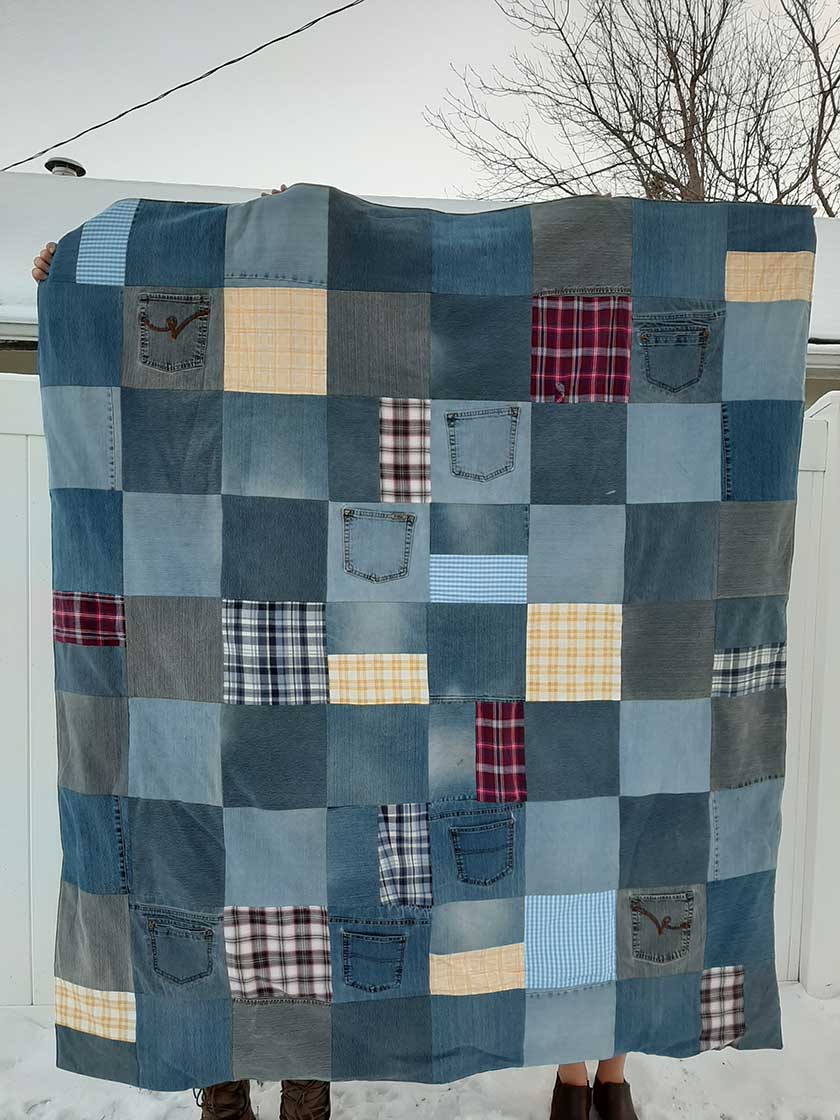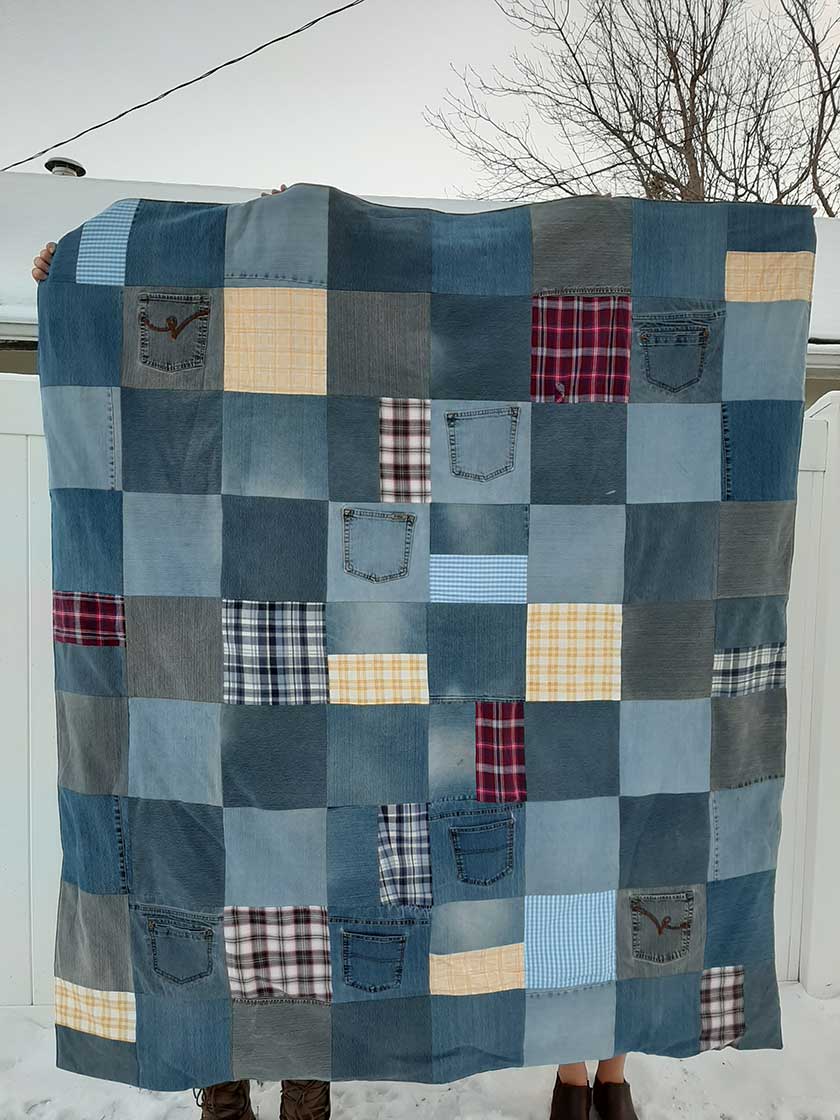 Janna Ehrenholz​
Quilt​
The larger quilt is for my parents and is made of 33% recycled materials. It's a gift for their upcoming 30th wedding anniversary. Their 30 years of marriage give me hope in many ways.​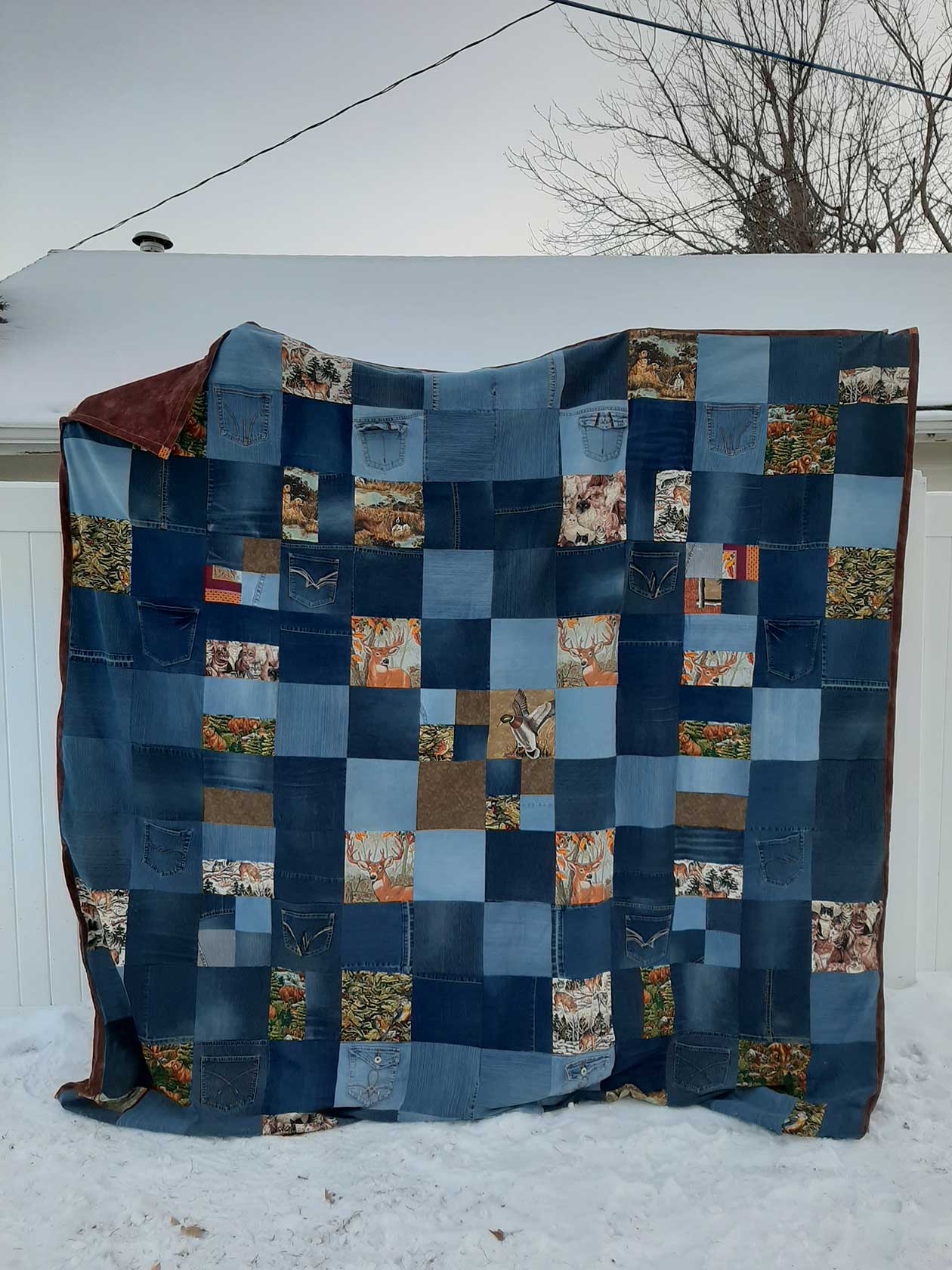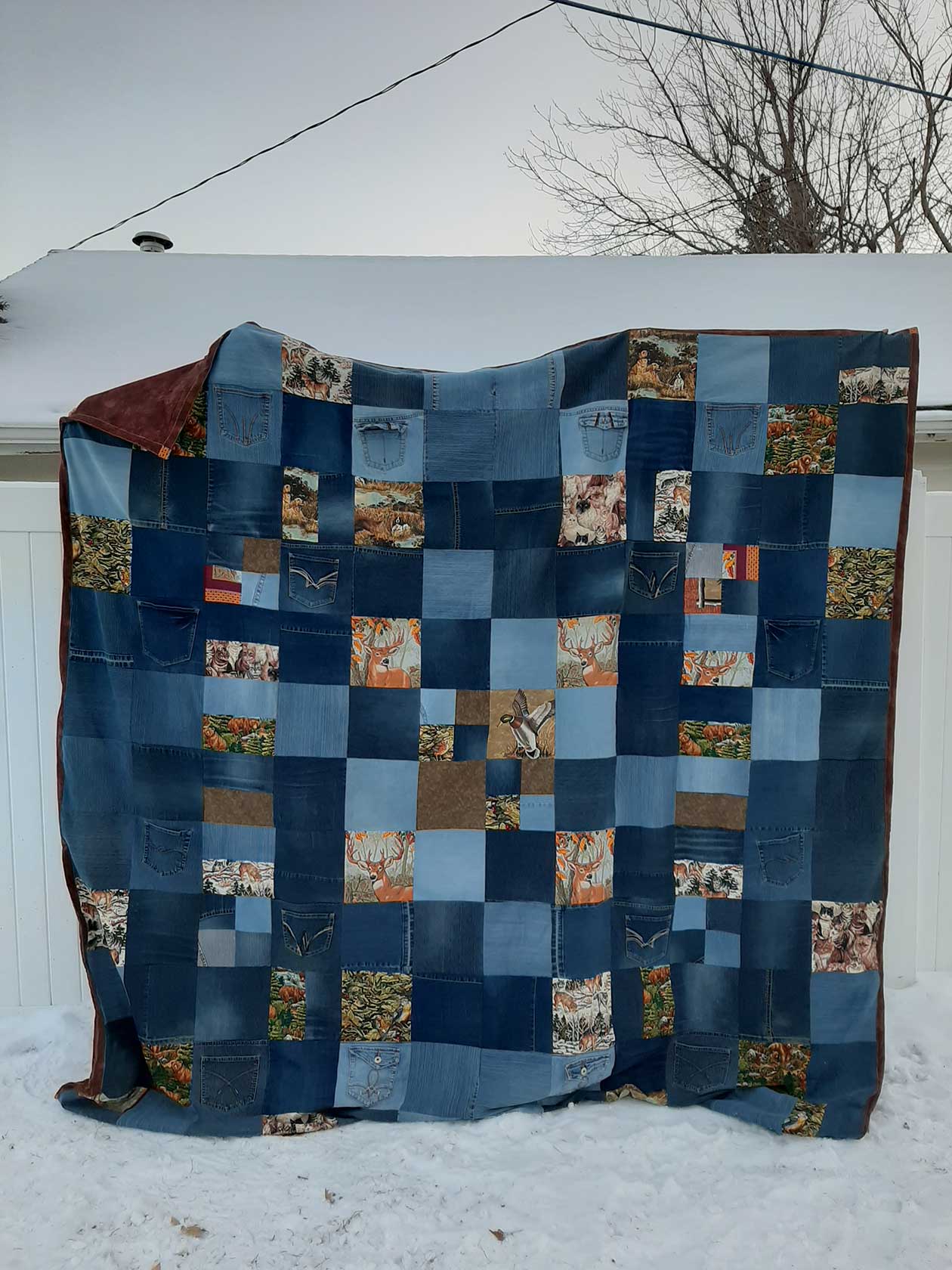 SK Team 2020
Rachelle Low​
Photo​
I'm not sure if that photo is necessarily artsy. But that photo is filled with a lot of hope. Firstly, amidst COVID restrictions, the Saskatchewan team had the privilege to gather in-person at camp for 3 days. Secondly, John (top left) was hired at CSR Wolf Creek in October in the midst of the pandemic. Having someone on site in this season is an active act of hope, believing that camp will flourish even during a pandemic. Thirdly, we dreamed about the trajectory of the ministry of InterVarsity in Saskatchewan for the next 10 years, hopeful that the next decade is of us walking in the Good Way. ​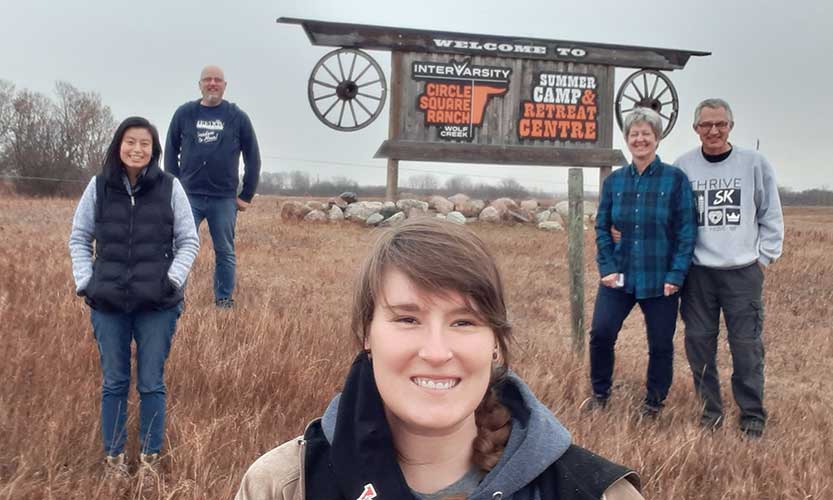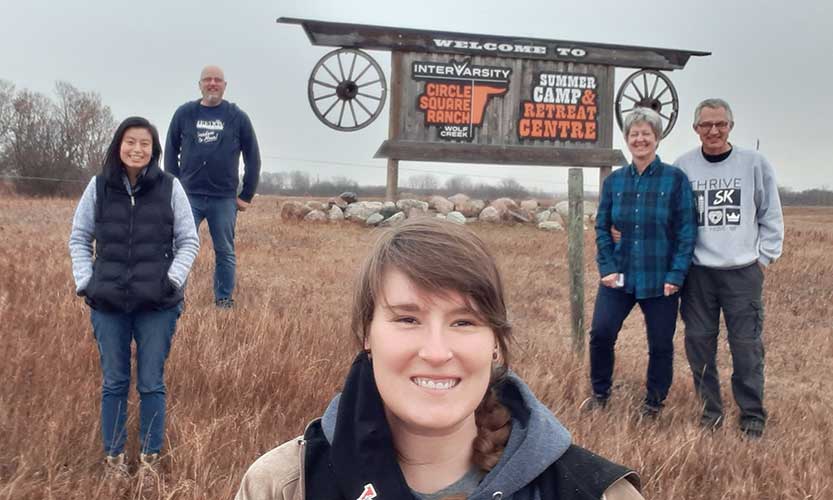 Advent Musings
Rachelle Low​
Photo​
As the season of Advent approaches, I am reminded of Hope amidst waiting. This is one of my favourite seasons: snow ❄️, cups and cup of tea, cosy blankets, fuzzy socks ? and of course Christmas stationery! This is when I write and deliver Christmas cards. I wait for this season all year. I like to think that the cards I send are a tangible sign of hope. ?​
As we wait expectantly, may we wait with hope and may hope birth joy when the waiting is over. ​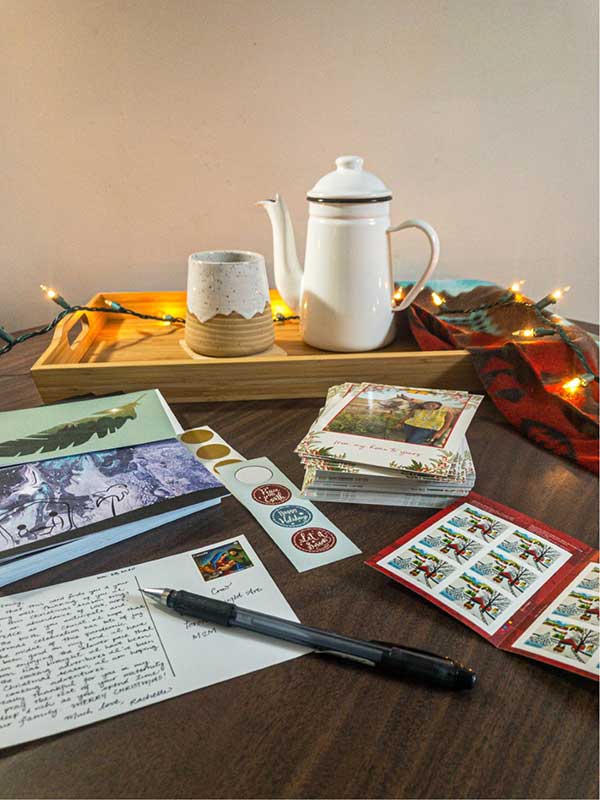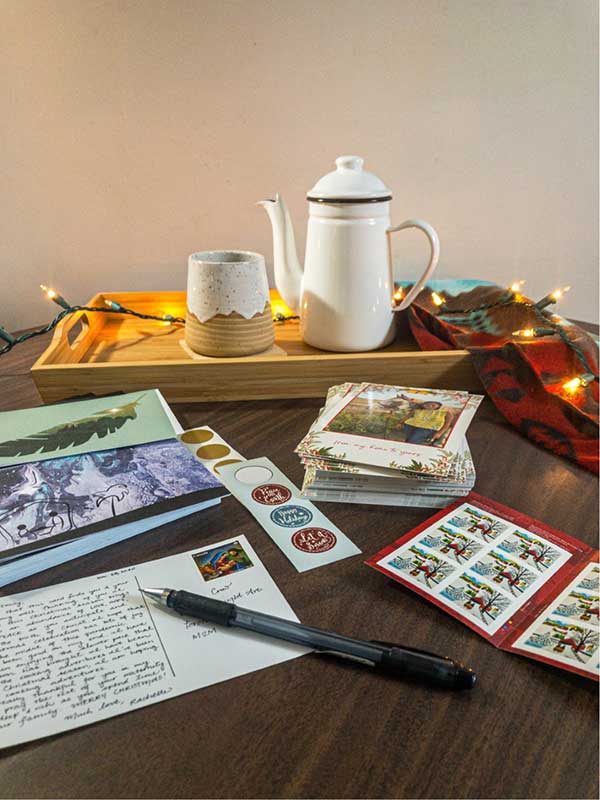 The Light Shines
Deirdre Walters​
mixed-fibre quilted wall hanging, 24″ x 24″​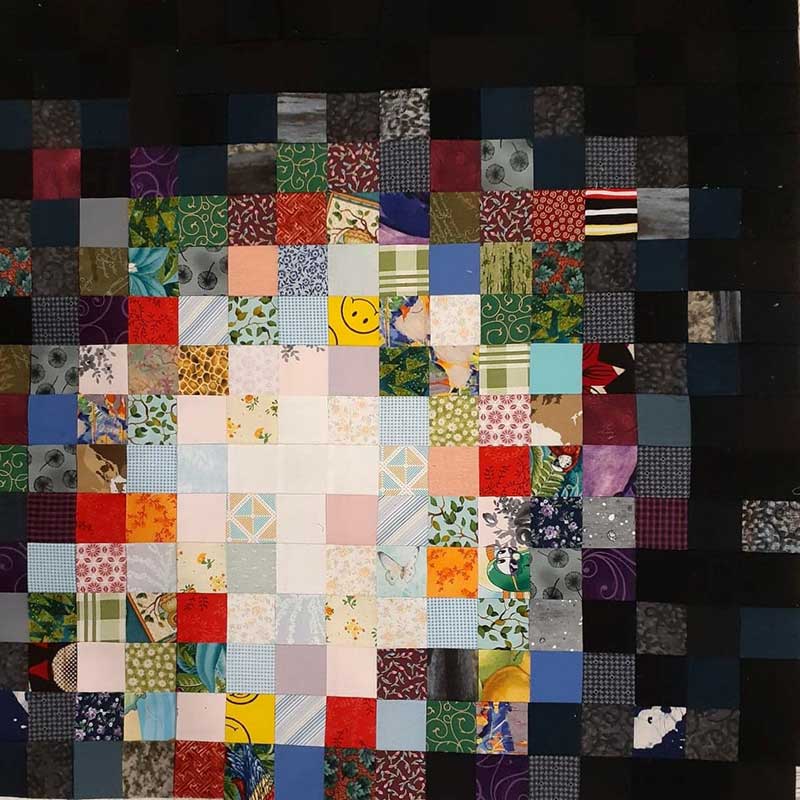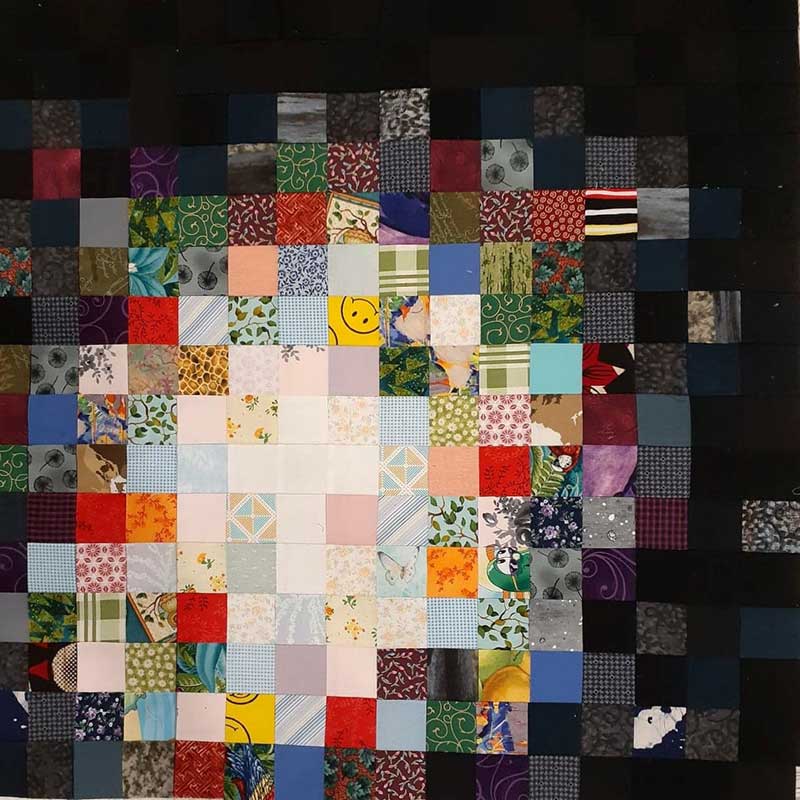 Crocus
Alanna Waines​
linocut print​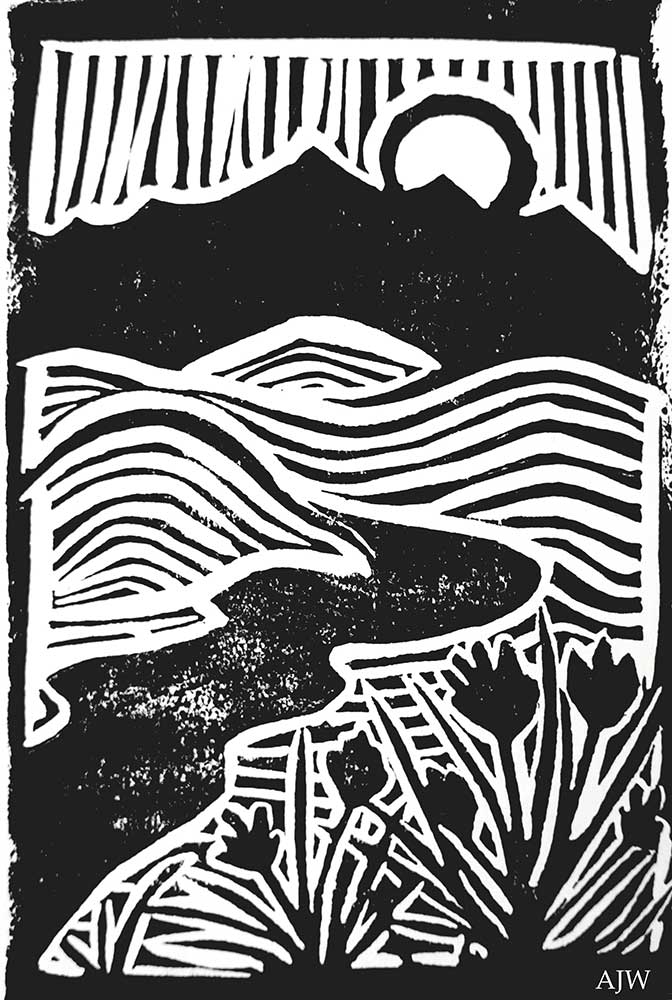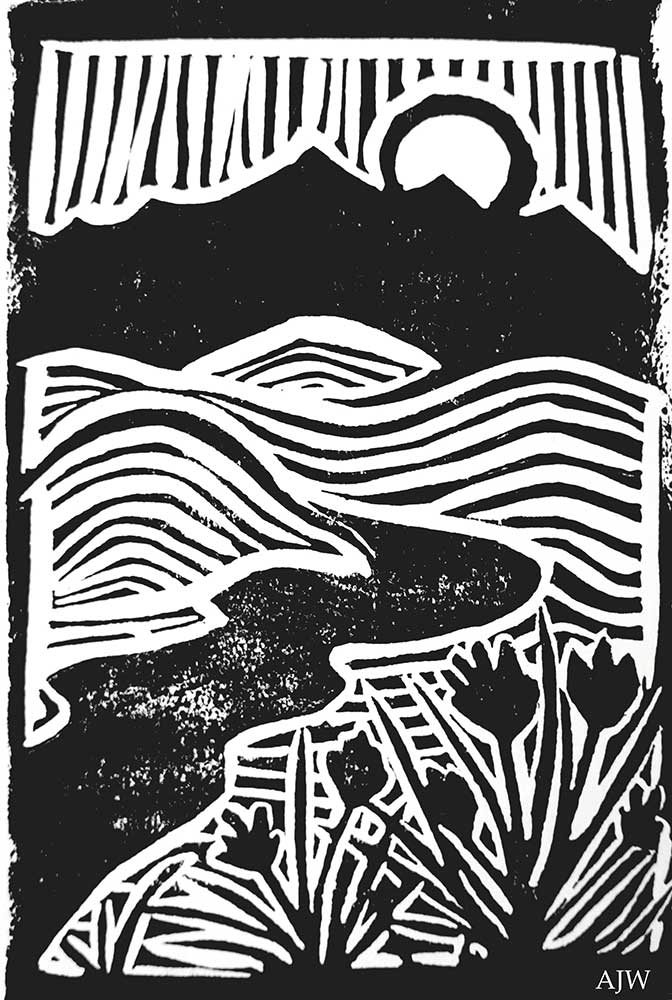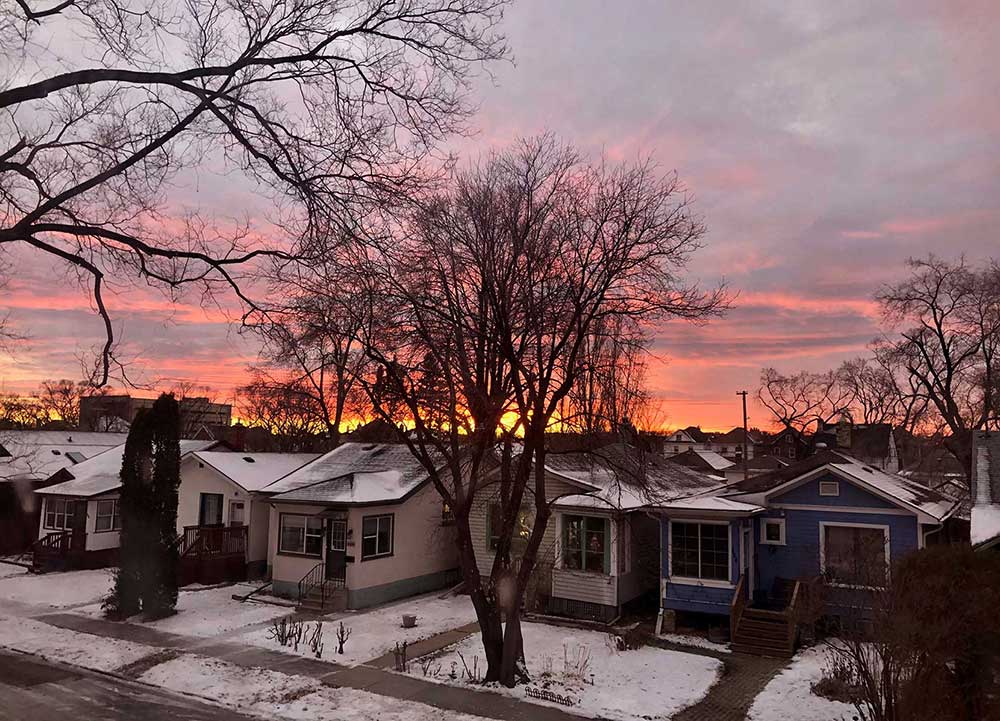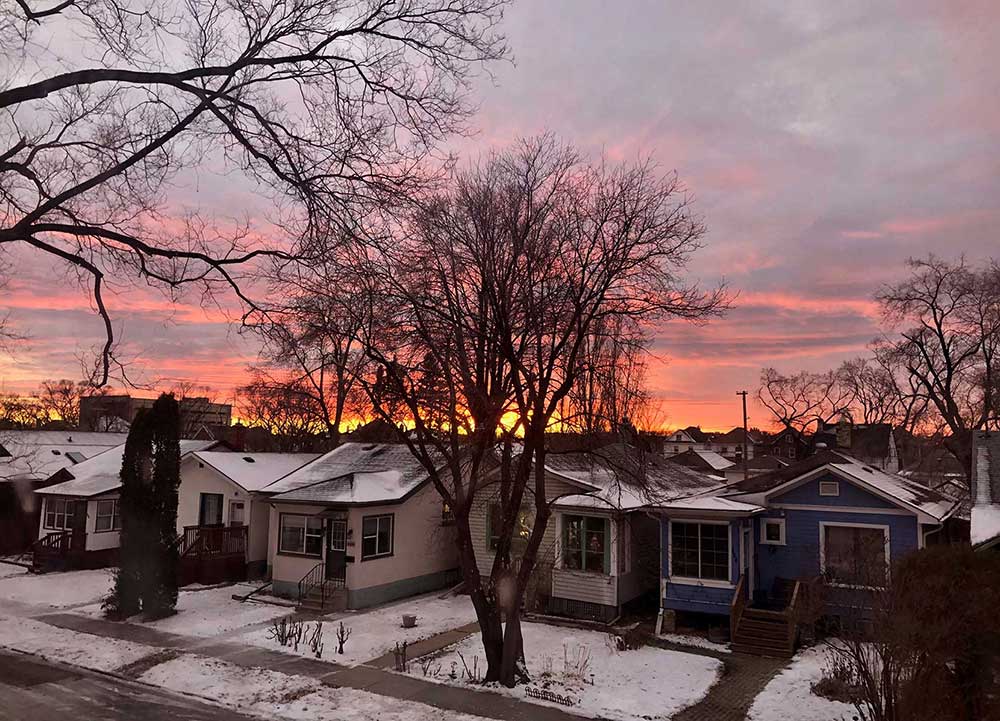 Ruth Brown​
Photo​
As I was walking through the Toronto Zoo after a snow fall this winter before the last lockdown, I saw this sign "Welcome to 2099" and smiled. When the pandemic began earlier in 2020 I wondered if I would live to see 2021 as a woman approaching 70 years old. Well here we are and we made it so far! This picture captures the hope behind the reforestation project the zoo is investing in. Planting trees and bushes and making plans to ensure beauty and spacious places to walk in nature for our children and grandchildren is a tangible sign of hope. ​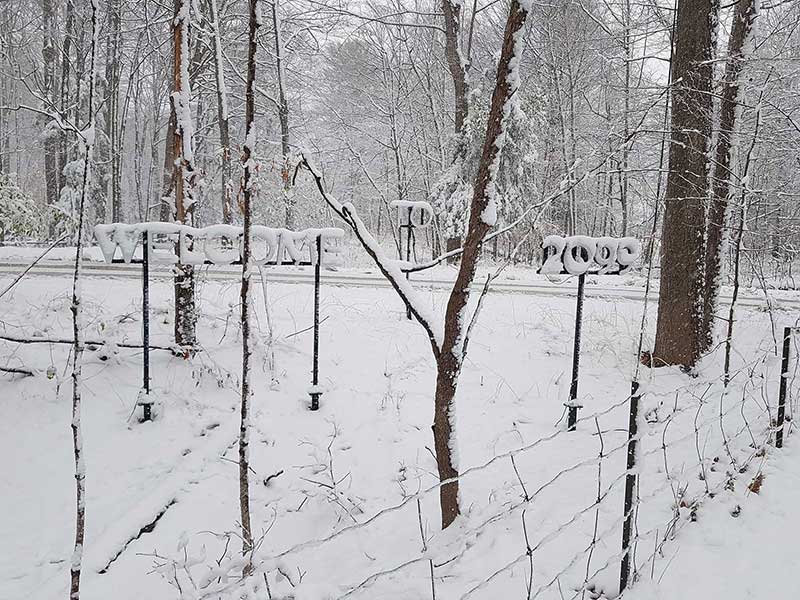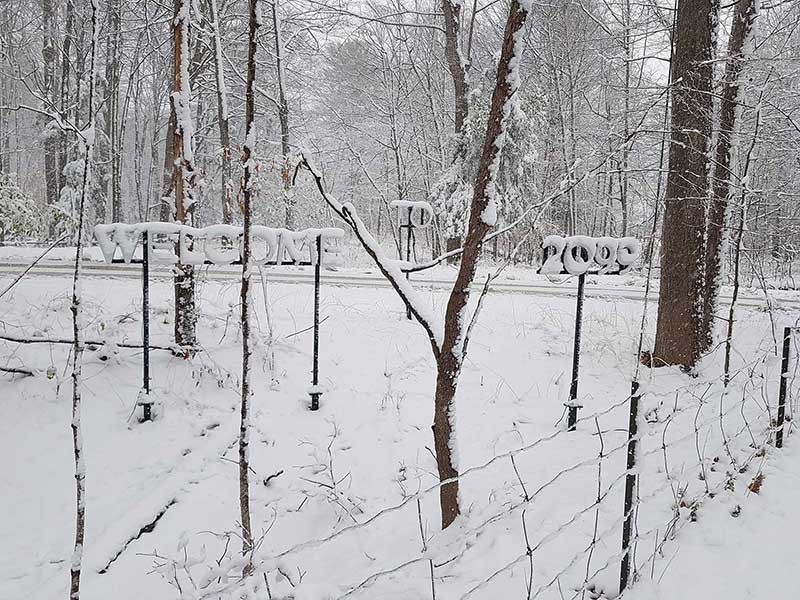 Hope is Rising
Rachel Schmidt​
Photo​​
I always think of hope as I bake croissants. They take so much time and patience. I feel like by the time they are risen and baked they are infused with hope of the past few day's that they have been in process.​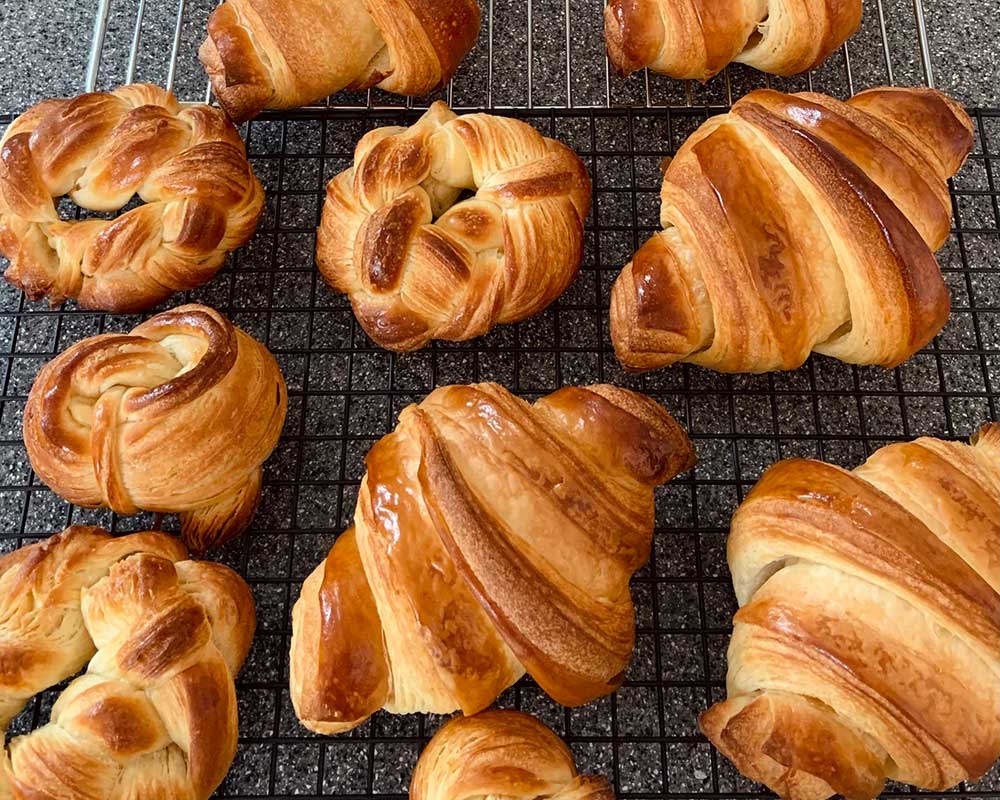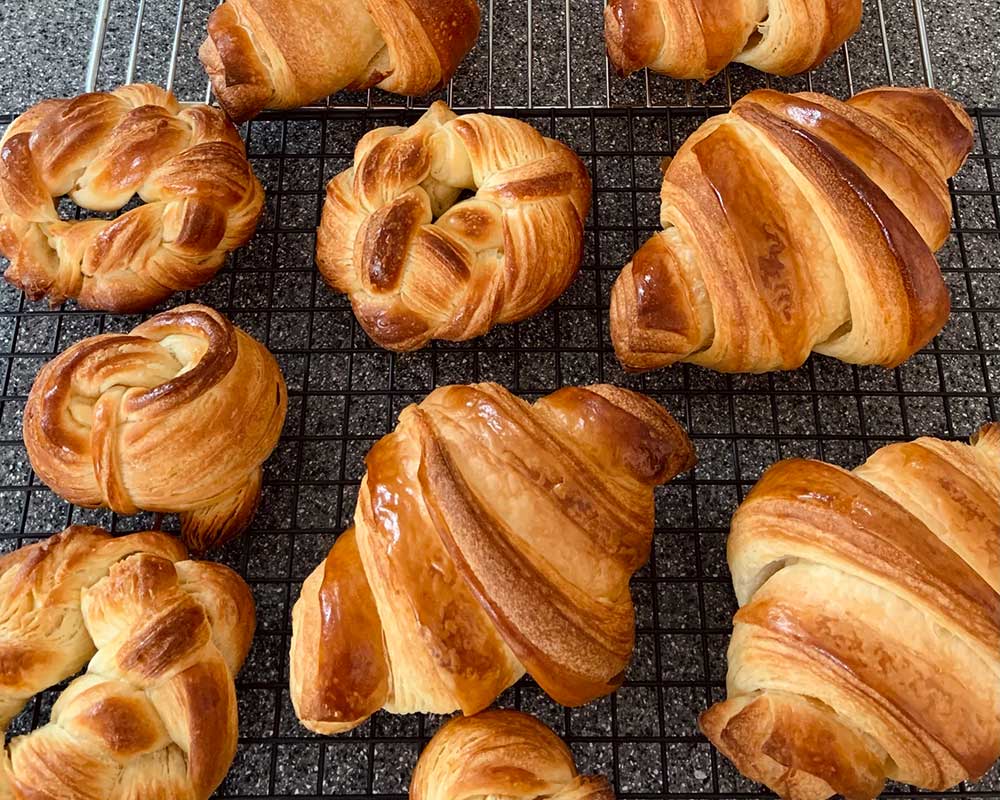 The Child
Dave Nguyen-Stone​
Song​
The Bearded Kent
Alan Thorimbert​
Narrative poetry​
Sometimes a piece of art gets created because a challenge and that is certainly the case with 'The Bearded Kent.' The poem was birthed in response to one of my housemates who dared me to write a story about The Bearded Kent. At first, the name struck me as a joke, but before I knew it, I had a character and a plot and I started writing. The poem itself is an amalgamation of influences, drawing upon old medieval ballad forms, European will-o'-the-wisp folktales, fairy tales about foolish Jacks, and of course, the classical myth of Icarus, the boy who flew too close to the sun. Thematically, the Bearded Kent was written in response to several conversations that I have had with students in recent months about hope and theological fatalism. Like many of the stories I write, the Bearded Kent is a kind of parable and I hope that it will both delight, fascinate and challenge you.
Read Alan's poetry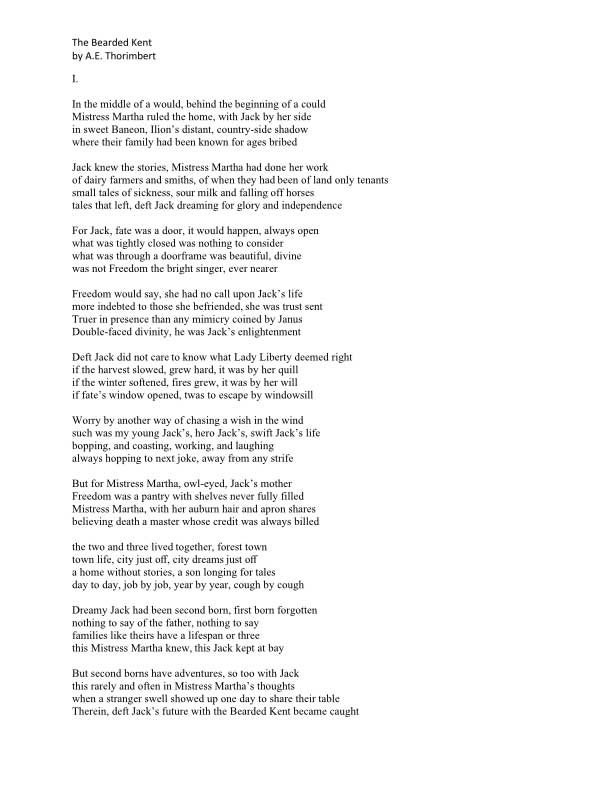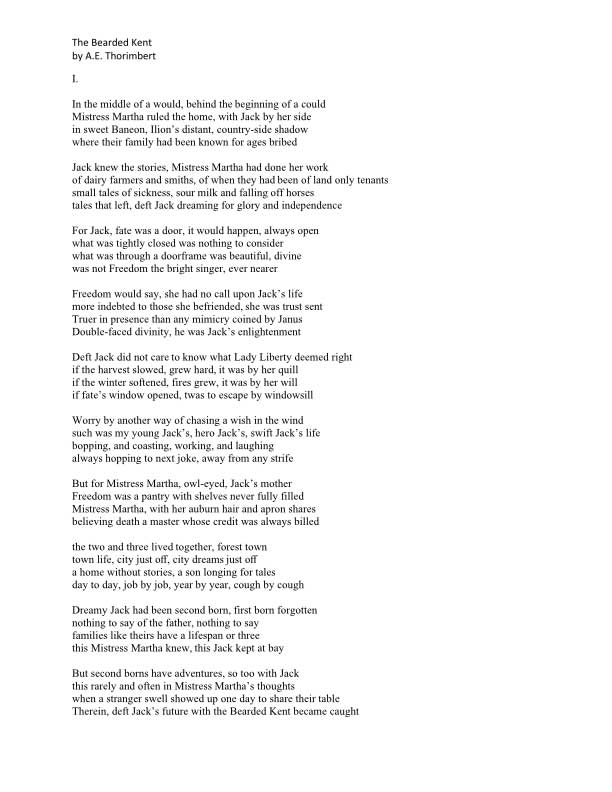 Hope on the Horizon
Cristy Dagenais​
Mixed media on paper​
'Hope on the Horizon' is a symbolic piece with the focus on Mary being pregnant with Living Hope. Jesus, the Word who became flesh and dwelt among us came to shine light in the darkness. King Jesus born to all humanity for our salvation so we can choose to join His unshakeable Kingdom forever and ever. Amen.
Scriptures that inspired this piece: John 1:14, Matt 6:22-23, Isaiah 54:10, 1 Tim 2:1-3, Daniel 2:20-23, Psalm 2, Romans 5: 5, 2 Cor 1:7, Heb 12:26-28​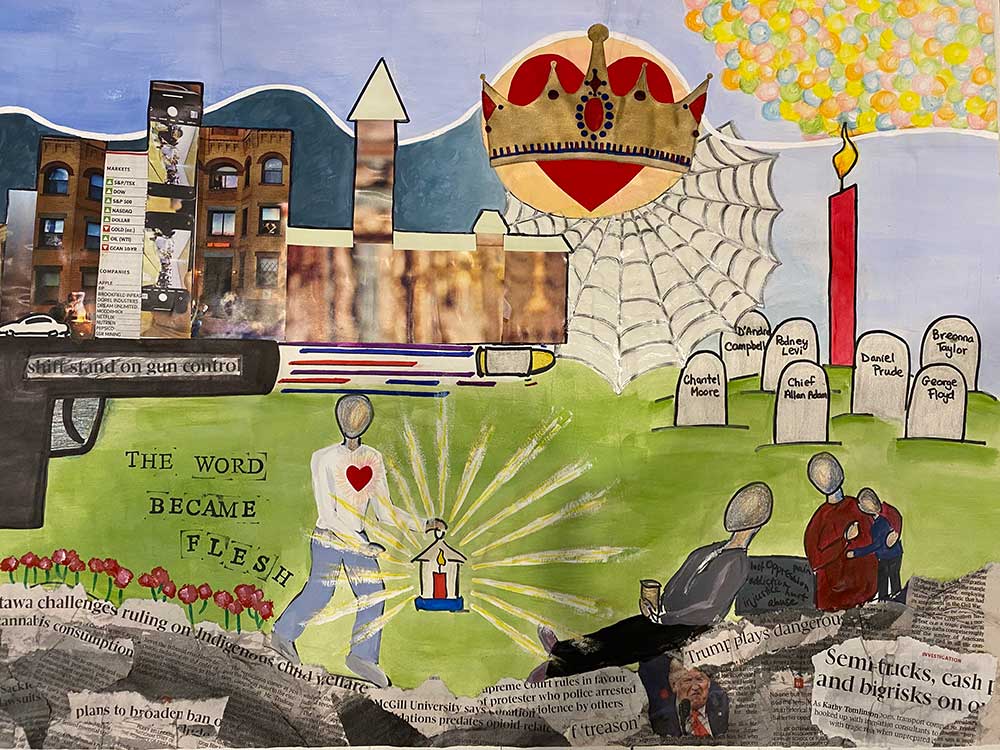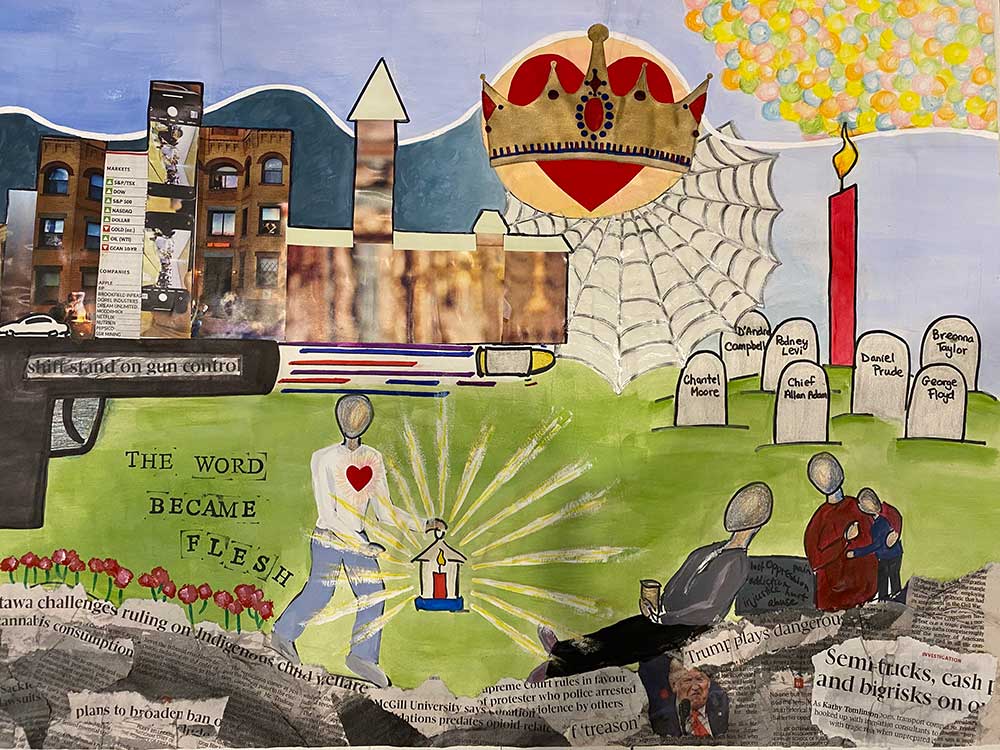 Ashley Easingwood​
Digital painting​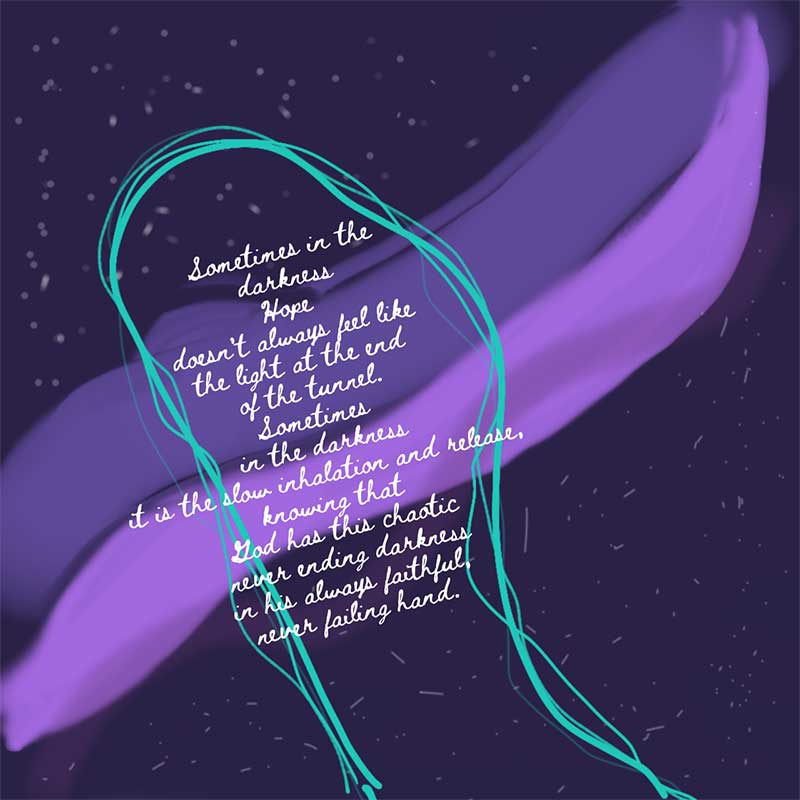 Hope Realized
Lynda MacGibbon​
photo​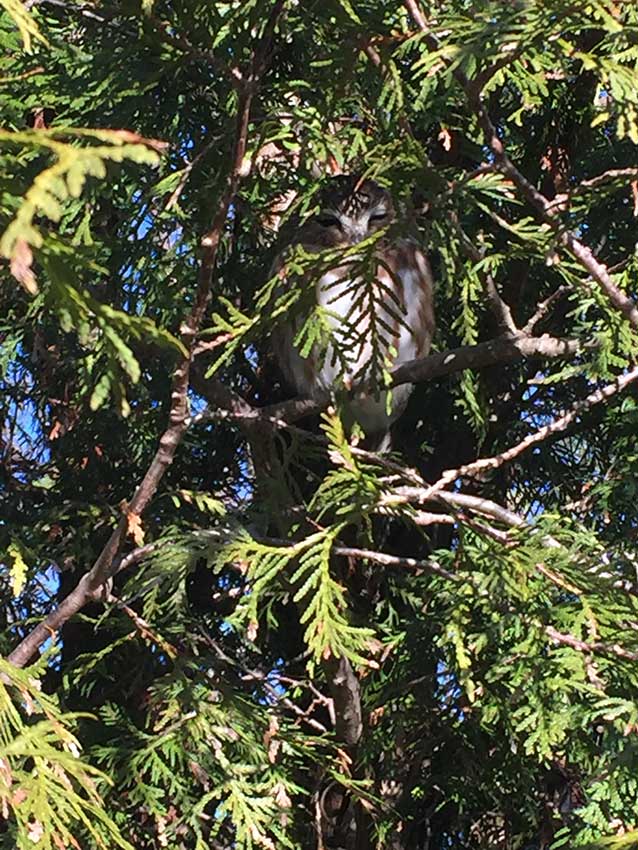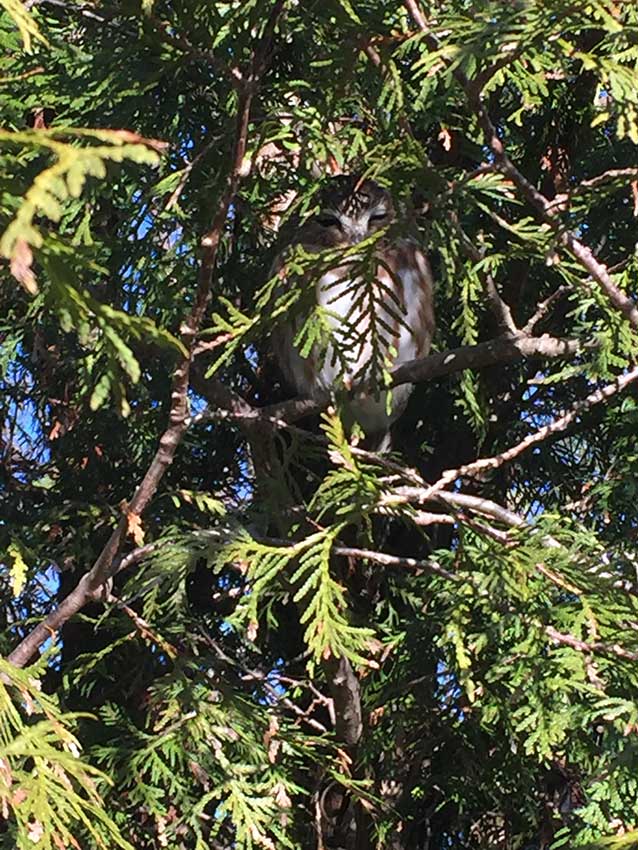 Solid Ground
Ben Lall​
Song and video​
All Things Made New
Danielle Klingelhofer​
Song and video​