The Crucial Years
By Nigel Pollock
InterVarsity President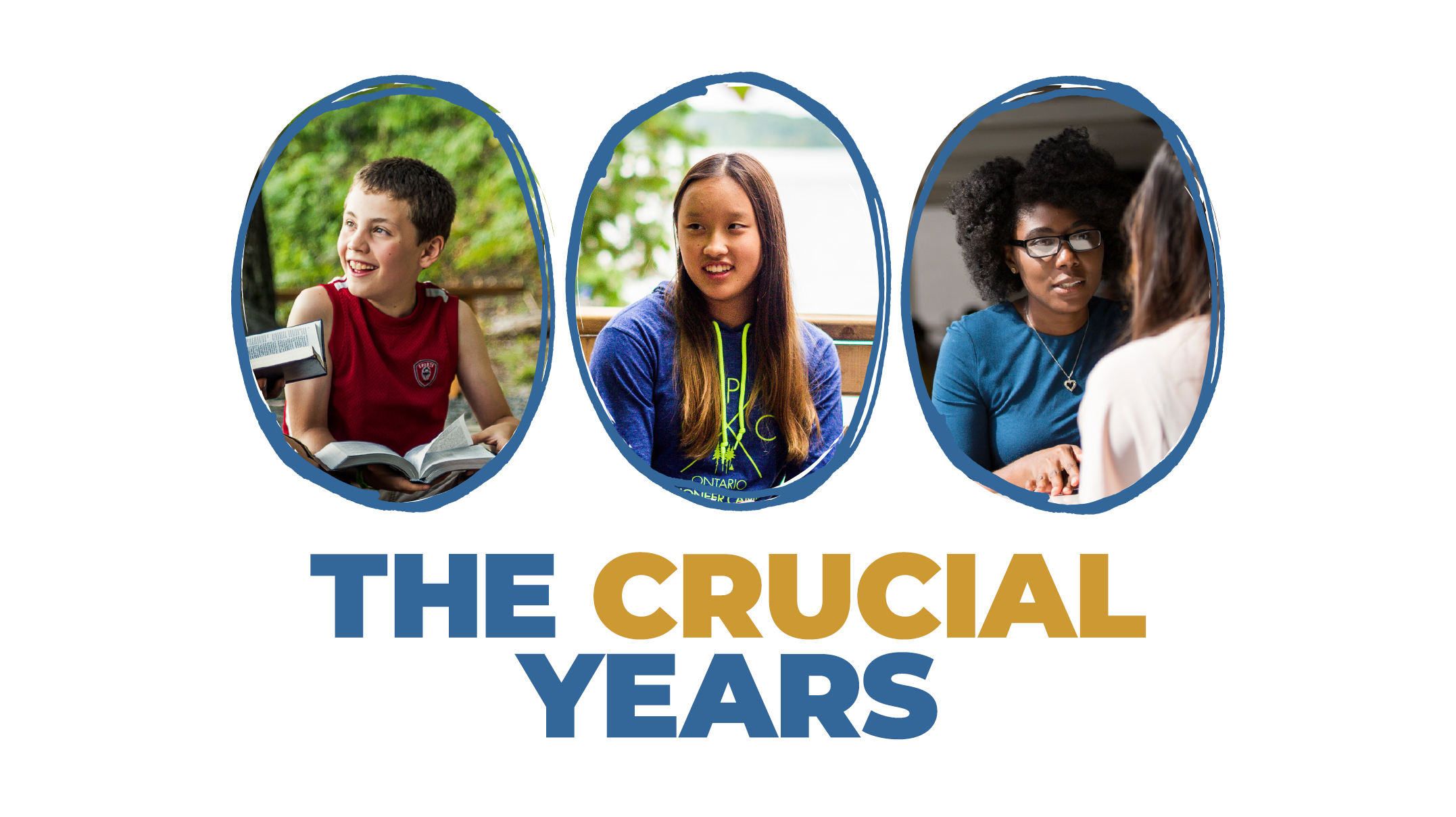 As we prepare to launch our new five-year strategy, we're giving particular attention to the crucial years. These years, between the end of childhood and the beginning of adulthood, are when young people form their identities and make lifelong commitments. Often lion's den years, vulnerable youth can find themselves in environments hostile to faith. These are also crucible years when character is forged, relationships formed, ideas investigated and
purpose explored.
Luke 2:52, a foundational verse for both Circle Square Ranches and some Pioneer Camps, gives insight into what characterized the crucial years for Jesus:
"And Jesus grew in wisdom and stature, and in favour with God and with people."
Uniquely Positioned
Wisdom in the Bible is derived from a vibrant relationship with God. Different from knowledge, it has a character dimension to it. From his youth, Jesus grew in dependence on God and in submission to his will. His reputation grew in his community and his Heavenly Father was pleased with him. It is a great testimony, confirmed by the voice from heaven at his baptism.
InterVarsity is uniquely positioned to help support young people. We welcome young children to our camps, but our focus on leadership development truly begins when they turn 14 or 15. Synergies catalyse between camp, high school, campus and workplace ministries in the crucial years.
We long to see young people experiencing the love of God, empowered to share this love and shape their world. We see a huge opportunity to broaden our reach and deepen our impact in a new generation of influencers. As we put our five-year plan into action, we are praying that thousands of children, students and graduates – and their families – will discover Jesus, foster undivided lives and develop gifts of service and leadership.
Complicated Mission
This is a pivotal era in Canada. The wider cultural context is complicated for mission. Post pandemic, many young people are hurting from isolation and have missed significant life events and opportunities to build resilience. Many struggle with mental health issues.
Ideological polarities keep expanding on issues such as ethics, identity, justice, the environment and the role of government. Differences between the world views of church and society are stark. In culture wars there is little space for neutrality and the very concept of truth is often a significant casualty.
The tides of secularism continue to erode the connection between religious faith, public policy and professional activity.
For Generation Z and Millennials, spirituality is divorced from religion and trust in leaders is at a low ebb. We are just beginning to learn about Generation Alpha (born after 2010/11), the upcoming leaders in our programs.
Big questions loom:
What is the purpose of education and the value of the university?
What will work look like and how do we prepare?
What will work look like and how do we prepare?
What is the place of church?
How do we show radical love that transcends societal ideas?
How do we apply Biblical truth to the big issues and relate the gospel to culture?
God is at Work
With church attendance continuing to decline, we sometimes feel like a voice crying in the wilderness. Still, such a voice can prepare the way for the Lord. God is at work.
At our spring university camps, participants studied Genesis, Mark, Ephesians and Revelation. One young adult said that studying Revelation passages about Babylon helped him understand his own workplace experiences. Nonbelievers joined and two students were baptized in a chilly lake! At our summer camps, staff want to deepen their prayer lives, love reading the Bible and are also asking to be baptized.
Our aim is to encourage a vibrant faith rooted in scripture, centred on the cross and resurrection of Jesus and characterised by grace, truth, love and hope. The way we do mission always needs to evolve as our context changes but the good news of Jesus is not ours to modify. We are confident in the Gospel.
We long to equip and empower young artists, leaders, teachers, preachers, entrepreneurs and change makers in their crucial years so they will love people, serve Jesus and advance His kingdom.
I invite you to keep walking with us, as we cannot do this alone. Will you increase your commitment to volunteering, financial giving and regular prayer? Perhaps God might even be calling you to join our staff team!
"Then we will no longer be infants, tossed back and forth by the waves, and blown here and there by every wind of teaching and by the cunning and craftiness of men in their deceitful scheming. Instead, speaking the truth in love, we will in all things grow up into him who is the Head, that is, Christ. From him the whole body, joined and held together by every supporting ligament, grows and builds itself up in love, as each part does its work." (Ephesians 4:14)
I can't think of a better description of growing faith in the crucial years.