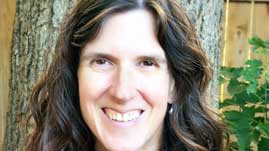 Karen Fletcher
Associate Director, Spiritual Formation and Prayer
National Resource Team
Staff Candidate since: May 2021
Karen prays for and offers spiritual resources to InterVarsity staff. She helps them live lives centered in God's unconditional love for them, embracing their identity in Christ and noticing his movements in their lives. She believes it is in experiencing God's transforming presence and formation in our own lives, it gives us the stories of hope, peace and joy that we can share with others who don't yet know Jesus. As a National Resource Staff she seeks to resource the camp and campus ministries so that youth, students and graduates are built up in faith, leadership and love. Please contact Karen if you want to know more about the ministry of InterVarsity at the National Service Centre.
Karen was a Campus Minister with InterVarsity for 10 years at Brock University before taking a break to raise her family. Now she's back to help staff experience God's transforming presence. Karen has a background in math and education as well as spiritual direction.
In her free time, Karen loves hiking in nature with her family and friends. A Bible verse that has meant a lot to her is Isaiah 41:9-10: Do not fear, for I am with you; do not be dismayed, for I am your God. I will strengthen you and help you; I will uphold you with my righteous hand.