Navigating Chaotic Times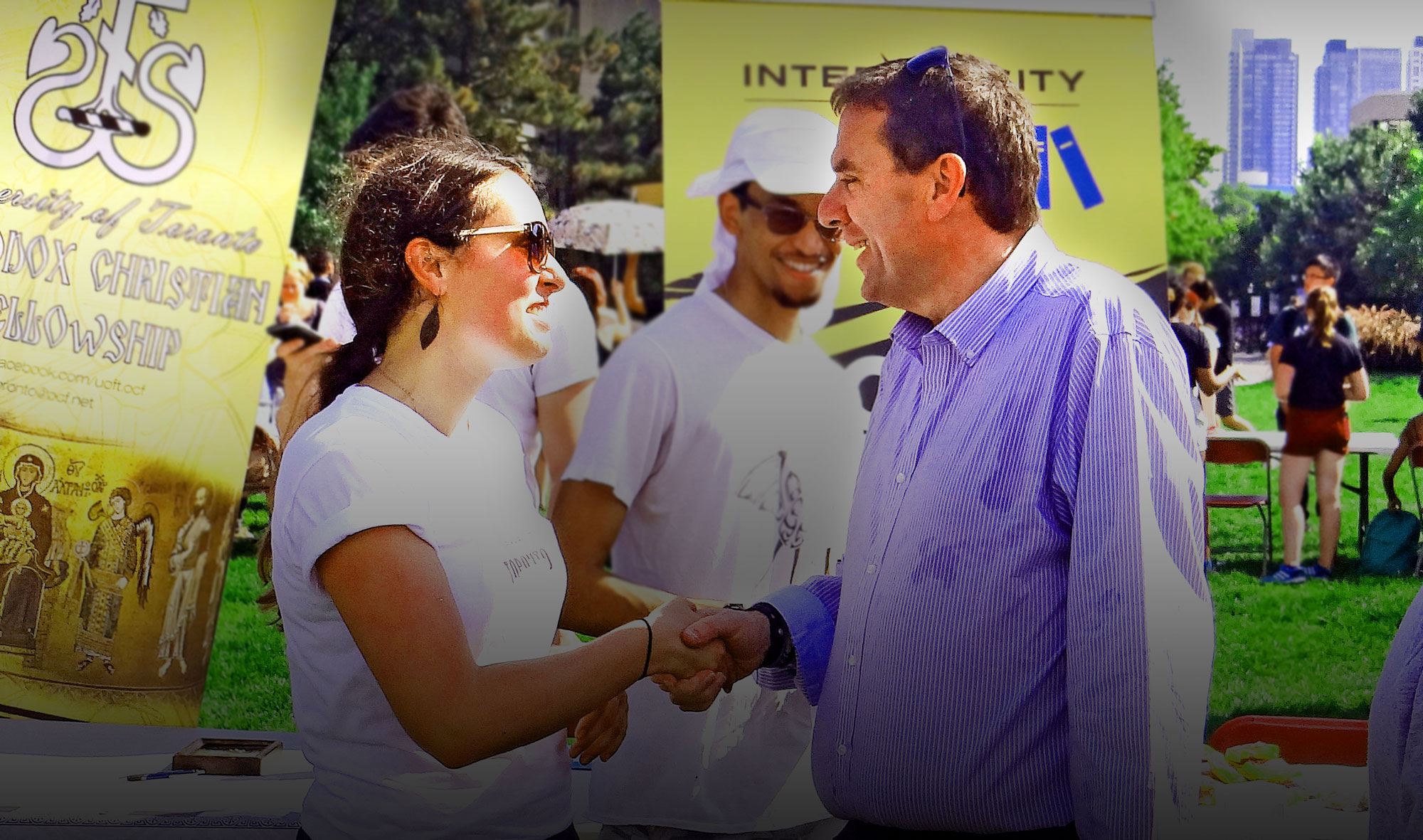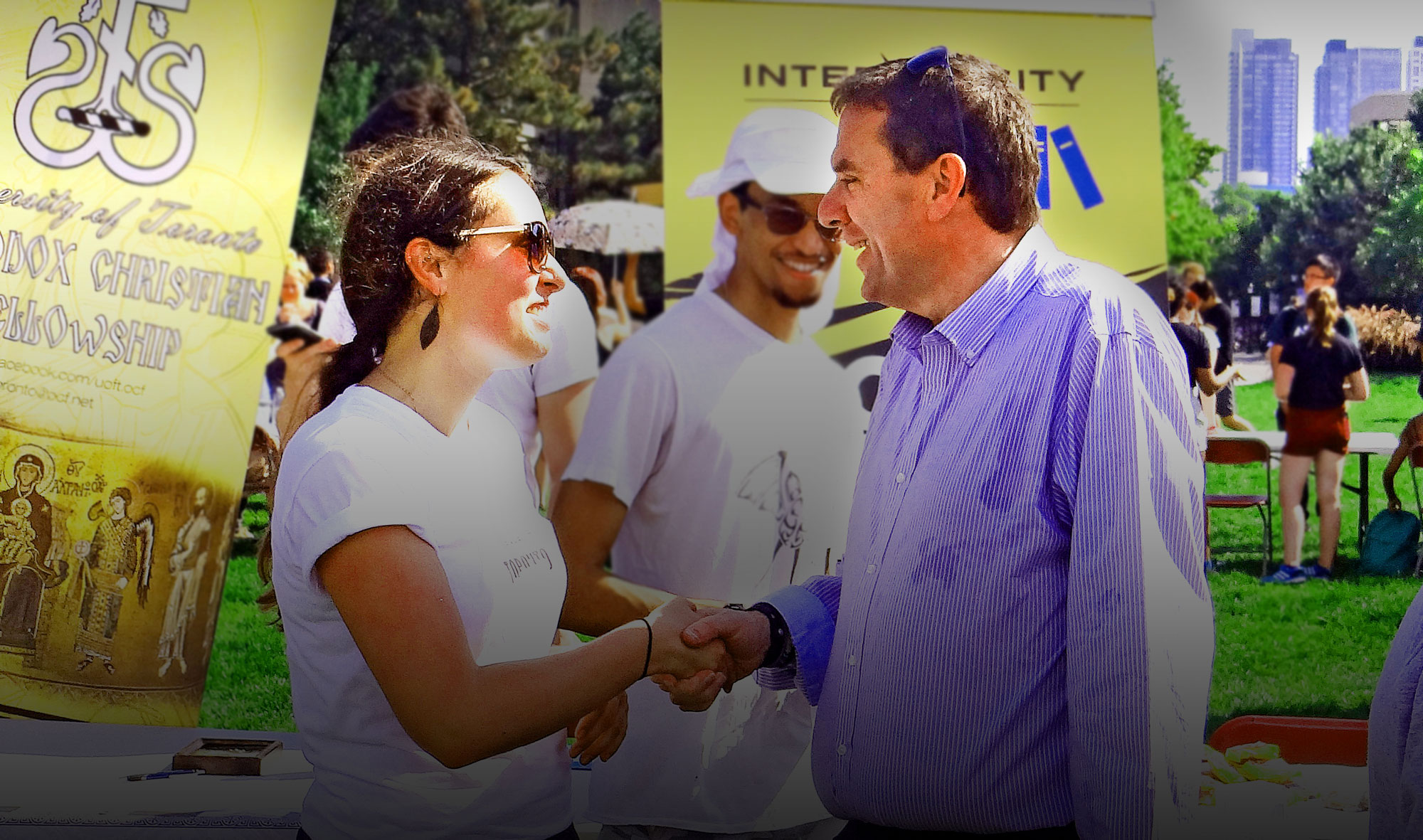 In September, InterVarsity President Nigel Pollock spent time meeting students on campus at the University of Toronto.
How do we reach young people today?
Early upon arriving in Canada, I discovered that Newfoundlanders use the expression "Come from Away" to describe those who have moved there from elsewhere. Having moved to Canada from New Zealand, the description aptly applies to me.
This fall, my wife, Ailsa, and I saw the musical Come from Away in Toronto. As you likely know, it is based on the true story of how Gander, Newfoundland coped with an influx of diverted planes after the terrorist attacks in 2001. We loved the story of a people marked by a responsiveness to the times, deep lasting relationships, generous hospitality, unashamed identity and inspirational impact.
These are themes highly relevant to the mission of InterVarsity.
Responding to the times
The events of 9/11 created widespread fear and disruption but the people of Gander put aside their local concerns because they appreciated something big was happening that necessitated a different response.
The recent Renegotiating Faith research project (co-sponsored by InterVarsity), underscores the need to do things differently if we are to help young people commit to lives of faith.  I commend to you the whole report as a much-needed guide to understanding the journey into adulthood young people are navigating today. It truly is different than the one many of us followed.
The crisis of faith among young people, the growing secularization of society and the closing down of freedom of speech and religion call us to set our sights on a higher horizon. The key response by the people of Gander was to do what was necessary to ultimately help others find their way home. The mission of InterVarsity is to see young people transformed by the gospel, to support and equip generations of children and young adults through the major life transitions to live with hope and to ultimately get home.
Many hundreds of young people started this journey for the first time at camp this summer or as they joined our campus groups this fall.  Others are making recommitments, growing in their faith and taking steps in leadership.
Deep and lasting relationships
In Come from Away, the visitors develop an extraordinary bond with their hosts through their shared experiences. Building community is central to our strategy because relationships of quality and depth are an essential part of growth. Life-long friendships are forged in the crucible of ministry and can temper our experiences as they endure through the changing seasons of life.
Shared experiences on campus and at camp of taking risks and stepping out in leadership together creates a tempo that can still have feet tapping in rhythm many years later. The landscape of camp can frame our memories and create precious bonds with special people. It can also punctuate our lives with fresh injections of faith, laughter and love as we revisit people and places. This is what it means to be a fellowship: we embrace diversity and unite in common cause.
Generous Hospitality
The community of Gander showed remarkable hospitality. Effective witnessing communities will always be characterized by a commitment to welcome and demonstrate practical care. One of the things that characterizes our camping ministry across the country is the extraordinary care shown to campers by staff and volunteers. Investing in camp facilities provides great spaces for community-building, fellowship, learning and fun. Inviting students to live in community houses on campus opens the door to shared life on deep levels.
Unashamed Identity
"Welcome to the rock" was the opening number in Come from Away. The people of the rock are clear about their identity. They are a community living on the edge of the world but celebrating who they are.
I first encountered InterVarsity in Canada when Jim Berney (General Secretary from 1980-2001) invited me to speak at some events in 1999. It led to a number of invitations over the next five years including missions at McGill and Thunder Bay and speaking engagements in Winnipeg, Toronto and Montreal. It was great to meet high quality people with a passion for evangelism and a commitment to discipleship.
I recognized this vision as it resonated with my experiences in the UK. It has been great coming into Canada 20 years later to find people building on these foundations and excited about the same things. IFES movements have always been about sharing the good news of Jesus, forming Christian character, developing Christian thinking and growing participation in World Mission. This spiritual DNA constantly sees communities of young people living on the edge but thriving because they know who they are and why they are there.
Inspirational Impact
Gander had an old airport where jets could land but it was totally unequipped for the influx of over 6,500 passengers and crew from 38 planes that almost doubled the population. They did what they could with what they had and made an inspirational and indelible imprint on all who shared the experience. When our founder Howard Guinness first spoke at McGill University in 1928 or when staff worker Cathie Nicoll headed to Jamaica in 1948 to pioneer high school and university work, no one could have imagined the impact of these small endeavors.
Similarly, when ground was first broken at each of our Pioneer Camps and Circle Square Ranches, the significance for the work of the kingdom of God could hardly have been anticipated. Then, as always, "God chose the foolish things of the world to shame the wise; God chose the weak things of the world to shame the strong. God chose the lowly things of this world and the despised things — and the things that are not — to nullify the things that are".
So, in the remarkable economy of the kingdom, God uses ordinary people to achieve extraordinary things. We invest in graduates who we hope will have an inspirational impact in the workplace, in public life, in sport and the arts. This is behind the vision our President Emeritus, Geri Rodman, championed for InterVarsity in raising up extraordinary kingdom leaders. I firmly believe that the development of Christian leaders is pivotal to the future impact of the gospel in society and the church in the world.
Going forward
What part is God calling you to play in the next chapter of our story?
We all live as strangers in the world. Our mission in this great land in which we live is to see the gospel making an impact from Newfoundland to British Columbia, from Winnipeg to Nunavut and from this nation to the ends of the earth. We long to see more and more participating in this great enterprise. It is the biggest and best story and we all have a part to play.
Ultimately it is our joy and privilege to point people to the one who has truly come from away. Who came so that through his life, death and resurrection young men and women would find the way home.
So we say: "Meet Jesus – the one who is constant and true through the shifting tide of culture and the changing seasons of life." Or in the words of Come from Away:  "Welcome to The Rock".
By Nigel Pollock, President and CEO
Donate Now
Related posts