Jingle Jangle: A Reflection of the Biblical Story
By James Allaway
There are many Christmas movies that come out each year, I read somewhere that Hallmark release around 50! I was intrigued by Jingle Jangle: A Christmas Journey so I sat down with my wife to watch it, and we enjoyed it so much that we watched it again with our kids. My friend and teacher Steven Garber teaches that one of the ways to be Christian in the world is to "sing songs shaped by the truest truths of the universe in language the whole world can understand". Jingle Jangle is a film that I think does this well. But before I go any further: spoiler alert! If you plan to watch this film then go ahead and do that, and then come back and keep reading.
There are all sorts of reasons why Jingle Jangle is a great movie to watch this year, many reviews have already noted the representation in the film; Hugh Bonneville (of Downton Abbey fame) is one of the headline actors, but he only appears in two short scenes. All the main roles are played by people of colour. An aspect that particularly caught my attention is the way that the plot of the film reflects key elements of the biblical narrative: creation, fall, renewal, and fulfillment. In my role as a workplace minister a significant chunk of my work with recent graduates is in helping them see where work fits into God's plan for His world. I generally do this through the 4-part structure of: 1) Work is given to humanity as part of God's good creation (Genesis 1-2) 2) Work is broken by sin as a result of the fall (Gen. 3) 3) Work is being renewed in Christ (Col. 1:15-20) 4) The promise of work will be fulfilled when Christ returns (Rev. 21-22). This structure is a simple way to follow the narrative that flows from Genesis through to Revelation.
One example parallel between Jingle and the biblical narrative begins early on. There is a scene that shed fresh light for me on Genesis 3. In the bible the first humans are deceived by a snake but in this film, we get to watch Don Juan Diego convince Gustafson into stealing by seeing it not as theft but as "borrowing indefinitely". Much like the snake, Diego uses a combination of fear and shame to convince Gustafson that he has no other choice except to steal. I have read the words of Genesis 3 many times, but it is a help to see a reflection of it played out visibly by these characters. Later in the film as Gustafson is led away to face the consequences of his actions, there is movement of devastation for Gustafson when Jeronicus explains with sad compassion that Gustafson did not need to steal anything as everything in Jeronicus store was eventually to have become Gustafson's. We see echoes of ourselves in Gustafson the fallen helper, and I don't think it is a stretch to imagine that God feels the same sadness and compassion when we turn away from Him.
Another example comes from the structure of the story. A classic story structure often concludes with the defeat of the bad guy, but Gustason is brought to justice about ¾ of the way through the film. Instead, the final act in Jingle Jangle is dedicated to the restoration of broken relationships. In his book Playing God, Andy Crouch notes how a challenge for some Christians can be a tendency to truncate the biblical story. Because sin and the devil are the great enemies, we can end the biblical story prematurely with their final defeat and miss off the last two chapters of the bible and the wonderful picture of the future hope painted there for those who are in Christ. A picture of brokenness restored, comfort for those who hurt and mourn, nations reconciled with each other, and humanity once again able to see God face to face.
There is a real sense that when Jeronicus sings "I'm gonna make it work again, gonna fix every part that's broken" he echoes the promise of God that runs from Genesis 3, through the events we celebrate at Christmas, right to the end of the book of Revelation.
For these and many other reasons, Jingle Jangle is a Christmas journey that I hope you will take this year.
What other parallels with the biblical story did you see? Feel free to add yours in the comments section.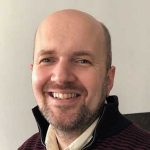 James Allaway
My wife Jen and I met and married in Vancouver back in 2009 while studying at Regent college, and we have three young kids. Before joining InterVarsity in 2019 I was a member campus staff in the UK and New Zealand, and before that worked in I.T. support in the UK. My role with InterVarsity was created in response to research, which revealed some concerning statistics around the transition from study into the workplace. My hope as a workplace minister ­is to help recent graduates have a clear grasp of where their work fits into God's plan for his world, and how the training and formation they receive through InterVarsity applies in the workplace.
Related posts