InterVarsity from One Generation to the Next
by Tehillah Presado
My mom, Rosemarie Asuncion Presado, and I are two of many students who have enjoyed the goodness of InterVarsity and have been blessed by the lasting impact it has made on our walk with the Lord.
A friend invited my mom to InterVarsity while she was studying at South Western University in Cebu City, Philippines. Prior to the invitation, she was hungry and seeking to learn more about the Lord and salvation. On March 10, 1986, she attended InterVarsity for the first time and celebrated her spiritual birthday.
A few years after my parents settled in Winnipeg, my mom was able to reconnect with InterVarsity alumni who also immigrated from the Philippines. The group took on the name Winnipeg IVCF Network (WIN) and it comprised of individuals who enjoyed the fellowship in their home country and were looking to be united again.
In high school, one of my friends introduced me to InterVarsity, and I was involved in that community for 2 years. But I decided to pursue my studies at a French university that did not have InterVarsity on its campus. I longed for community and decided to reconnect with my leader from high school ministry. She encouraged me to join another campus community even though I didn't attend the school. The following school year, I joined the InterVarsity community at the University of Winnipeg while finishing my degree at Université de Saint-Boniface.
Growth
The years that we were involved with InterVarsity, my mom and I both agree, were years full of intentional growth, both in character and in faith. Being in a constant rhythm of prayer, Bible studies and fellowship allowed us to grow relationally with others and individually with the Lord. It gave us the opportunity to revisit familiar Scripture passages with a fresh look and venture into more challenging ones. We were also able to identify areas in our lives that needed to be surrendered and became more aware of the presence of God. The community around us encouraged us in rough times but also corrected us when we needed it. It pushed us out of our comfort zones and taught us that growth doesn't just mean knowing more about God but understanding his true character and how he has revealed himself to us.
Community
What we both valued and cherished was the diverse community that we were able to be apart of. InterVarsity is a collection of students who are willing to grow relationally and spiritually. Some are seekers, observing and questioning the truth; some are believers willing to grow deeper; and some are leaders, walking with others not only to teach them but to serve them. This variety of students is InterVarsity's strength. We learned not only about the variety of cultures and denominations that are present, but we became more aware of and valued the various forms of prayer and worship present across the globe. This really affirmed to us that the Kingdom of God is made up of all nations and that there is beauty in diversity. These people not only became our friends but our family.
Continued Impact
InterVarsity is a ministry that continues to grow and reach students across the globe. With its encouraging staff, compassionate interns and faithful student leaders, it has created an atmosphere of peace and love for all who attend. My mom and I are grateful for InterVarsity and how it has radically impacted our faith. God has done great things through InterVarsity and continues to do so today.
Find your community of faith on campus.
Connect Now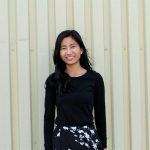 Tehillah Presado is second-generation Canadian-Filipino. She graduated from Université de Saint-Boniface with a double major in French and Psychology and was part of the InterVarsity fellowship at the University of Winnipeg. Currently, Tehillah lives in Winnipeg. She enjoys language learning and writing poetry.
Related posts