COVID Doesn't Limit God
By Samuel Larson
The COVID pandemic forced everything at my university into an online format, which could have been a discouragement or a blessing and opportunity. For my InterVarsity friends and I, the online environment created an opportunity to reach out to fellow students who otherwise would not be able to participate due to location, scheduling and timing. I feel that God has shown up in unimaginable ways throughout these past months.
As we all know, the past months have been extremely challenging for everyone, especially for those seeking community and wanting to remain in previously built communities. Our InterVarsity community at the University of Manitoba has been working diligently through these challenges and has been intentional in maintaining connections and reaching out in evangelism and community building. Although there have been so many challenges lately, there is always a silver lining. I believe that is where God is evident.
A Silver Lining
Recently, I have had the opportunity to reconnect with long-time friends who had moved to other provinces, and even other countries, and I have been able to join them in fellowship and prayer. I have extended invitations to non-Christian friends in Ontario who have graciously agreed to join a Bible study. God has been faithful in our virtual discussions as we've delved into the gospel, and learned about who Jesus was and is. We meet biweekly in prayer and discussion with the occasional hangout in between. Every once in a while our Bible discussions will sidetrack and we somehow end up talking about classic movies that we've never seen, which will lead us into another hangout (i.e. Netflix Teleparty).
Through these Bible study sessions, and as I reflect on my life, it is becoming more and more evident that God has placed these friends in my life, and that he has a plan for our lives both collectively and individually. Our friendships have been strengthened, trust has continued to be built and we have learnt more and more about how we can support one another.
Texting God's Love
Throughout the week we text one another to encourage, confide in and pray for one another. I believe God is using these activities to work within our group to help us show God's love to those around us.
Despite all the challenges that COVID-19 has brought, I have experienced many blessings and evidence that God is still at work as the powerful, yet tender, loving father that he is. I thank, praise and rejoice when I think about the ways God has revealed himself to our InterVarsity community.
Your gift helps us spread the good news of the Gospel to more young people.
Give Today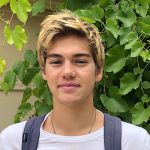 Samuel is in his third year of kinesiology at the University of Manitoba, working towards becoming a high school physical education teacher. He's been involved with InterVarsity on campus for three years and is currently part of the InterVarsity leadership team in Winnipeg.
Related posts