2021 Ministry Snapshot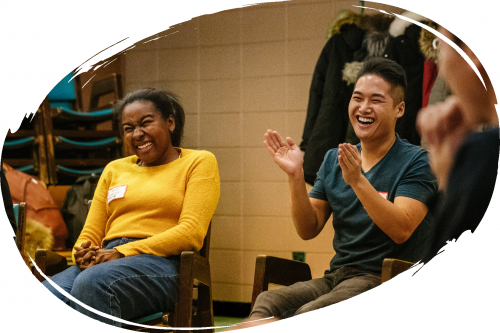 Coast to coast and beyond Canada's borders, students, staff, alumni and volunteers in our InterVarsity and wider IFES communities have been sharing wonderful stories of God's activity in our world in 2021. We hope you are encouraged as you read stories of young people growing in faith in these complex times.
Return to Camp
All nine of our camps welcomed campers back this summer – 4,000 in total. Some came as day campers, others went on canoe trips. Many were able to attend a week of overnight camp, forming cohorts that allowed them to safely experience all camp has to offer. Still others came with their families and spent a week enjoying creation together.
"Camp moving forward reminded me that the goodness of God is found here in profound ways at Pioneer," reflected Ned Guest, Director of Special Needs. "Several families of campers communicated to me that their children as well as themselves 'needed this' (referring to camp happening). Many of the campers and adults I am responsible for at camp fell under the 'high risk' category throughout Covid; even in times of less restriction, they remained isolated at home. Camp was the first social setting many had experienced in a year and a half."
Time to Build
Thanks to the generosity of many donors and volunteers who put hands to hammers and nail, we completed or moved forward several building projects this past year, including:
A full size ice rink at Circle Square Ranch Halkirk (Alberta), perfect for welcoming the surrounding communities to play their hockey games on site and get to know the Ranch better.
The new Leadership Centre at Manitoba Pioneer, with just some interior work left to complete.
Hope Lodge at Circle Square Ranch Big Clear Lake (Ontario), a beautiful year-round accommodation that will enhance our ability to offer conference and retreat space.
The new Boys Camp Dining Hall at Pioneer Camp Ontario. Walls and roof trusses are in place! We are excited to be moving forward to completing the interior through the winter and spring, praying we will be able to open it next summer.
Two new cabins at Circle Square Ranch Spruce Woods (Manitoba), which completes our replacement of all the aging wagons.
Real Time with Students
We used every opportunity to meet with students in person and then returned to online ministry when universities began to restrict access. We praise God for students who are responding to God's invitation to know and be known.
Concordia Campus Ministers Alenna and Aaron Husband share this story:
"Andres is an international student from Ecuador. He decided he wanted to follow Jesus in the first month of school, found our group, and has since been a source of life and encouragement within the community. He truly looks for ways to love each person he meets. It has been such an honour to journey with him in discovering more about the Bible and what Jesus is about. After an evening of unpacking each line of the Lord's prayer at a Large Group event, everyone split into smaller groups to pray together. Andres prayed the Lord's prayer in Spanish, the way he had learned as a child, but spoke the words from a new place of faith. It was so powerful! It caused those around him to worship!"
Matt and Aimee Allen, Campus Ministers in Nova Scotia, rejoice in partnership.
"InterVarsity partnered with six other campus ministries to have Welcome Week Worship. We were able to gather 75 students from across Halifax to come together and worship. Students came and shared testimonies of how God has been present to them as they participated in the different ministries."
Spending Time in Scripture, Creation, and Art
We were able to bring students together for in-person retreats in many locations this fall. Last spring, even though major Scripture conferences continued online we were encouraged that several hundred students, weary from online schooling, still chose to join in. They engaged in studies based on the Book of Ruth, the Gospel of John, and a variety of passages that helped them experience the wonder of God.
Creating art and spending time in nature continued to be significant for students. About 75 people attended our online Art Gallery opening for the MAKE show. Eighteen students and alum expressed their creativity through visual art, song and poetry for the juried show.
Prayer Walks and Soccer Games
When universities went back on line this fall, our campus ministers and students were not to be deterred from bringing the Gospel to campus.
Looking for a way to make some connection, Saskatoon-based International Student campus minister Gerry Falk joined twice weekly soccer matches with students and professors. Gerry was grateful for the conversations that happened before and after games.
One day in September, University of Victoria campus minister Alan Thorimbert, received a text from a student: "Let's walk and tell God all the things that we are thankful for. Then let's ask God to be present with students on campus." Alan responded with a delighted yes. Over that week, he walked the campus and prayed with two more students.
In Edmonton, Graduate Student and Faculty Campus minister Alan Chettle was also faithfully praying for and inviting students to join him in prayer walks on campus. "The first week," says Alan, "a PhD student from Brazil joined me, and we spent time walking around campus, praying as the Spirit led us.  The next week, that same student joined, along with another PhD student from Guam.  We walked around campus, praying for the departments each student is a part of, praying for the buildings, praying for opportunities to witness.
Partnership Beyond Borders
The IFES International Day of Prayer brought many students together with their peers around the world. We are so grateful to be part of the global IFES family and rejoice with Canadians who have gone to serve in other countries.
Max and Mei Rideout, serving with TSCF in New Zealand were privileged to baptize their own grandson and a Chinese Grad student this fall.
Vera Ivakina, serving with ChSA in Poland, rejoiced that she was able to travel and meet more students this past fall.
"In November, ten staff from across Europe came to Wrocław, Poland for an IFES International Student Ministry workers meeting. It was the first time I was able to meet other European staff in person and hear about ISM ministry across Europe. Our time together filled me with new enthusiasm and new ideas. Soon after I travelled to Warszawa where I got to lead an inductive manuscript study during the young adult large group at an international church. I also met with a student who I have been talking with for the past year and who recently decided to follow Jesus more intentionally. She told me about the ways God has been speaking to her and it was amazing to see how the Spirit of God has been forming her."
Aida Banyuls lives in Spain and has been endeavouring to plant IFES student groups Equatorial Guinea – all through online initiatives because of the pandemic. Aida, whom we have adopted into the InterVarsity Canada family, was able to visit us this fall, meeting with student groups in Toronto, Ottawa and Hamilton as well as speaking at our National Resources Centre. Aida hopes to return to Equatorial Guinea in the spring.
A Big Community
We are so thankful for our many ministry partners who pray with us,
support us financially
and give of their volunteer hours. With your help, InterVarsity has come through its 91st year of ministry to students. God willing, we look forward to all that is ahead of us in the year to come.
A Generation Growing in Faith
Through the pandemic, we have observed a spiritual hunger among young people. In the midst of the unique challenges, many students are encountering Jesus and growing faith. Take a minute and read about these five remarkable students. A common theme runs through each student: God, the ultimate catalyst for faith.
Related posts