2021 Advent Prayer Guide
Contributions from InterVarsity staff across the country are collected in this year's Advent Prayer Guide, intended to help us prepare for the birth of Jesus into our troubled world. We offer you five weeks of poems, art pieces, reflections, scripture and prayer activities beginning Sunday Nov 28, 2021, and ending Dec 31, 2021. Saturdays are left open for rest and spacious pondering until December 25. This year Jesus birthday is on Saturday!
Traditionally the five candles of the advent wreath pick-up the themes, Hope, Peace, Joy, Love and God With Us. Matthew Church's thoughtful and challenging poetry follows these five themes and may bring you many ideas to ponder each Sunday. Our staff reflections Monday to Friday flow with the alliterative themes of Waiting, Walking, Wonder, Worship and What's Next. Paolene Nepomuceno has created images for each week to help you ponder these themes together.
We suggest you set out your own Advent wreath and light candles as part of your Advent practice this year. An advent wreath can be as simple as candles poked into potatoes or tea lights set on leaves. Let your context and imagination give shape to your own experience. May the Spirit of Jesus meet you in spacious ways through these pages and draw you into God's mystery and love.
the coming
Come, oh light
break through the darkness
Come, oh darkness
bow to the light
Come, oh weary
find your rest in a manger
Come, oh rested
help a weary world rejoice
Fifth Week of Advent: God With Us | What's Next?
Sunday, December 26, 2021
Emmanuel
It was all
wrapped up
in
cosmic pilgrimage,
the divine descent
into the marred
tragic mess
of humanity
In their heart
was a destination,
a foreseeing
of the universe renewed
But many steps
stood between
these worlds
And there would be
only one way-
surprising seed sown
from
strange imaginations
Entrance
by enfleshed
suffering
and surrender
First faltering
with skinned
knees,
then surefooted
through cross realities
One small step for God,
became one giant leap for humanity
They had come,
and would keep coming
into dusty downtrodden
spaces, anywhere
there was welcome,
poor-in-spirit places
In and through death
as radical amazement,
residing again
through every heart,
crack and crevice
of creation
There and back
and back again
yet pilgrim still
In monotony and momentous occasion both,
in the very fibres of our feet,
there is a presence
compassing our way
We travel infused
and surrounded
by our destination,
this way, this begin,
this resting,
Emmanuel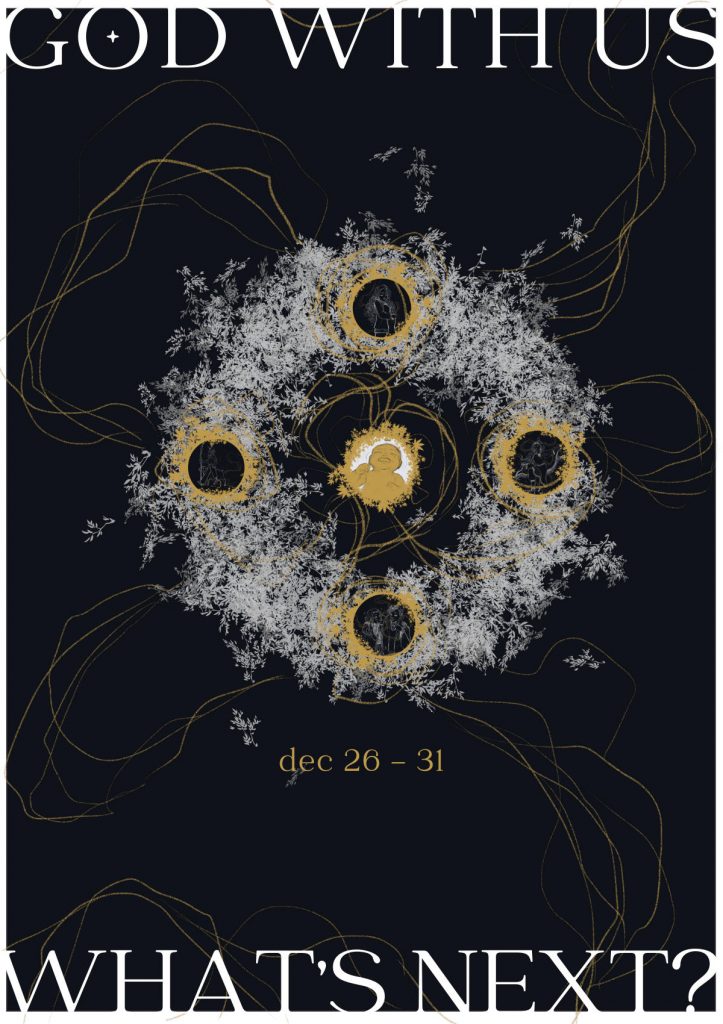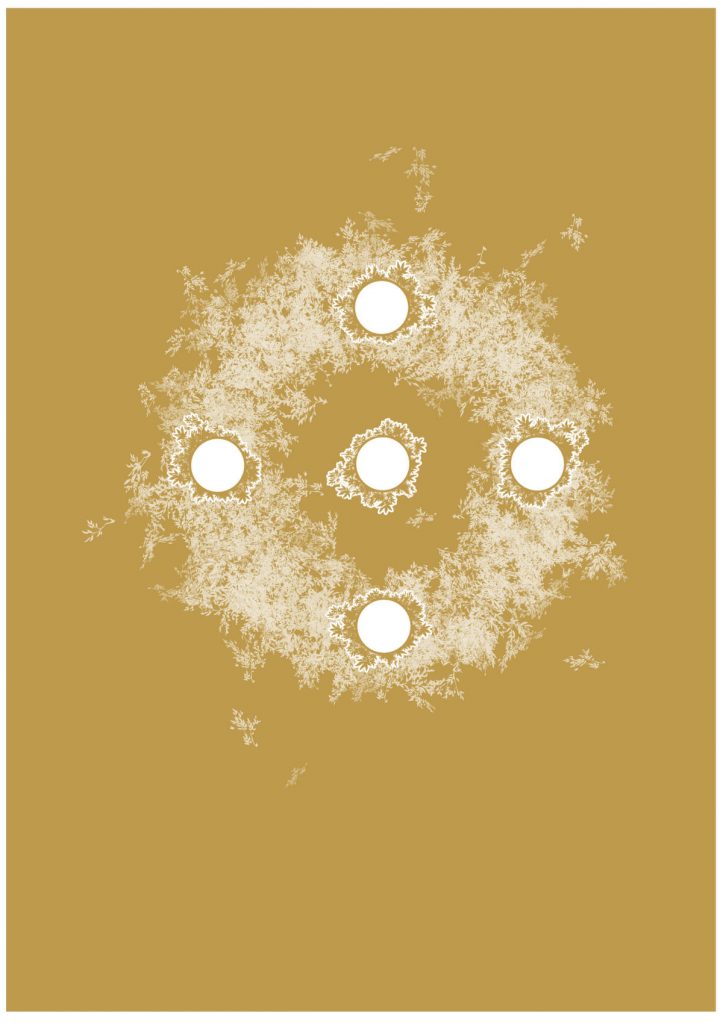 Monday, December 27, 2021
Scripture: Luke 2:1-3
Reflection: Tricia Chen
Campus Minister, Simon Fraser University
People assume that I love to travel, probably because I spent ten years living in China. I've realized though that while I don't necessarily love traveling, I do love being able to control when and where I travel. I think that's why I was so annoyed when I read the Christmas story this year. I opened my bible to Luke 2 and immediately felt my blood pressure rising as I tried to breathe through all of the emotions that overwhelmed my sense of peace.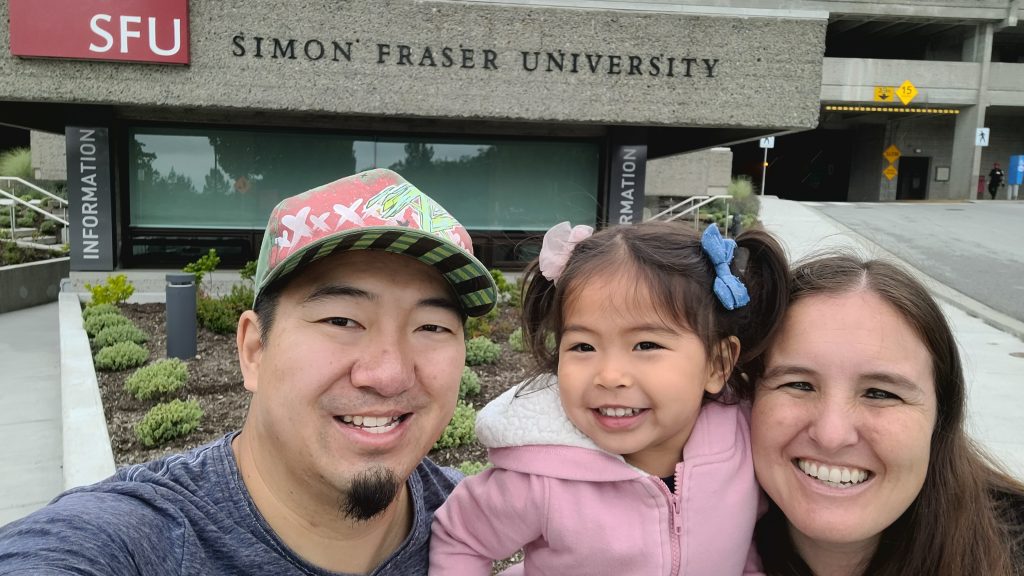 Waison, Charissa & Tricia Chen
These words from Luke 2:1-3 were the source of my frustration: "In those days Caesar Augustus issued a decree that a census should be taken of the entire Roman world. (This was the first census that took place while Quirinius was governor of Syria.) And everyone went to their own town to register."
As I unclenched my fists, I realized that I was angry on behalf of Mary and Joseph who were forced to travel because of this silly government decree. And at the most inopportune time too, as Mary was 9 months pregnant. Traveling from Nazareth to Bethlehem would be a 31 hour walk, according to google maps, but that assumes they took the quickest route through Samaria, which is highly unlikely. Pregnant women are also not known for their speed, so even if they were traveling by donkey instead of on foot, the trip would have taken at least a week to complete. This is wildly inconvenient, to say the least.
I'm so bothered by this passage because I know what it feels like to have the government force you to travel. My husband Waison is from Canada and I am from the US so we can't spend more than 6 months at a time in each other's country. This became a problem when we left our China home in January of 2020 for a 2 week vacation only to have China close its borders due to the pandemic. After flip flopping between the US and Canada every 6 months three different times, I have an idea of how government forced travel can be wildly inconvenient. I'm tempted to complain until I remember Afghan refugees and so many others, including pregnant Mary, who have been forced to travel under much worse circumstances.
Being forced to travel is hard, but for me, it's being unable to travel that has been even worse. When the Chinese border shut down, that meant that we lost our home in China, our ten years of ministry and friendships there ended overnight, and I found myself without a job. Because of travel restrictions, I also wasn't able to attend my grandma's funeral this past year. These government travel decrees have gone beyond inconvenient and have led to truly heartbreaking circumstances.
While I'm unsure about the circumstances facing Caesar Augustus and if issuing a census was a good idea, I do think that it's appropriate for the government to limit our travel in order to keep people safe during the pandemic. But after these long months of COVID-19 and as we look to this New Year, it seems that we are all desperate to be able to be in control of our own travel schedules again. To be able to make plans for the future knowing that they won't be cancelled. To feel like we have a say over what happens in our lives.
I'm reminded that part of the reason why Joseph and Mary had to travel to Bethlehem was to fulfill the prophecy in Micah 5:2 that the promised messiah would be born in Bethlehem. Might God force us to travel somewhere or even prevent us from traveling in order to fulfill his purpose in our life? What if God uses earthly people and circumstances, like government travel restrictions, in order to bring about HIS desired outcome for our lives?
Ponder: How might 2022 be different if we give God permission to write his story in the setting of his choosing, even if it involves wildly inconvenient travel? Or worse, the inability to travel at all? Can I trust God with my journey?
Tuesday, December 28, 2021
Read: Acts 16:6-10
Ponder: Where has God not allowed you to travel? Where has God been trying to lead you instead? How do you respond when God closes the door on your travel plans?
Wednesday, December 29, 2021
Read: Psalm 23
Ponder: How do you feel when God makes you stay and lie down? When he leads you besides still waters? When he leads you in right paths? When he leads you through the valley of the shadow of death? What makes it hard for you to trust God to guide as we embark on a new year?
Thursday, December 30, 2021
Scripture: Isaiah 9:6
Reflection: Claudia Cisterna
Pioneer Camp Alberta
We live in a world that encourages us to find (within ourselves) the resources we need to succeed, be strong, and get out of a hole. There is nothing wrong with personal responsibility and believing in all the potential instilled by God in each one of us. The problem with trying to be strong on our own is that this kind of journey can lead us to a self-centered routine that could potentially improve our life but undoubtedly, would not transform it. When we feel unfit, unqualified, unworthy (and all the other "uns" that come into our lives at one time or another), we should assert that our strength comes from God. When we feel weak, we should look for help from on high instead of from within.
Julia, Claudia & Giovanna Cisterna
Although I have already spent two summers at Pioneer Ranch, 2021 was my first Summer Camp Season. I am still amazed at how our extraordinary team overcame so many obstacles and came up with a shortened camp season after the Alberta Government lifted the restrictions. I felt particularly inadequate, and countless times the enemy attacked my abilities and personal life. God gently reminded me that our ministry, and my own life, exists for the praise of His glory. This overused but somehow un-grasped truth gave me the strength to complete that "summer race" marked out for me.
How can Christmas help us to reflect on our vulnerability? Think of Isaiah 9:6 "For to us a child is born, to us a son is given … And he will be called Wonderful Counselor, Mighty God, Everlasting Father, Prince of Peace." In Hebrew, the word "counsellor" represents a king giving counsel to his people. This King is that baby in the manger.
The word "mighty" means "strength, power and warrior." Despite his humble birth, Jesus is a mighty warrior, who "…disarmed the powers and authorities, and made a public spectacle of them, triumphing over them by the cross." Colossians 2:15. He is our hero! Our Warrior!
Besides all the spiritual and eternal benefits of Jesus' birth, death and resurrection, we can always rely on and trust in him while we await his return. He promised never to leave us nor forsake us. He is the Father of compassion and the God of all comfort. Just like in Paul's case, God sometimes refuses to remove weaknesses from our life, and that might be the opportunity to surrender our inadequacy to him and allow our weaknesses to find a home in His strength.
When we find ourselves "weak," let us make a spiritual journey from the manger to the empty tomb, remembering that the same powerful God, who made himself available through Jesus, lives in us. The Wonderful Counselor, Mighty God, Everlasting Father, and Prince of Peace.
Ponder: As you look forward to 2022, think about a time when God did His work through you because you were honest about your weakness. Call to mind something that gives you hope, and carry it with you in the next chapter of your journey.
Friday, December 31, 2021
Read: Psalm 139:7-10
Ponder: How does knowing that God is With Us change the way you look at 2022? No matter what roadblocks or personal weaknesses we face, God promises to be with us. What do you most fear? Can you imagine Jesus standing right there with you in that scene? Talk to him about your fears going forward into 2022.
Fourth Week of Advent: Love & Worship
Sunday, December 19, 2021
Love
We couldn't
have made it up
Our own minds
too dim
for its shining
But it was given,
and though
out of our grasp,
we can behold
its strange
imaginations
and welcome its
sure embrace
The sign was
from both
mighty angels
and a helpless
child-
living and breathing
There is nothing
static here,
no lofty theory
or abstract
philosophizing
It does not come,
but by a
movement of heart,
of active compassion
We only see it,
experience it
and know it
by it being given
and received.
And so
the divine triunity
is also a movement,
a dancing of
ever-expressing,
hand-in-hand
blessing in every direction
Never without
motion of their
gracious heart
embracing
they have surrounded
and embedded
themselves
into all things
so that
even amidst
the parsing of particles,
and the telescoping
of quasars and
black holes,
their movement
of love
may be
glimpsed,
revealed,
and shared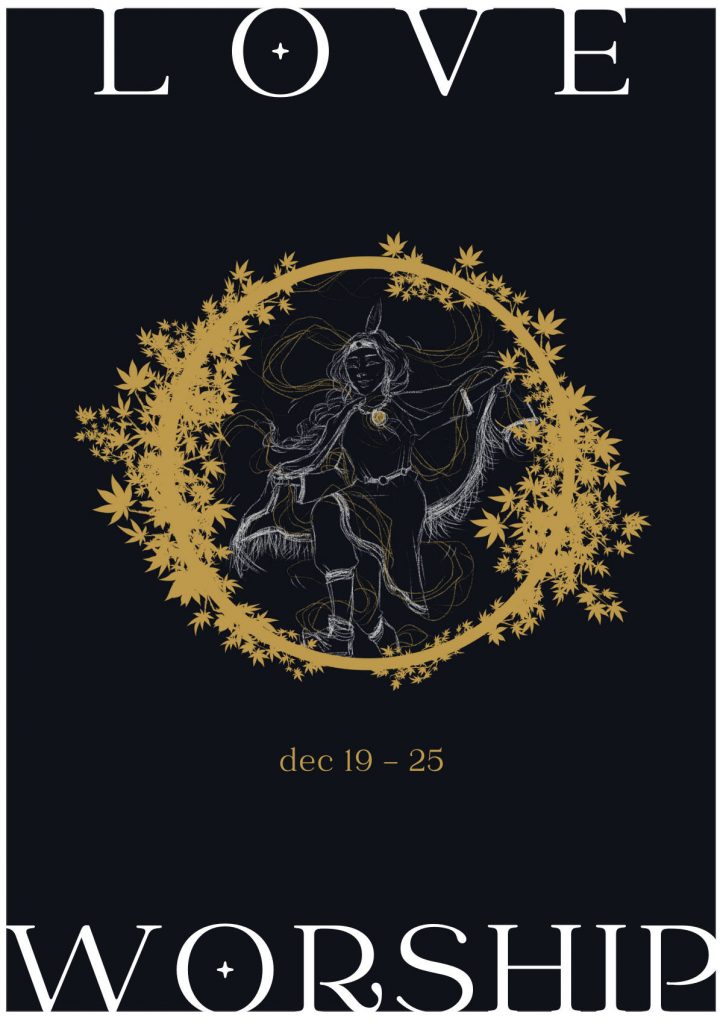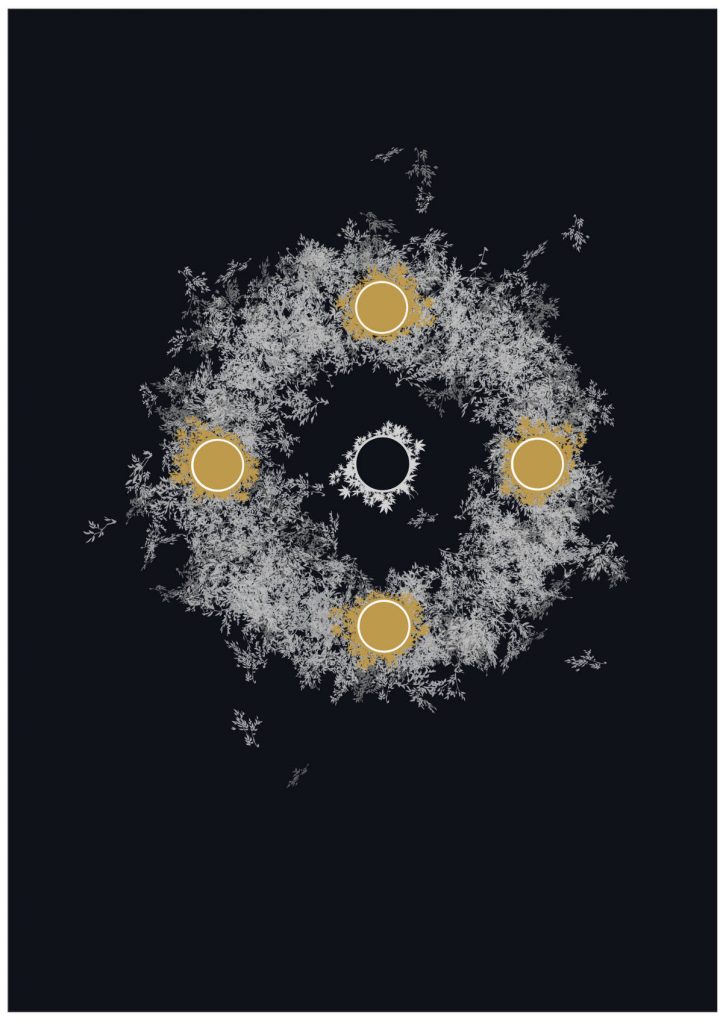 Monday, December 20, 2021
Reflection: Dave Birrell
Campus Staff, University of Winnipeg
WORSHIP! Worship is a big word. It just is; there is no getting around it. No other word in our advent series – wait, walk, wonder – feels so closely connected to God. There is weight to the word. Gravitas.
Psalm 96:9
Worship the LORD in the splendor of holiness; tremble before him, all the earth!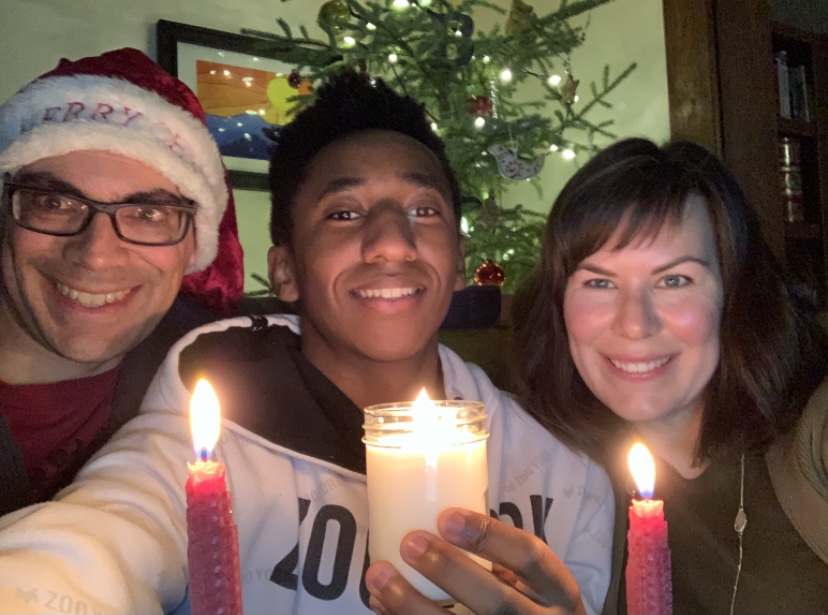 Dave, Bereket & Shanlee Birrell
And yet… have we really been speaking about anything other than worship this advent?
To paraphrase Khalil Gibran in his book The Prophet:
Is not [worship] all deeds and all reflection,
And that which is neither deed nor reflection, but a wonder and a surprise…
Who can separate his faith from his actions, or his belief from his occupations?
Who can spread his hours before him, saying, "This for God and this for myself
This for my soul, and this other for my body?"
So…
Waiting? Worship.
Walking? Worship.
Wonder? Yes, beautiful worship as well!
In Reaching Out Without Dumbing Down, Marva Dawn explains that the word worship comes from the Old English root weorth, meaning honour and worthiness, and scope, meaning to create. We worship by creating ways to honour God.
Here is a simple exercise: Take a breath. Fill your lungs. Release. Repeat. Every breathe shall be worship. Put your hand on your heart. Feel it beat. Feel it beat again. Listen. It beats out this tune: Worship is love. Love is worship. Worship is standing at our very doorstep knocking – and yet somehow – it is the one that bids us to enter in, and not the other way around. Fully and completely in. So, in we go. Let's fall in love together. Let's worship.
Ah, but my doorstep is different than your doorstep, and my terrain different than your terrain. I have long thought that geography is intimately connected to worship. I wonder if the geographic region in which you grew up feeds your soul in subtle yet profound ways?
People have this innate desire and longing for mountains, forests, oceans, lakes, rivers, grasslands, rolling hills. We are deeply connected to certain skylines, vegetation and wildlife – all because it is what we knew as children. And not just countryside, but cityscapes as well – certain coffee shops, bookstores, high schools, or campuses can speak to us.
Today as it began to snow, I paused to reflect and found myself comforted by the sound snow makes when I crunch it under my winter boots. It is so familiar, and because it is filled with memories and meaning, it acts as prayer. Maybe crunching snow doesn't have the same effect on you because you didn't grow up surrounded by it for 4 or 5 or 6 months of the year. You had different ground to walk. And as the Old Testament reminds us, where our feet are, that is holy ground.
What does any of this have to do with Advent? Well, much like the seasons of the year, there is a repeating nature to our liturgical worship. Advent, like winter, has a different feel to it than Easter and spring, or Pentecost and summer. And the seasons can be literally and figuratively shaped by geography.
Another connection, sadly, is this: The ground is cracked, like our lips on a cold winter's day. This holy ground is both sacred and scarred. It is fractured and broken in thousands of places and in thousands of ways. This is part of advent and worship and love as well. Creation is longing for restoration. Creation care. Creation dignity.
Growing up in Winnipeg, I lived a few streets over from The Living Prairie Museum. It is a 13-hectare tall grass prairie preserve and nature park. Prior to European settlement, tall grass prairie covered more than 1 million square km in central North America, stretching from Texas to southern Manitoba. Today, this habitat is almost completely gone – only 1% of the original tall grass prairie remains. The Living Prairie Museum is one of the few remaining fragments of this vast ecosystem. Some Winnipeg interns will recall my taking them to explore this terrain. Even in winter, I see beauty in this space.
People have this innate desire and longing for mountains, forests, oceans, lakes, rivers, grasslands, rolling hills. We are deeply connected to certain skylines, vegetation and wildlife – all because it is what we knew as children. And not just countryside, but cityscapes as well – certain coffee shops, bookstores, high schools, or campuses can speak to us.
In her book, Marva Dawn references C. Welton Gaddy's claim that worship is a gift between lovers who keep on giving to each other. In this light, our connection to land and perhaps more specifically to a certain region or habitat is part of God's gift to us. Our appreciation and conservation of the natural world is one way we can honour God, and thus be in loving worship with our Creator. Rich Mullins, musical artist, poet, and lover of God, says in his song Calling Out Your Name:
And I know this thirst will not last long
That it will soon drown in the song not sung in vain
I feel thunder in the sky
I see the sky about to rain
And with the prairies I am calling out Your name
As a prairie-born person, I agree.
Maranatha. Come Lord Jesus, come.
Reflection questions
How does geography affect, inform and/or enhance your worship?
How do the seasons affect, inform and/or enhance your worship?
Tuesday, December 21, 2021
Scripture: 41:17-20
When the poor and needy seek water,
and there is none,
and their tongue is parched with thirst,
I the LORD will answer them;
I the God of Israel will not forsake them.
I will open rivers on the bare heights,
and fountains in the midst of the valleys.
I will make the wilderness a pool of water,
and the dry land springs of water.
I will put in the wilderness the cedar,
the acacia, the myrtle, and the olive.
I will set in the desert the cypress,
the plane and the pine together,
that they may see and know,
may consider and understand together,
that the hand of the LORD has done this,
the Holy One of Israel has created it.
Where do you see God doing this today?
How do you need to prepare yourself both to receive this from God and to be at work in restoring others with God?
Wednesday, December 22, 2021
Scripture: Psalm 148:7-13
Praise the LORD from the earth,
you great sea creatures and all deeps,
fire and hail, snow and mist,
stormy wind fulfilling his word!
Mountains and all hills,
fruit trees and all cedars!
Beasts and all livestock,
creeping things and flying birds!
Kings of the earth and all peoples,
princes and all rulers of the earth!
Young men and maidens together,
old men and children!
Let them praise the name of the LORD,
for his name alone is exalted;
his majesty is above earth and heaven.
Spend time today in worship and prayer, as all of creation praises Creator.
Spiritual Exercise:
Thursday, December 23, 2021
I love the song I Saw Three Ships. It's a big leap: from worship and creation care earlier in the week to an old English Christmas carol. Hang on for a bit and see where this one goes.
While it's no O Come O Come Emmanuel, or even Come Thou Long Expected Jesus, there is mystery to this song that gets me every year. The mystery is this: Ships? Sailing into Bethlehem?
I saw three ships come sailing in
On Christmas Day, on Christmas Day
I saw three ships come sailing in
On Christmas Day in the morning
And what was in those ships all three
On Christmas Day, on Christmas Day?
And what was in those ships all three
On Christmas Day in the morning?
Our Savior Christ and His lady
On Christmas Day, on Christmas Day
Our Savior Christ and His lady
On Christmas Day in the morning
Pray, wither sailed those ships all three
On Christmas Day, on Christmas Day
Pray, wither sailed those ships all three
On Christmas Day in the morning
O, they sailed into Bethlehem
On Christmas Day, on Christmas Day
O, they sailed into Bethlehem
On Christmas Day in the morning
And all the bells on Earth shall ring
On Christmas Day, on Christmas Day
And all the bells on Earth shall ring
On Christmas Day in the morning
And let us all rejoice and sing
On Christmas Day, on Christmas Day
And let us all rejoice as sing
On Christmas Day in the morning
And let us all rejoice and sing
On Christmas Day, on Christmas Day
And let us all rejoice as sing
On Christmas Day in the morning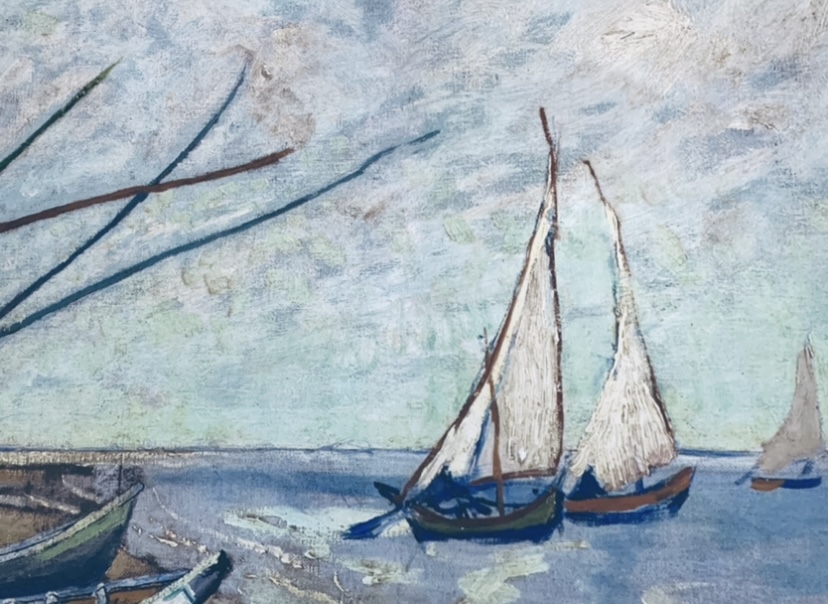 from Van Goh Emersion, Winnipeg 2020
These are mysteries: What are ships doing in the middle of the desert? Why three ships? Did Jesus and Mary (his Lady?) sail together on one ship or on separate ships? Where is Joseph? And despite the insistence it happens on Christmas Day in the morning, why does this not feel very much like Advent or Christmas?
Growing up I heard this song only once or twice a year (Sting's version is quite good). Hearing it always filled me with a sense of wonder. The carol sounded so joyous, victorious, and majestic. It had an aura of adventure and – of course – mystery about it. Being a prairie boy, even the ships lived more through my imagination than in my everyday experience.
When I grew older, I made connections between the lyrics of the song and the moment in
The Lord of the Rings
where Aragorn leads the ghost ships into the thick of battle, seeming like Christmas Day when Aragorn arrives. It feels so triumphant. This only added to my delight in the carol.
The song tells the story of Christ's coming, but in a different way than how it is told in other Christmas carols. (Take that O Come O Come Emmanuel!) There are no shepherds or angels, no manger, no "no room at the inn" – it's not even nighttime! It's as if the Holy Family (minus Joseph?) decided to take a cruise that year and arrived back into town on the morning of the 25th.
Here is today's geography lesson: at the time of Jesus birth, Bethlehem clung to the central watershed ridge, in the basin below winter wheat grew and in summer months sheep and goats were pastured. Located at the edge of the desert that is home to the Dead Sea, Bethlehem is amazingly fertile; grapes, apricots, almonds, oranges, lemons and figs grow there. So why in this carol do ships sail into Bethlehem when it is not exactly close to any big waterways? Are the three ships referring to three magi riding into Bethlehem on camels? But if so why is there no mention of Jesus and Mary? And I'll say it again – where is Joseph?
Here is the thing about mysteries. Do you really want to know the answers? Do you want everything explained to you? Once the secret is revealed, you gain something, knowledge or power perhaps, but you also lose something – a sense of wonder. Things are not the same as before, and you can't go back.
We need a divine mystery to rescue and restore our love and worship. Kallistos Ware, English bishop and theologian of the Eastern Orthodox Church understands this perfectly: "It is not the task of Christianity to provide easy answers to every question, but to make us progressively aware of a mystery. God is not so much the object of our knowledge as the cause of our wonder."
Worship, which at its core is an expression of love, is a key part of Advent. We are preparing ourselves for the approach of God. And – thanks be to God – God lovingly responds. We are created to love a mystery, even as we worship in spirit and in truth. As Paul says in 1 Corinthians, we see through a glass darkly. We may not fully know or understand, we may have questions, but there is a beauty to faithfully loving the mystery.
Like three ships sailing in the desert on Christmas Day in the morning.
Christmas Eve
Friday, December 24, 2021
Scripture: Colossians 3:12-17
Put on then, as God's chosen ones, holy and beloved, compassionate hearts, kindness, humility, meekness, and patience, bearing with one another and, if one has a complaint against another, forgiving each other; as the Lord has forgiven you, so you also must forgive. And above all these put on love, which binds everything together in perfect harmony. And let the peace of Christ rule in your hearts, to which indeed you were called in one body. And be thankful. Let the word of Christ dwell in you richly, teaching and admonishing one another in all wisdom, singing psalms and hymns and spiritual songs, with thankfulness in your hearts to God. And whatever you do, in word or deed, do everything in the name of the Lord Jesus, giving thanks to God the Father through him.
If I had a life scripture, this might be it. Amongst all the profound and meaningful things that comes out of these verses, today I say that it gives you permission to listen to – and sing along with! – all your favourite Christmas music!
Christmas Day
Saturday, December 25, 2021
Christ
Oh tragic birth, with your coming
the universe disrupted. The sure course
now in disarray — a cataclysmic catastrophe
breaking in and breaking down.
The ancient prophecies foretelling something
no one understood, strange imaginations
beyond the grasp of mere mortal thought.
Confounding the centuries of
stargazers, diviners and burning bushes.
It was a breath-taking and bitter surprise,
born through the dark journey,
the darkness of wombing laments.
Dust and divinity caught up again,
strangely enlivened by their otherness.
You did not come as we would have liked –
No privileges at the door, but
surrounded by the pulsating cries of injustice,
the blood of innocent babes.
Creating enemies in your first steps,
fleeing from tyrants bent on
your destruction — powers that were
unwilling to bend a knee.
Powers that were not ready for your
frightening entrance,
but ready or not you came,
in obscurity, in flesh and blood–
this coming that confronted all counterfeits.
Oh the tragedy in the blindness of dominion
Oh the tragedy of your dividing sword
Oh the tragedy of a world in rebellion
Oh the tragedy of a baby born as king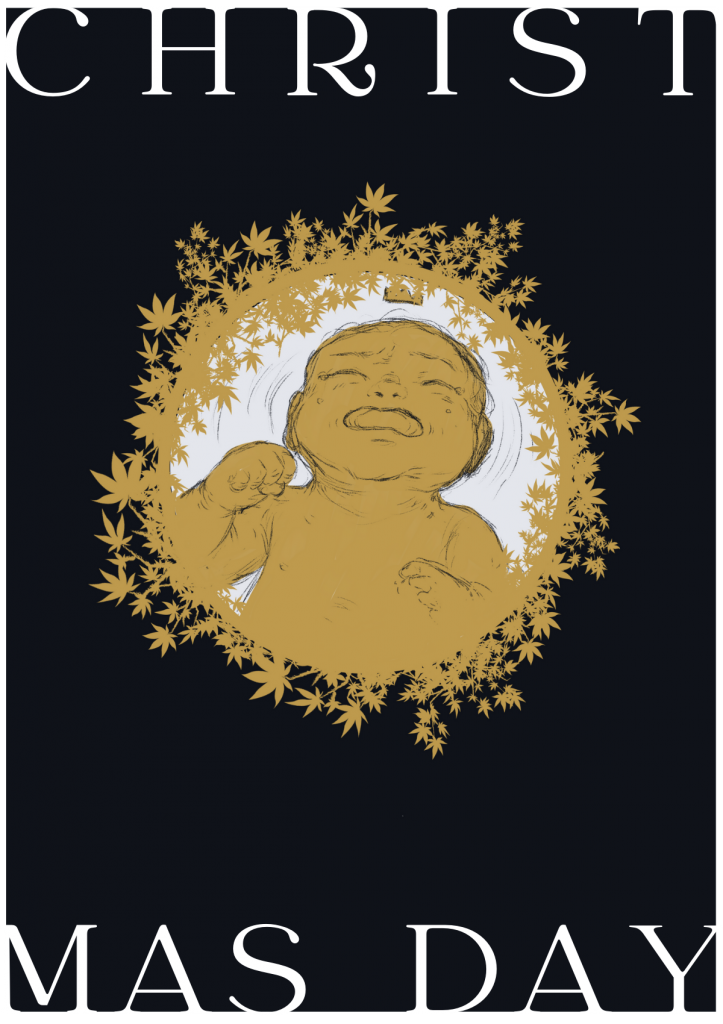 Reflection: Ned Guest,
Special Needs Director, Pioneer Camp Ontario
My job provides me with some unique opportunities. I get to spend a lot of time with people who have special needs. Some cannot walk, others are unable to speak. Those who can speak, often have limited words or need prompting to engage in conversation. Many are unable to dress themselves. Although each individual is different, they have been grouped together because they all bear characteristics which are seen as weak.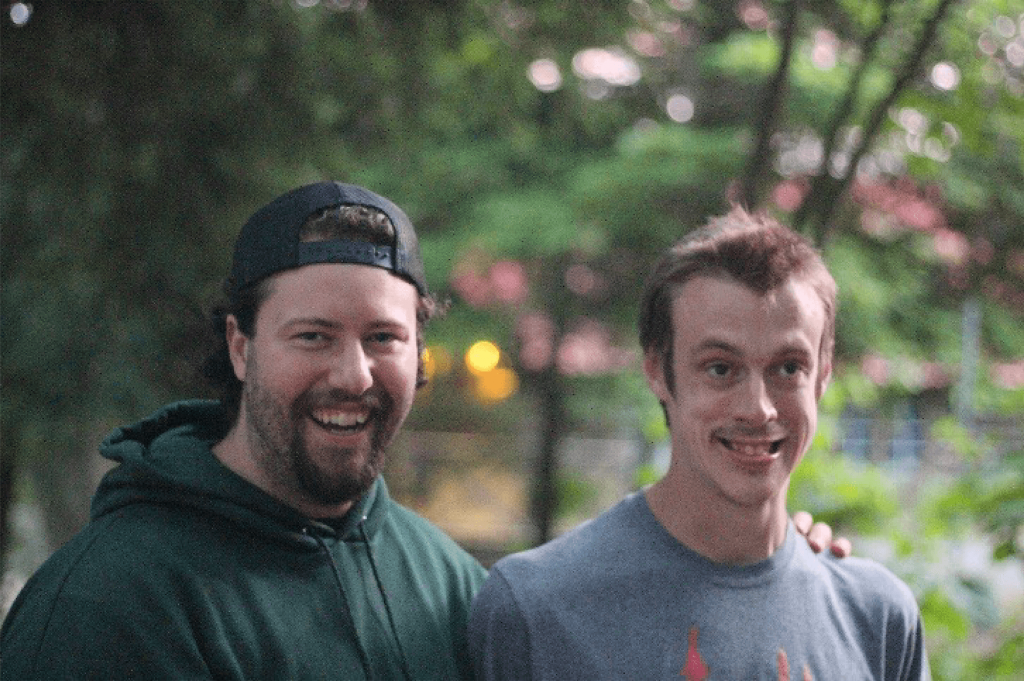 In my time spent with the 'weak' I have learned that I am one of them. When I spend time with people who have been defined by their limitations, I find that I more easily identify my own. My anxiety leaves me stuck on simple tasks. I struggle to use the right words in the right moments. Time and time again, I am struck by the fact that I am helpless in so many ways.
Human weakness is not characteristic of a select group only; it is a defining trait for us all. Each of us are limited, each of us are unable. It does not benefit us to forget this although we are inclined to push it from our minds. We often prefer to believe the lie that we are strong rather than embrace the truth that we are weak
Christmas is God's great answer to our great weakness. Christ did not come because we were finally good enough but because we had no hope without Him. Christ knew that we were unable to complete our own to-do lists let alone save our own souls.
Christmas reminds me that I am weak but deeply loved. In my weakness, I do not need to fear this dark and frightening world but rather be comforted that my God came to live with me in it. It is in this darkness where the contrast of God's light is greatest, and it is in our weakness where his power is made perfect.
Where in your life might you be denying your own weakness? How might you let Christ meet you there?
But God chose the foolish things of the world to shame the wise; God chose the weak things of the world to shame the strong. (1 Corinthians 1:27)
Third Week of Advent: Joy & Wonder
Sunday, December 12, 2021
Joy
One day
it will be
all we know,
trees bursting
forth with
a royal welcome
But here
and now
the fig tree
is dying
There is devastation
of the incarnation
desecration of
sacred lands and
sacred lives
The list of crimes
is never-ending
with despair and cynicism
always hiring,
and enslaving,
and embittering
Is there some
undercurrent here
deeper than
the pain and sorrow?
Something strengthening
underneath
that could uphold
this mess?
Maybe our efforts
need to go downward,
a rugged search
and surrender
to uncover this treasure
hidden underground
-true riches
and true gift.
As we behold it,
there comes
illumination
If we
descend
as one with
strange
imaginations,
inspired
towards singing,
long-suffering
and dances
of praise.
We know
a lot less of it
now,
but it is present
within us –
as a tension
an oddity,
a lifeline
and a prayer.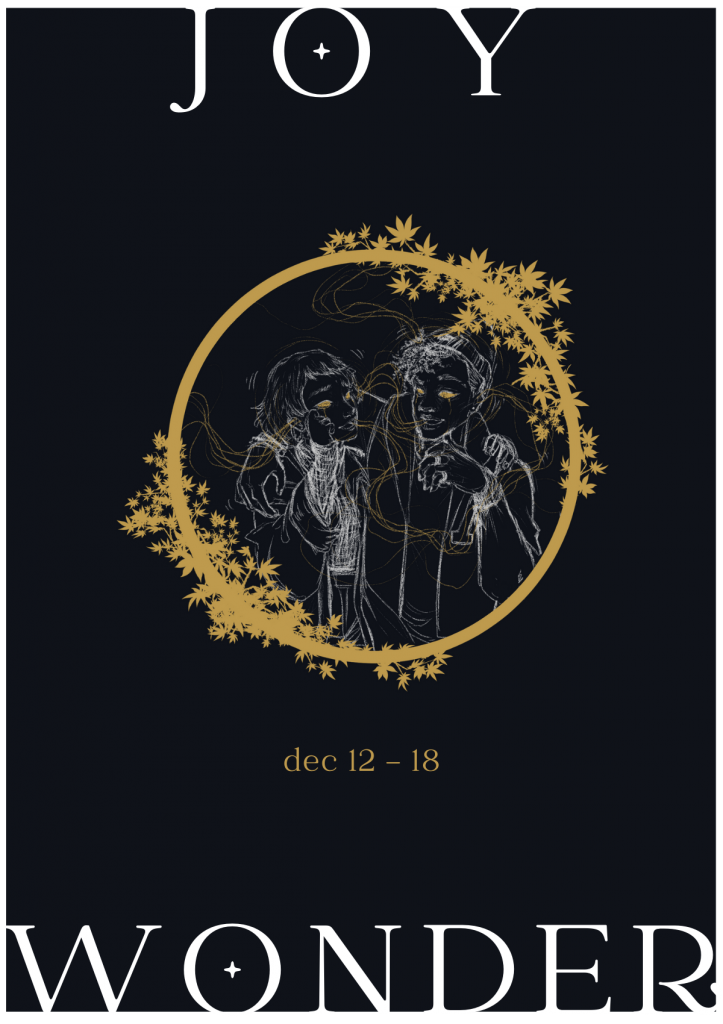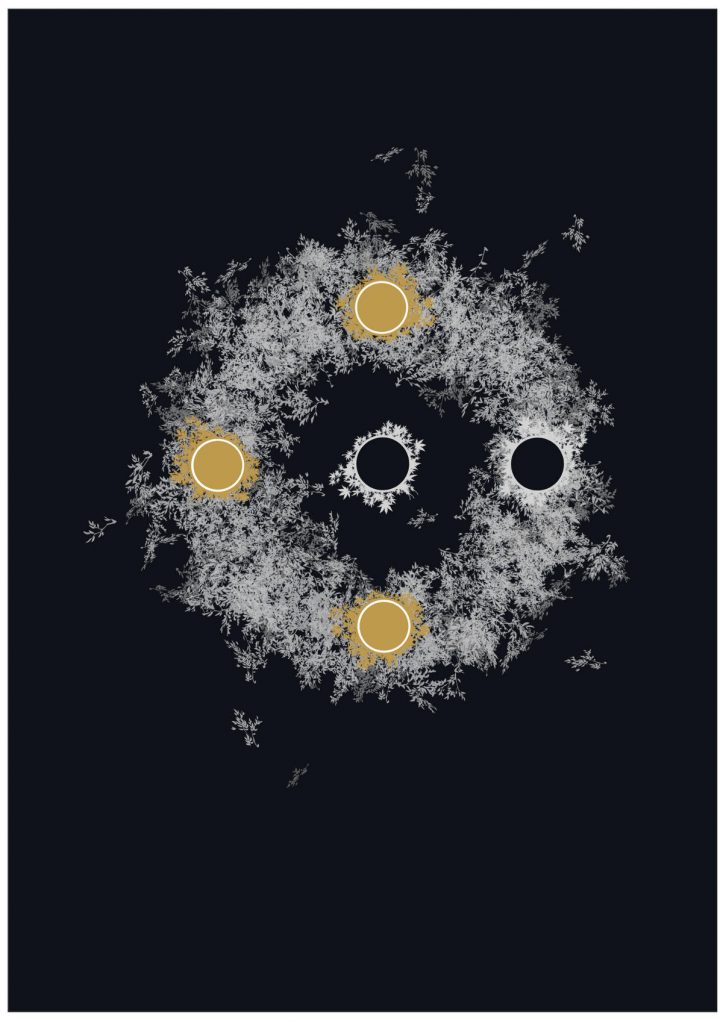 Monday, December 13, 2021
Reflection: Christy Frost
National Resource Team
"Blessed are you among women, and blessed is the child you will bear! But why am I so favoured, that the mother of my Lord should come to me? As soon as the sound of your greeting reached my ears, the baby in my womb leaped for joy. Blessed is she who has believed that the Lord would fulfill his promises to her!"
Luke 1:39-45
Here we see two women facing non-traditional pregnancies in seasons that are full of uncertainty. And honestly, knowing what was going to happen next wouldn't have been that helpful for either woman. They both face journeys of grief and letting go beyond what they can imagine. Yet in the middle of a story that is only going to get more emotionally draining and complex, Elizabeth bears witness to the holiness she sees growing within another woman, and the baby in her own womb leaps for joy.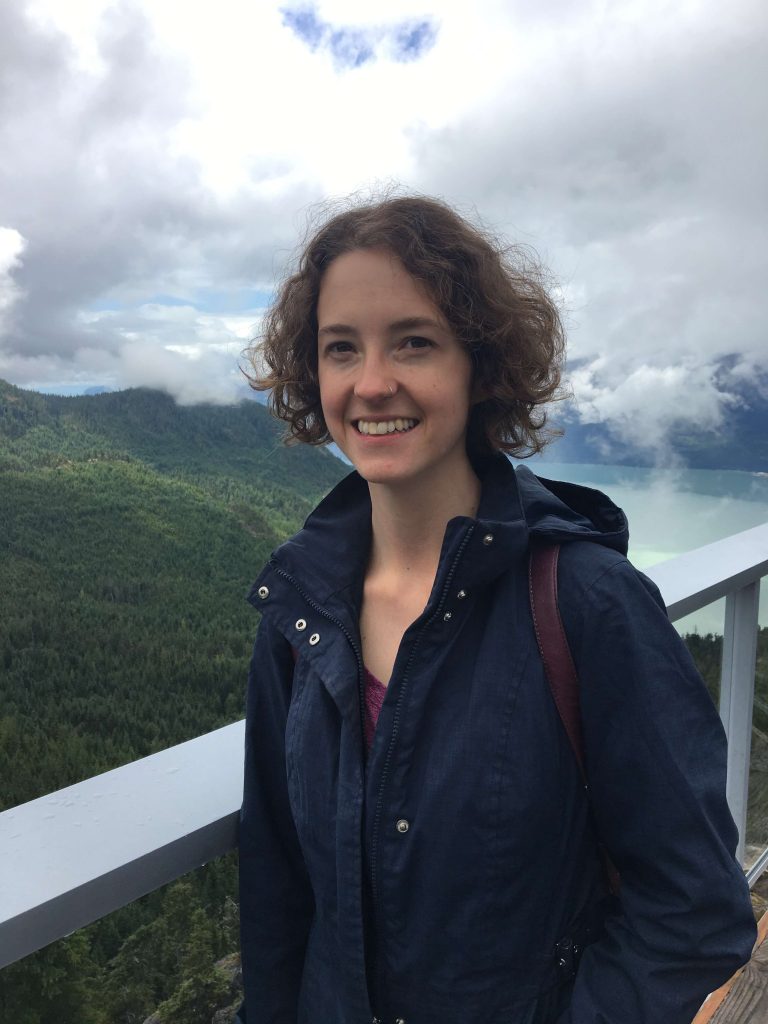 In Psalm 61, the psalmist asks to be led to rock that is higher than himself, a solid rock where he can stand and stand a chance to escape the storm intact. Life is always difficult in one way or another, but talking with friends about how they're doing at the end of 2021, it seems so many have faced loss after loss, personal crisis layered over pandemic, sown through with transition and made worse by the absence of typical support structures. The pain of the world around us and our own small tragedies have bled together, spilling over the edges of our hearts and bodies. We want a promise that the pain we're feeling is going to end soon, that our complicity in the broken systems of the world can be limited, that there will be no more emails with bad news, no more uncertainty, no more loved ones struggling with mental health, no more disintegrating relationships, just a promise that nothing more and no one else will be lost.
This story doesn't offer that kind of comfort. And yet, in this story we see an embodied solid rock moment taking place for these two women—a moment where they stand together, shielded. Elizabeth witnesses the holy in Mary; she names her as blessed for her belief in God's promises and for her willing involvement in this holy story. Elizabeth's words create a sacred space, not where everything is resolved, but where the wonder of being part of a holy story breaks into the mundane desperation and practicalities of what they're facing.
Today, even as we sit in the middle of our own painful stories, I wonder how we can bear witness in our bodies to the ways Jesus is growing in each of us, and even more: how can we call out the holy we see growing in each other. One thing we can learn from this story is that joy and holiness are both called out in the midst of relationship.
Ponder: We aren't alone in walking this path of uncertainty as we try to nurture the holy things God has planted in each of us. As we light the candle, let us remember that even as we are each swept up in the mystery of God's complex work in a messy world, we are not alone in tending these small flames.
Tuesday, December 14, 2021
Scripture: 1 Peter 1:2-9
Ponder: What does it mean that we've already been given birth "into a living hope" even as we sit in the middle of unresolved stories in which we "suffer grief in all kinds of trials?" How do you think about hope, wonder, or joy when you're in the middle of a painful story? What kinds of physical movement or action can you do to practice hope?
Wednesday, December 15, 2021
Scripture: Luke 1:46-56
Ponder: Mary sang this song after being seen, welcomed, and blessed by her cousin Elizabeth. Can you think of a time when someone else's calling out the holy in you led you into worship? Is there someone in your life whom God is calling you to see, welcome with hospitality, and bless?
Thursday, December 16, 2021
Scripture: Psalm 86:1-13
Reflection: Katharine Beaven (Delo)
Pioneer Camp Ontario
I was almost 10 when I lost my Mum. The innocence and wonder of childhood quickly shifted to sadness, hurt and a feeling that I needed to take care of those around me. Like David says in this Psalm, "I was poor and needy…crying out all the day." But also like David, I am thankful that from a young age the Lord was my firm foundation, so that I could recognize how "great is Your steadfast love toward me; you have delivered my soul from the depths of Sheol." Because of that love for me, I feel privileged to work at camp, especially with the youngest children, witnessing the wonder and joy I felt I had to leave behind once my Mum was gone.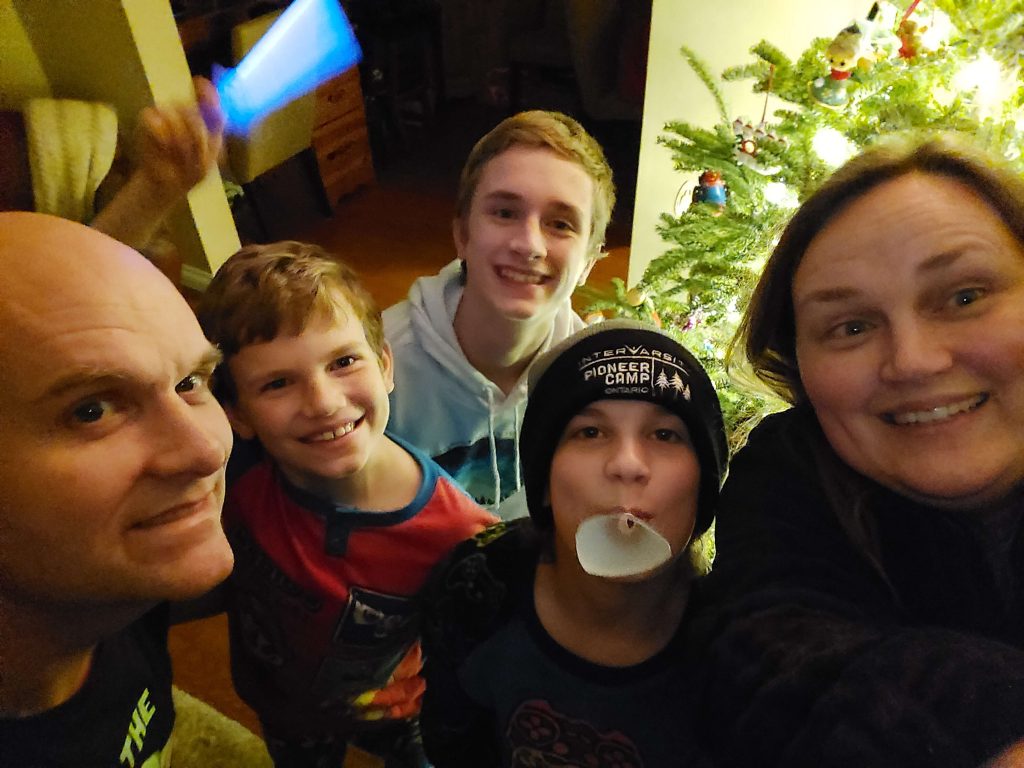 Darrin, Theodore, Alexander, Sebastian, Katharine
Like parents witnessing first words and steps, I get to see the first time away from those parents, first time swimming in a lake, first time seeing a deer, and so on. A groundhog looking for a snack can bring all the kids to the dining hall window to witness the wonder of the gift of animals. A bright star can bring kids to a wet field to witness the wonder of the beauty of creation. A child missing home can bring a friend to show the wonder of the gift of friendship. A reminder from Scripture can show the wonder of the gift of redemption and freedom in Jesus. In Matthew 18:2-4 we read "And calling to him a child, he put him in the midst of them and said, 'Truly, I say to you, unless you turn and become like children, you will never enter the kingdom of heaven. Whoever humbles himself like this child is the greatest in the kingdom of heaven.'" Jesus' words remind his disciples that they need the characteristics of a child – trust, vulnerability, and wonder – to have great faith.
Ponder: As adults we can make things more complicated. This holiday season I encourage you and myself to become like children. Take a few moments today to put onto your Heavenly Father the "adult weights" you carry and embrace child-like wonder. Enjoy the way Christmas lights sparkle in the darkness against the snow reminding us that Jesus shines in the darkness, and no matter how much snow covers those lights, it cannot overcome them. Enjoy the aroma of treats you only eat during the holidays. Enjoy the way snow feels when it hits your tongue and how each of those snowflakes is unique like all of us. Enjoy!
Friday, December 17, 2021
Scripture: 1 John 5:1-5, 13-15
Ponder: Do you have some bubbles* in your house? If so, grab them, read these verses again, and then pray and blow bubbles. As the bubbles float away, see it as a reminder that the Lord hears and receives us. Are there requests you have tried to hold onto yourself? Like bubbles will break in our hands, we are not meant to carry things alone, give them over with confidence!
*Homemade bubble stuff: Mix 1 ½ cup water, with ¼ cup liquid dish soap, and ½ tablespoon corn syrup. Store in an airtight jar. Gets better with age.
Second Week of Advent: Peace & Walking
Sunday, December 5, 2021
Peace
Shalom is a soiled way
It does not hover
detached from harsh realities
Though consumed by evil
it presses back in resistance,
breaks through rock
and hardened hearts
It stills the madness
of a world hurtling
towards cliffs edge,
standing as signpost
to solid ground
It meets between
enemy lines,
beating in time
with the hearts
of all humanity,
seeking to inspire
strange imaginations
that all
could be
made well
again.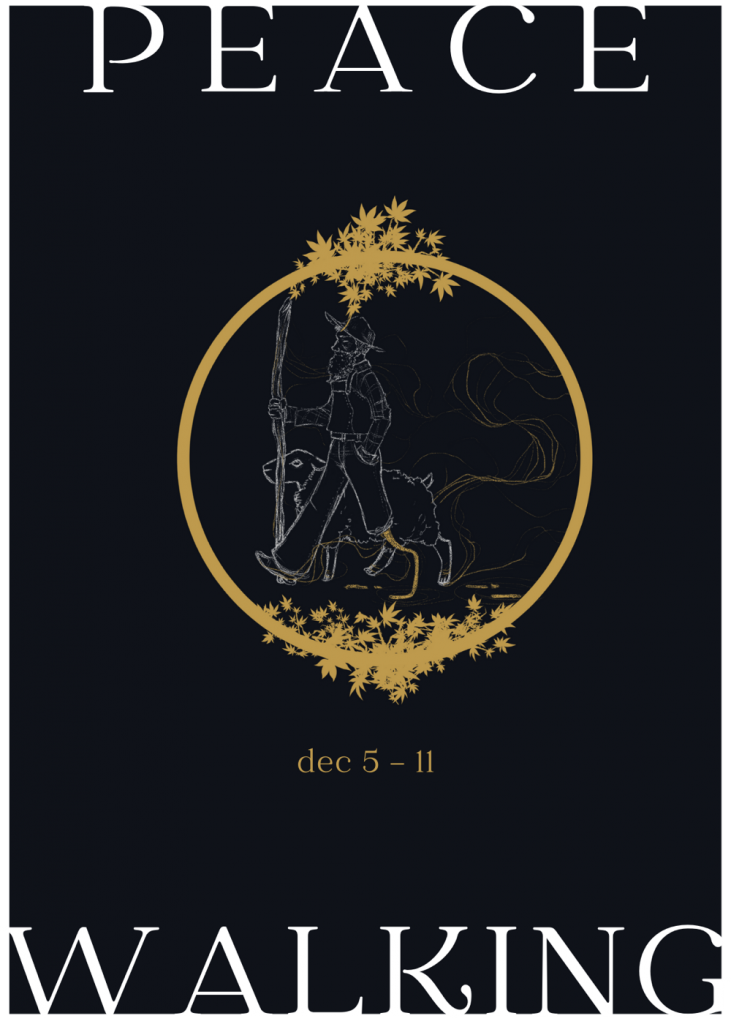 Monday, December 6, 2021
Reflection: Susie Colby,
Senior Consultant
I spent three weeks of this fall in Spain, walking a camino through cities and villages where important events in the life of St. Ignatius took place. Churches anchor every town. Only the tiniest village has just one church, and even there, chapels augment the one church.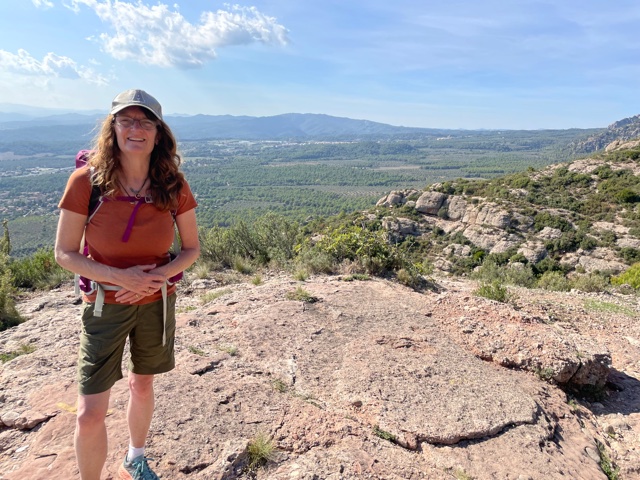 On the walls and ceilings of these churches, the Christmas story is pictured year-round. Paintings and mosaics depict the story scene by scene: Virgin Mary, dressed in blue, gazing up at an over-hovering angel, resplendent, Mary's face illuminated by his presence; pregnant Mary, still wearing that blue dress, seated side-saddle on a donkey; newborn Jesus, looking at lease three-months old and under-dressed for the weather or invisible within his swaddling clothes, cradled by Mary, seated, with Joseph gazing at the babe over Mary's shoulder amid a barnyard menagerie; wide-eyed shepherds on a dark hilltop, under a sky crowded with brilliant angelic beings; gilt-robed, diversely toned men kneeling in the foreground of the barnyard scene. Real life stories are not made up merely of scenes, but of everything that happens in between. Between the familiar frames of the Christmas story, there is a lot of walking.
Joseph, Mary, and a donkey walked to Bethlehem.
Shepherd walked down the hill to find Jesus.
Joseph and Mary walked with their newborn to the temple in Jerusalem
Wise men walked a long way to brig gifts, then walked a longer way round on the return trip.
Joseph, Mary with baby Jesus walked (or ran!) to Egypt fleeing Herod.
Nothing is recorded about what happens on these walks. So I draw upon my recent experience walking more than 250 kilometres to imagine how the stories unfolded.
Our romantic image of pilgrimage includes deep thought and epiphanies, but my deepest thoughts on my camino were often of my next meal and the steps to get there: step…step…step… Pondering inspired not by profound reflection, but by noticing my immediate surroundings and my embodied experience of them.
I wonder what bird built that nest.
I wonder if Queen Isabel, who 1000 years ago sponsored its building, ever set foot upon the bridge I am now crossing
I wonder if that café has a washroom.
Reflection happens after the walking, and here is mine: we live our lives at the speed of streetcars, subways, planes, and the internet (5G!), but our bodies are native to a different pace. Even if we exercise daily, alter our diets, and buy good shoes, still we will not outrun our cars, bikes, or skateboards. This is not a moral assessment of our enhanced transportation and communication technologies; I'm merely offering an observation from the walking path. Something happens when our minds travel at a pace natural to our bodies.
I have long practiced the spiritual discipline of Going Outside. Yes, the daily discipline of stepping out my front door. Inside my house I am relatively large measured against my gadgets, appliances, furniture, and walls. I am big enough that I should be able to solve problems, take responsibility, and otherwise control my environment. Outside, I'm not so easily fooled. I walk 11 blocks toward the Burrard Inlet. I am much, much smaller than the elm trees that line my street, and even they are much smaller still than the North Shore mountains looming larger and larger as I approach the sea. Turning left toward Jericho Beach, the view opens upon the wide ocean over which the unimaginably enormous sun sets.
I remember that I am small. So small. What a relief! Perspective re-calibrated to reality. Walking offers a similar gift in time. Just as going outside reminds me I am small in God's created world, walking reminds me my life on earth is brief in God's eternity.
My younger self, dreaming of all there was yet to do, might have been disheartened by life's brevity. But today I am glad for what I have done, at peace with what I am doing, settled into being here and now, and watching where I step, I am at peace.
Is it possible that all the walking embedded in the Christmas story was also a gift of peace?
Joseph, angry with Caesar over this forced march to register and concerned for his pregnant wife. Did walking the road to Bethlehem offer peace in a space where the two were together away from the gossip surrounding Mary's pregnancy. Did the act of walking tamp down fury and fear?
Shepherds, scurrying down the hill. Did peace descend with them as they learned the angels' songs?
Mary, carrying her infant on his first outing to the temple and home again. Did Mary find peace in pondering words spoken by Gabriel, Simeon, and Anna?
Suggested activity for this week (Surprise!):
Go outside. Take a walk. Discover what gift is waiting for you outside and around the corner.
Tuesday, December 7, 2021
Do an errand on foot. How much longer does it take than had you accomplished your task using transit or biking or driving? Notice whose path you cross.
Wednesday, December 8, 2021
Go on a walk without pre-determining your destination. Where do you go? What or who leads you?
Thursday, December 9, 2021
Reflection: Rachael Hildebrandt,
Program Director Circle Square Ranch, Spruce Woods
After staff and campers left, there was silence. I've learned and valued much in the quiet seasons of camp during Covid but this time I was particularly dreading solitude, feeling uncomfortable – restless even. In the past I've used consumption as a means of distraction and maybe even more so this past year, but this season consumption seemed meaningless. I put on Netflix, bought another plant, drank a glass of wine and feasted on chips and candy. It's clearly been a year of coping for some of us, but past experience has taught us that these things won't satisfy. Nonetheless I bought into these lies that were amplified in a year of significant changes where coping felt more acceptable. After a season of camp during which I had believe the lie that I was not measuring up in my job, I felt like I was in a bit of an identity crisis.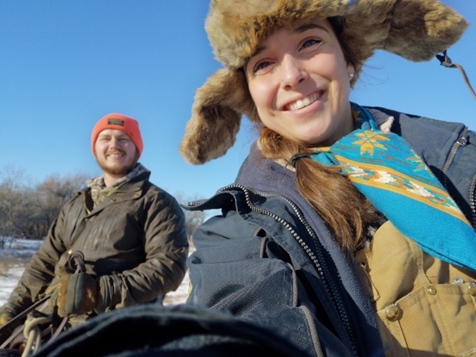 Chris & Rachael Hildebrandt
So I walked. I don't know why I started initially; it's not like I haven't walked a lot before. But for some reason I couldn't really bring myself to do anything else. I walked in new places, alone and wandering. This has become important for me because it helps me to be present in the moment, to pay attention to creation in all aspects (hearing, seeing, smelling, tasting, touching). At the same time, walking was a place for deep and honest reflection. It's not the first time my identity has been shaken, and I'm sure it's not the last, but these have been my thoughts of late.
My home has become sanctuary, the place where I hole up and hide. My job has become my purpose, the task that makes me feel needed. My relationships with people have become the places where I search for belonging. My relationships with my animals have been about making myself happy. My stuff has become a pacifier. So what's left when these things are gone?
No home would mean I would need to seek solace somewhere.
No job would mean I would have to find a purpose.
No relationships would mean I don't belong with anyone.
No animals would mean I would have to find happiness elsewhere.
No stuff would mean I'd have to learn to cope with life on my own.
I want to be able to answer the question of who I am without these things attached, to value just existing in the presence of God. The above list of things isn't fulfilling enough anymore. In an age of increased consumption, I have fallen into this trap, and I'm disappointed that these things cannot satiate my hunger. There is a taste of truth that I now long for, and nothing else is satisfying. If Christ is my identity, what does that mean? Being a follower of Christ, I think we come again and again to this inevitable question.
It may be super cheesy but the line I want to use is "my heart is my home". As I walk, I encounter Christ within me, and I am learning to understand the power of presence in the Holy Spirit. How could my life change as I establish my identity based in Christ? I want to find my peace (shelter/home) in Christ. To find my purpose in love. To find belonging in being loved by Christ. To find happiness in love and gratitude in relationship to animals and creation. To be intentional in valuing all life as sacred – including my own (making choices that are good for me too). If this was all that was left, what would life look like? What would each moment mean? Each interaction? How would I see the world differently?
I'm so grateful to Jesus who meets me graciously and lovingly in these questions. I'm sure you have encountered Christ in similar ways. Perhaps this is nothing new for you. You may have even further wisdom and perspective. Regardless, I hope to encourage you, that as we reflect on the peace of Christ this Christmas season, may our reflection bring us into a space of re-centering our identity in Him. As the culture fully endorses the consumption of "goods," may we step back and be mindful of what lies we believe and what Christ calls us into. God desires more for you, not from you. He was born as the "Prince of peace and Lord of Lords."
Friday, December 10, 2021
Take a walk with one or more of the characters from Christmas story. Imagine yourself Joseph walking with Mary to Bethlehem, or a shepherd scurrying to the edge of town, or a wise person on a long journey to honour a newborn king. What questions, dreams, hopes and concerns accompany you?
First Week of Advent: Hope & Waiting
Sunday, November 28, 2021
Hope
It first comes
just as a whisper,
a far-off echo
from some distant land
Then,
breath upon
dying embers,
hovering,
searching for
some lighted
coal to be revealed-
a flicker of flame!
With sure breath
from deep places,
strange imaginations
are lit
that pierce through
dulled darkness
It is as much
a doubtful matter
as it is a faith-filled matter
A fragile egg
the heights of
cedar branches,
so easily
dashed,
deafened and defaced
It struggles
to emerge from
infancy to
first steps
without being
kicked to the curb
But when it is found,
and one is found within it,
then as a furnace
it fills every room
and finds a way out
of every open window.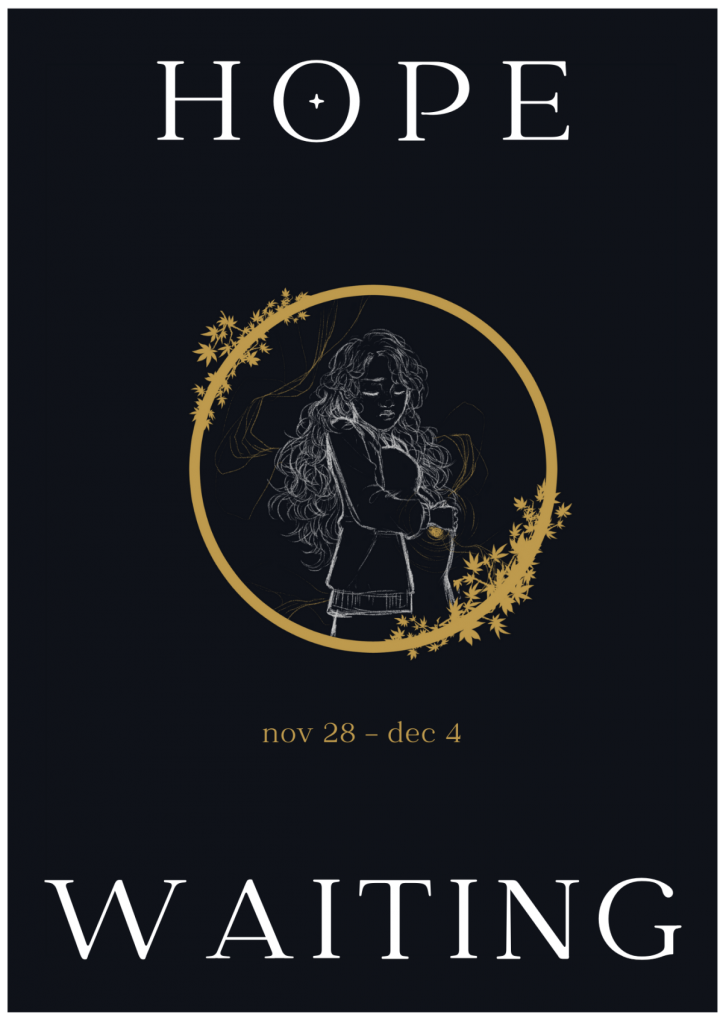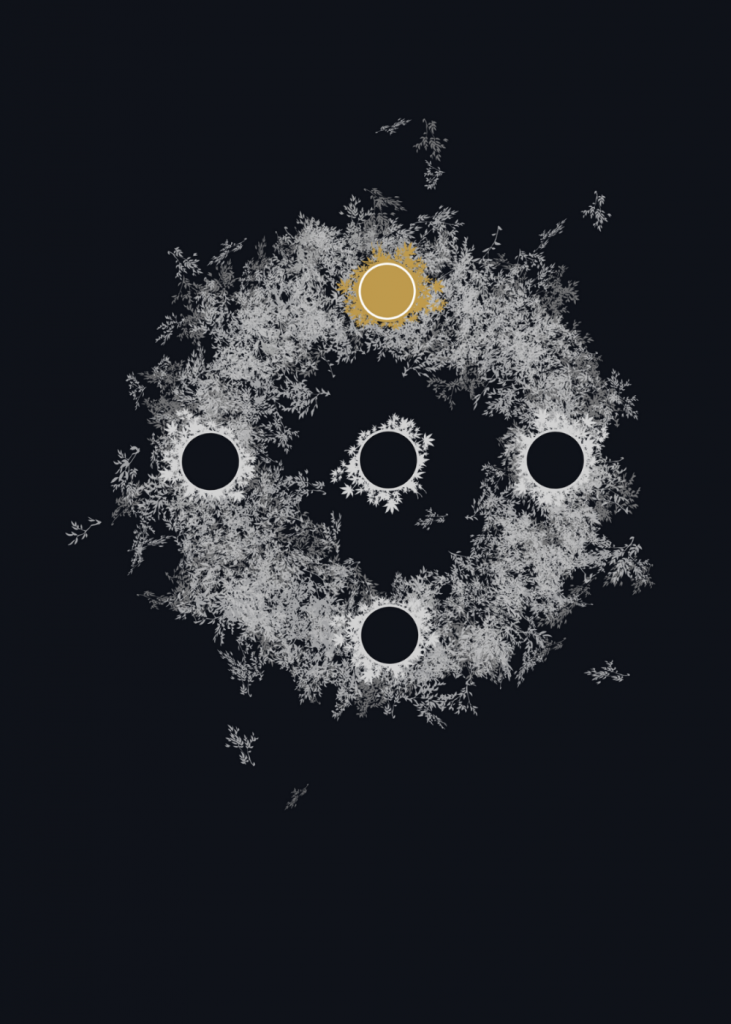 Monday, November 29, 2021
Reflection: Mel Chook Reid,
Eastern Ontario Campus Director
Waiting. It's a word that I don't like to hear. It usually means that something is coming but it isn't quite here yet. And that in-between space is difficult. My friend mentioned this in an e-mail the other day. She moved to study in a different country and to be closer to her boyfriend. She said that she is "no longer in the honeymoon stage but also not in the adjusted phase, so the in-between is hard."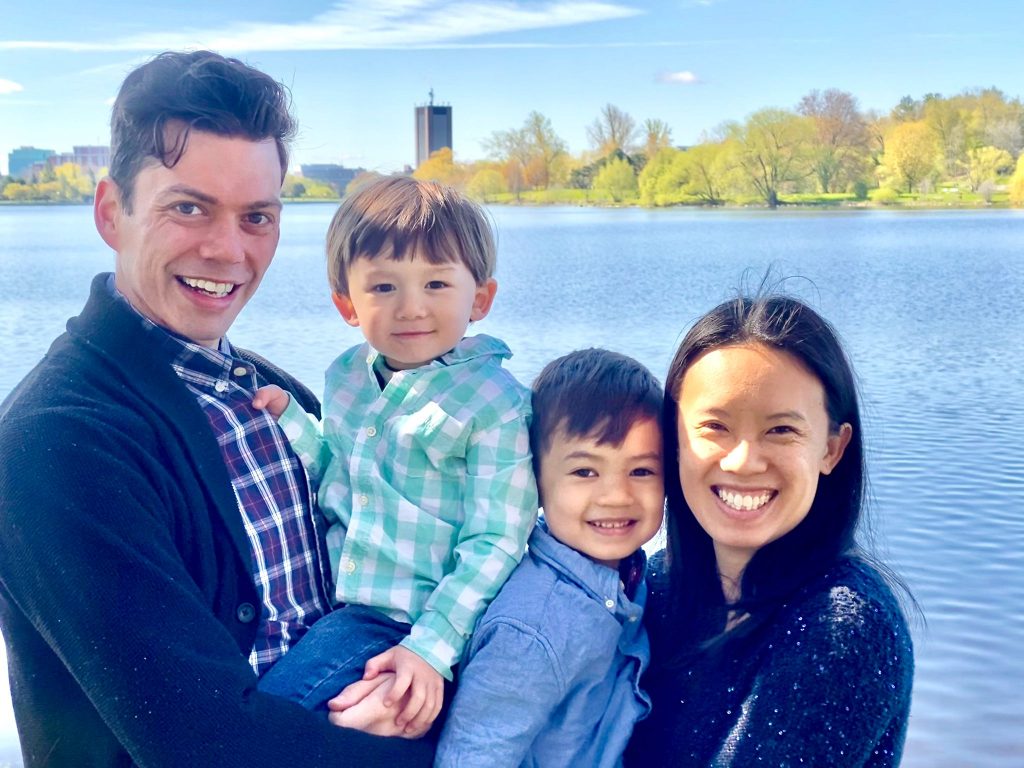 Dan, Elliott, Marcus, and Melody Chook Reid
My kids don't like to wait, especially when it's waiting for dessert or opening presents on their birthdays. I could list many more examples in my life where we have had to wait and it was challenging: wondering if I passed a test, finding the right house to move into, or whether surgeons had removed all the cancer from my husband, Dan's, body.
But not all waiting is bad. Today God is drawing my mind back to the times when my two children were about to be born. Dan and I had decided that there weren't enough good surprises in the world, so we didn't find out their gender either time.
The days leading up to the births were exciting and interesting. I wondered how they would enter the world and if my body would tell me that they were coming. Would my water break in a public space? Would they be born at the hospital? (Luckily, both times my water broke at home and my body did alert me with enough time to get to the hospital!)
I remember the pain of labour, especially with Marcus. I didn't know if I could do it, but with each push, I was closer to meeting the child God had gifted me. It was long and painful but finally, I heard a cry. My whole world changed, and I felt joy, awe, and wonder as he was placed into my arms. This made the nine months of waiting and the six hours of active labour worthwhile.
Prayer Exercise: What positive experiences of waiting have you had in the past? How are you entering this Advent season? With dread? With fear? With hope?
Tuesday,
November

30, 2021

Reflection: Kaleb Earl
InterVarsity Alumnus
Scripture: Isaiah 40:3-11
The Evangelists describe John the Baptist as "the voice of one crying in the wilderness: Prepare the way of the Lord, make his paths straight." Like Isaiah before him, he has the task of preparing God's people for the coming of the Lord—this time in the person of Jesus. In Isaiah's day, Israel was occupied by Assyria. In John's, by Rome. God's people have been occupied and oppressed for a long time. They long to be free. They long to live as His people in the land He promised them. John was the first true prophet in generations. The Jewish people had longed to see God at work. Isaiah and John both promise deliverance. The Lord will come, and He will level the mountains and the valleys, He will free the cities of Israel and Judah! Hallelujah!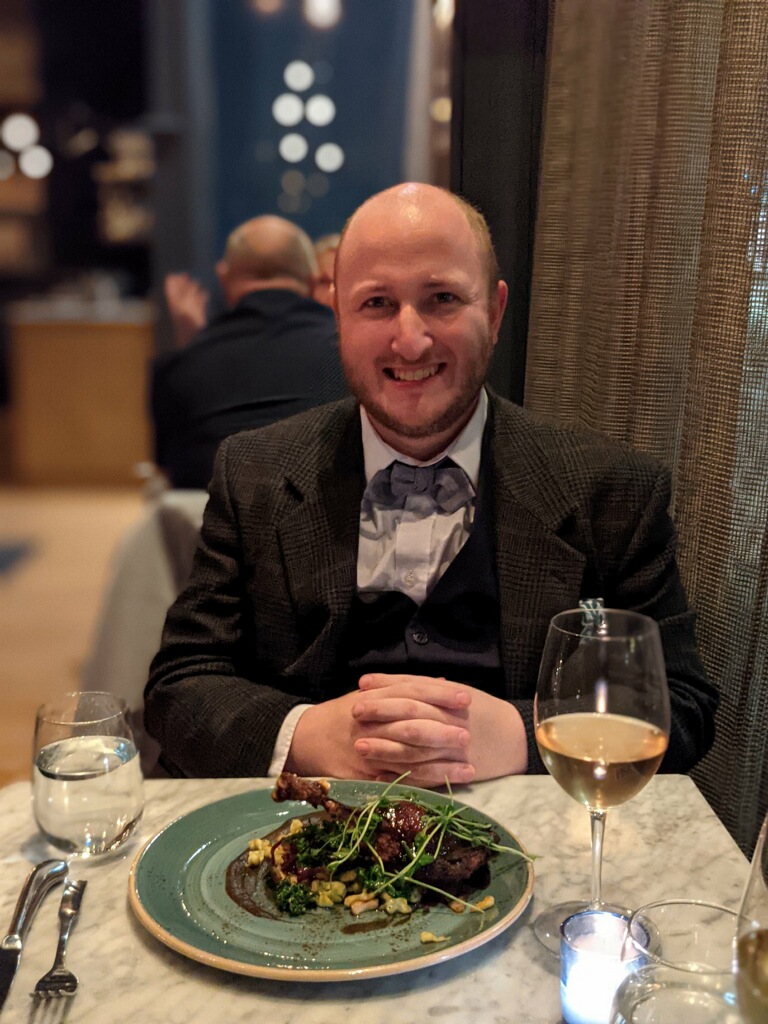 We, too, live in a time in which we wait for God to come. It's been two thousand years since Jesus walked the earth, and this world is very much occupied territory. While God has claimed the victory, Satan insists this is his world, and sin mars every aspect of our lives. It corrupts our relationships with each other, with ourselves, with creation, and with God. We are oppressed not by a foreign military, but by Satan. In this climate, we are waiting for Jesus to return. We need Jesus to return.
The call to us as God's Church, then, as we wait, is the same as it was in the days of Isaiah and of John: Prepare the way of the Lord. What does that entail? It entails repentance. "All flesh is grass," Isaiah cries. John speaks to the Pharisees and Sadducees of "the wrath to come." Jesus will come back. We will face "the great and terrible day of the Lord," and there's no better way to prepare for that than to repent of our sins. This is how we "prepare the way of the Lord."
Sometimes this is straightforward: is there a sin you keep doing? Stop doing it. Usually, it's less straightforward. Sin can be rooted deep in us, can be disguised as virtue. It's never easy. But this advent, there is no better way to prepare for the coming and return of our Lord than to repent.
Prayer Exercise: Sit before God and ask Him whether there is any particular thought pattern, activity, or belief He is inviting you to renounce or eliminate from your mind and life in this Advent season. Remember that Jesus did not come to bring condemnation but so that we could live life to the fullest, so ask without fear and with hope!
Wednesday, December 1, 2021
Reflection: Debbie Baird
National Resource Team
Isaiah 40:31 But those who wait upon the LORD shall renew their strength. They shall mount up with wings like eagles. They shall run and not be weary; they shall walk and not faint.
Psalm 37:7 Be still before the LORD and wait patiently for him. Do not fret over those who prosper in their way, over those who carry out evil devices.
I am waiting on Lord at this particular time of my life; so much has happened in such a little time. Jesus Christ has brought me through this season of COVID, and yet this pandemic has killed so many people. I do admit I was quite reserved about taking the vaccine, but after much prayer I received my answer.
There are times Jesus will answer you right away and then there are times when you must wait. For example, my grandson received an offer of a scholarship from a good university as well as a tentative offer for a spot on a university team. Now we are waiting, with much prayer and thankfulness, to see whether the coaches will give him a firm offer. I am also praying about getting my own apartment, and through all of it I hear the still, small voice of the Holy Spirit saying, wait.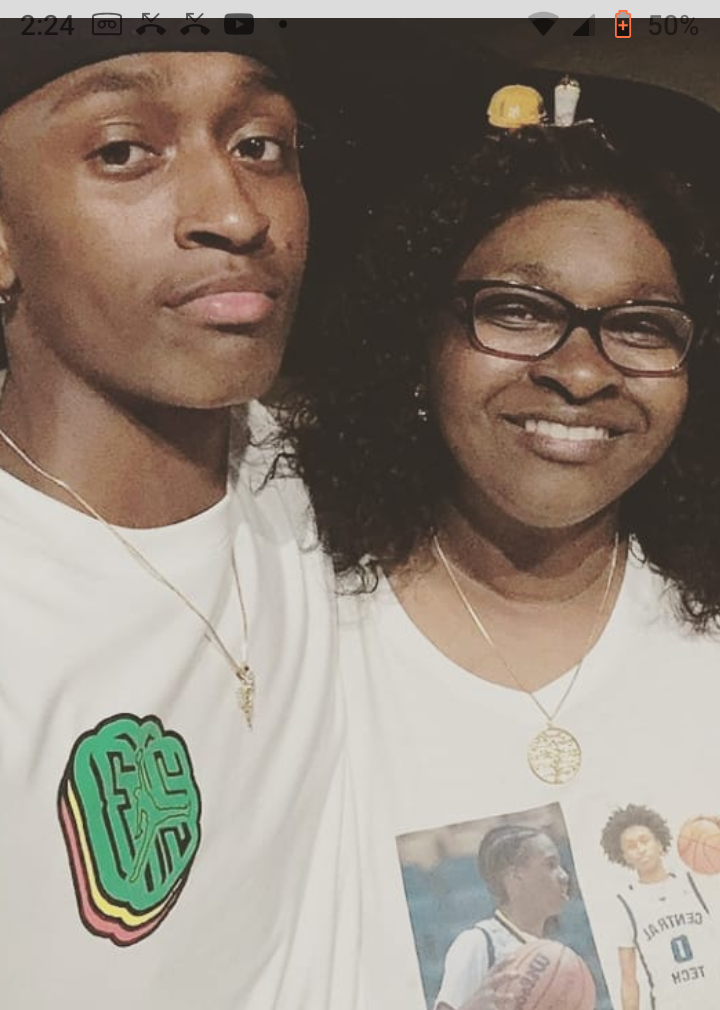 Grandson Malachi & Debbie
Prayer Exercise: As you talk with God, ask Him for the patience and the faith you need to wait on Him. Can you see what God may be doing in your life as you wait?
Thursday, December 2, 2021
Reflection: Tony Lai
Campus Minister with International Student Ministry
University of Toronto, Scarborough
John 7:18-19 John's disciples told him about all these things. Calling two of them, he sent them to the Lord to ask, "Are you the one who is to come, or should we expect someone else?"
In his song "Waiting for a Miracle," Bruce Cockburn casts a vision for justice in the context of the Nicaraguan conflict. But the lyrics are also a cry for hope: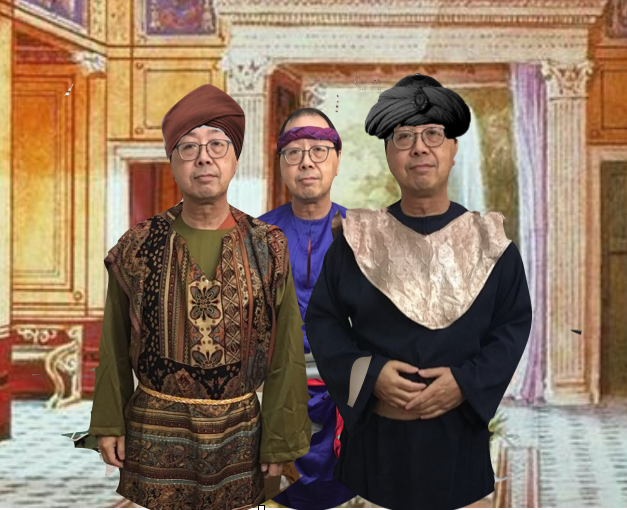 Somewhere out there is a place that's cool
Where peace and balance are the rule
Working toward a future like some kind of mystic jewel
And waiting for a miracle
COVID-19 restrictions have hampered life on campus and highlighted the annual stretch of our faith as we wait to connect with new students. In years gone by, for me the campus clubs day was like peering out into the wall of students for those whom God was sending to us. These last two years the wall has been a computer monitor, and we have been squinting to see if there was anyone, just anyone looking for us.
Our waiting for a miracle is parallel to the Jewish experience of waiting for the Messiah: the longer it goes on, the less you look. I remember praying with our leadership team a few years ago for five new people. After a month I had stopped looking for them, but later I was reminded by a young leaders that five Iranians had joined us that night. Lessons need to be learned and eyes opened. A few weeks later, five Koreans joined us, and I missed it again. Thank God for others who are watching!
When we see God or God at work, it is a miracle, an act of grace, and act of mercy.
Prayer Exercise: As you sit with today's Scripture, consider whether you may have missed God at work recently. Did you miss a gift from God or a word of encouragement? Do you tend to look backwards at what God has done, or are you ready and waiting for the next miracle? Perhaps you need someone to help you see what you are missing. Find someone to share and talk with.
Friday, December 3, 2021
Reflection: Deirdre Walters
Campus Minister at Carleton University
Psalm 27:13-14 – I believe that I shall see the goodness of the Lord in the land of the living. Wait for the LORD; be strong, and take heart, and wait for the LORD.
I asked a student whether she was interested in writing a reflection for our waiting-themed Advent week, and she said, "I don't think I have anything constructive to say about waiting. My mind is one long scream of impatience."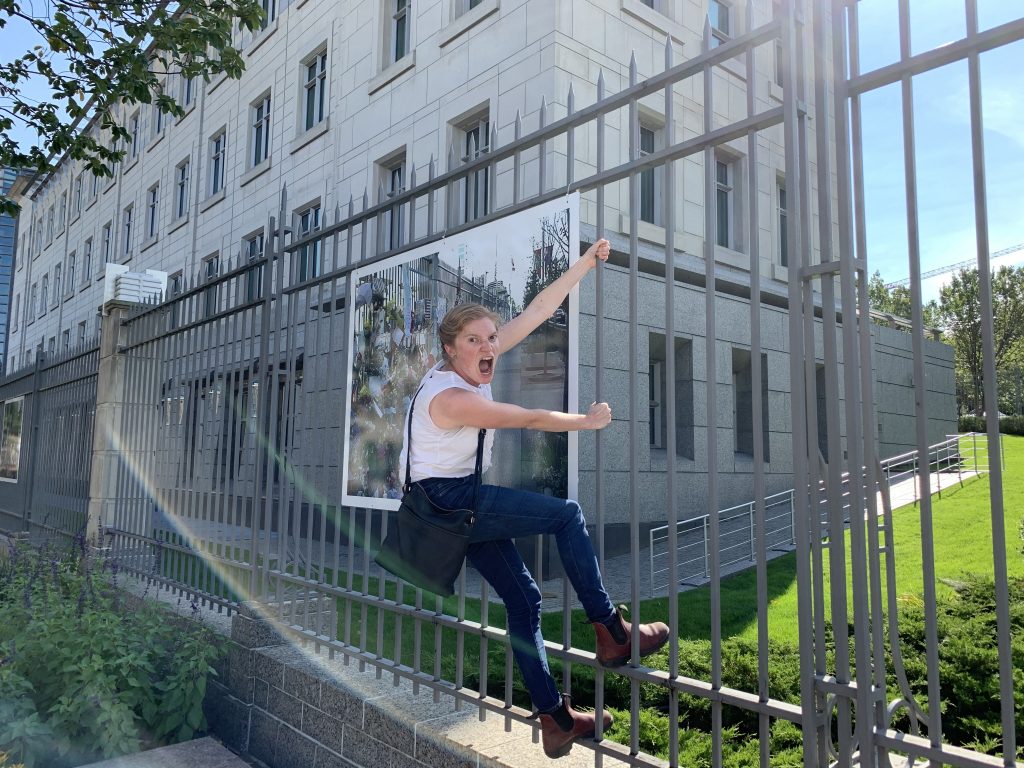 Yes, this is how I actually feel about waiting.
Same, girl. Same. I hate waiting. Right now, I am waiting for a particular person to choose healing faith in Jesus. Watching someone I love struggle feels awful, and I am filled with questions: God, why offer him choices when he is in so much pain? What are You waiting for? How much worse will it get?
In the face of my longing and confusion and angst, the only thing that has helped me is the truth of Scripture. "The earth will be full of the knowledge of God as the waters cover the sea." (Habakkuk 2:14) Do You promise? Yes, I promise.
So I say to myself, I do believe and I will believe that I shall see the goodness of God in the land of the living. Somehow, some way, whether in the way for which I long or in another way, I will see God, big and good, doing big and good things, bringing people into His glorious and beautiful way. I take heart. I will wait for the LORD.
Prayer Exercise: Who are the people in your life and/or ministry for whom you are waiting for God to bring wholeness and new life? Bring your longing on behalf of these people to God. See whether He has a word or a promise to you to restore your heart as you watch and pray and wait.
Meet the Artists
Poetry by Matthew Church
Campus Minister, University of Victoria (On Leave)
We live in a world that can easily consume us with its catastrophes, commercials and cacophony. These come at us from our large world, or our smaller worlds; there is noise from every side vying for our attention, trying to prop up some image of what an ideal world or life should be. Here, we are often confronted by limited imaginations that fail to lift us up to see a truer horizon-line of the expansive potential in the universe, namely that it is filled with the presence of the triune God of Love. This reality gives us the ability and audacity to entertain strange imaginations – things not yet seen, or fully seen. In this we let our minds and hearts be filled with the very thoughts, heart and imaginations that have been stirring in Creator from before the very beginning of all things. We are invited to behold these strange imaginations, letting them confront our small worlds with the grandeur of their scope and vision, alongside their earthy invitation for activist embodiment.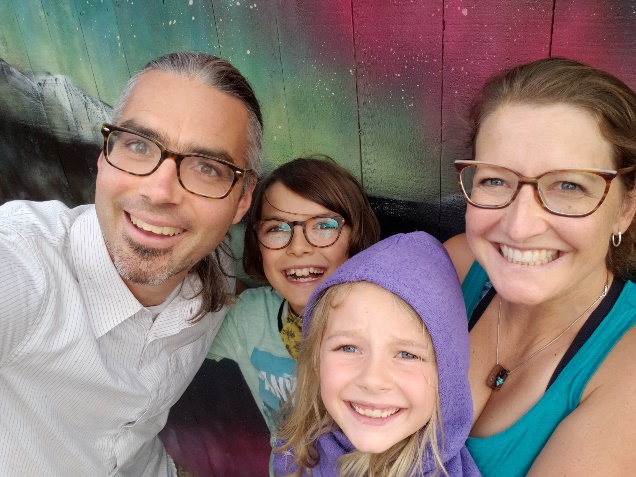 Matthew, Jasper, Libby & Jill Church
Strange Imaginations: Poetics for Advent 2021
In a world with despair, catastrophic desecration of earth and life, it is strange to imagine hope.
In a world with discord, strife and conflict, it is strange to imagine peace.
In a world with sorrow, tragic loss, and endless human rights abuses, it is strange to imagine joy.
In a world with apathetic consumerism, neo-colonial politics, and race riots, it is strange to imagine love.
In a world with tribal gods, militant religious action, and secular elimination of Spirit, it is strange to imagine, God with us.
It may be strange…
but it has been strangeness all along that has remade this world again and again even until today
But maybe in this strangeness, we might find a truer turn.
Illustrations by Paolene Nepomuceno
Campus Minister, University of Manitoba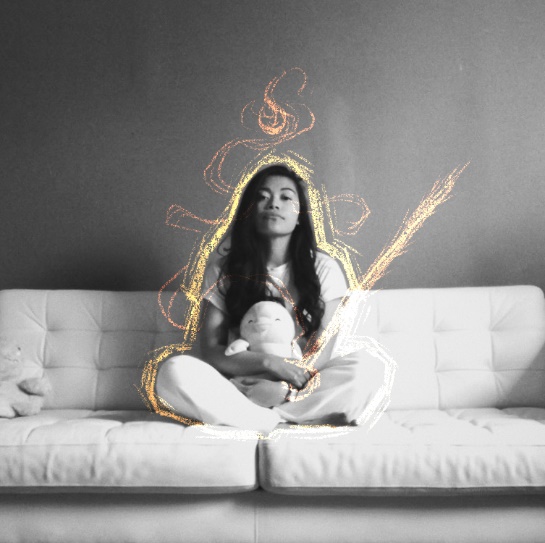 Paolene was quick to offer her artistic gifts for this Advent Prayer Guide. As she was creating the images, reflecting on Matthew's poetry and the Advent season, contrasts emerged: darkness and light, emptiness and fullness. Out of these, she imagined looking for Christ coming into the messy and out of the unexpected. As an artist, Paolene pulls threads together in her pieces to help others see with new eyes. Her Her Advent wreaths unite the diverse pieces collected in this guide, and her beautiful weaving of words draws us to meditate on something beyond words. May the Spirit of Jesus refresh you as you spend time with these offerings.
Related posts