Views from the Saddle: Camp Through the Eyes of a Ten-Year Old
The Stories
Overview
Downloads
January
February
March
April
May
June
July
August
September
October
November
December
Riding Tucker, one of the biggest horses at InterVarsity Circle Square Ranch Halkirk, is what 10-year-old Shyla Ellerby liked the most about camp.
Every summer, InterVarsity's nine camps host thousands of kids from age five to 19 in a week of new activities, outdoor exploration, leadership training and learning about God. And in 2016, Shyla was one of the first campers to sign up on November 15th, the day early registration opens.
"Camp is a great place to go," says the grade five student. "You'll feel like you're at home, except with a bunch of new people, and you'll love it there. And you'll get closer to God. It's really fun."
Shyla spent a week in the Pathway program last summer, for kids age six to 12. Last year, InterVarsity camps welcomed over 5,600 campers in that age range, which accounted for 60% of our campers.
In Shyla's words, a typical day involved "waking up in the morning around eight, then getting dressed. Then we have breakfast in the main room and go back to clean up our cabins. We have lunch and after lunch we do devotions, where we learn about God, and then we have activities before dinner. The activities are horse-back riding, swimming, rock-climbing and nature walks…oh and archery, too.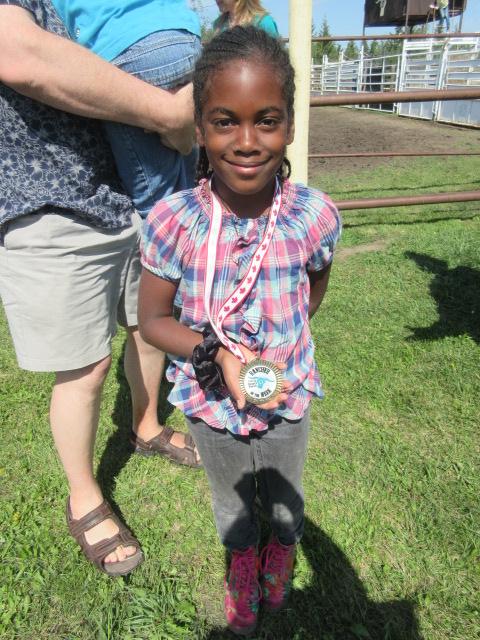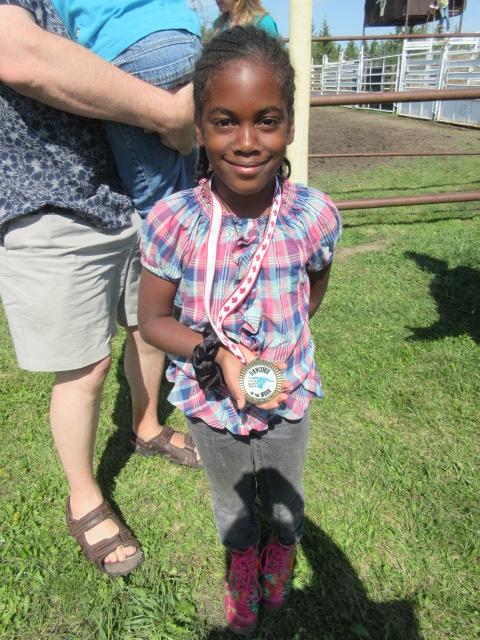 In addition to becoming a proficient horse rider, Shyla has
also been a model camper, winning
the 'Camper of the Week' award in 2016.
"My favourite thing about camp was the horses," she says. "All of the ones I rode behaved, and I got to ride one of the biggest horses in the whole entire ranch."
That horse was Tucker, a tall, tan-coloured horse that Shyla says "likes to bring his head down a lot because he loves eating grass. But all you have to do is pull on the reigns and he'll put his head back up."
Shyla was well-prepared to handle a big horse like Tucker because, at camp, kids with little experience around horses learn the basics first. Then, each summer they return, they build on those skills. Last summer was Shyla's fifth time at camp, and she knew her stuff.
"When you go up hills, you lean forward, and when you go downhill, you lean backwards so it's easier for the horse to go down."
During the program, Shyla also learned "how God loves us very much and how he never gives up on us." She thought about "how he cares about me a lot and how I don't have to be afraid of anything."
And while riding Tucker through the mountains of Alberta, "in grassy areas and in rocky areas, close to a lake where we'd go canoeing, and up and down hills," Shyla wasn't afraid.
"I even got to gallop!" she says. "And once we got to trot."
Early registration for summer camp 2019 opens November 14th. Have you marked your Annual Report Calendar? It'll be a week your child never forgets.
NOVEMBER Wallpaper Downloads
MOBILE DIRECTIONS: To use this as your cell phone lock screen or wallpaper, click on the appropriate size link below, and add to your "Downloads" folder. Select the image as your lock screen or home screen wallpaper in your phone's settings.
MOBILE (iPHONE 6 | 1080 x 1920)
MOBILE (iPHONE 5 | 640 x 1136)
DESKTOP DIRECTIONS: To use this as your computer desktop wallpaper, click on the appropriate size link below and save the file to your computer. Select the image as your display wallpaper in your computer's settings/control panel.
DESKTOP (MEDIUM | 1920 x 1080)
Related posts