What Happens When You Say Yes to God's Invitation
The Stories
Overview
Downloads
January
February
March
April
May
June
July
August
September
October
November
December
What Happens When You Say Yes to God's Invitation
"I grew up in a Christian home. I had Christian friends, and I was always in the youth group. It was a huge part of my culture. But I didn't take it too, too seriously. On campus, it was a 'I'm here just because I need to be here instead of because I want to be here' kind of thing. But Urbana was that step where I decided to fully devote my life to God, follow him and take my faith seriously."
Nope, Not Interested
Patrick Palmer first heard about Urbana15 during his third year at the University of New Brunswick, Fredericton, where he was part of InterVarsity's campus group. Urbana is a week-long triennial missions conference in St. Louis, hosted by InterVarsity USA, InterVarsity Canada and Groupes Bibliques Universitaires et Collegiaux in Canada.
"Both my InterVarsity staff workers mentioned Urbana15, and at the time I was like, 'nope, that's not for me,' because I was kind of scared about the finances. I just figured I wouldn't be able to afford it. But God was putting it on my heart, and then in November, I decided to go."
Patrick didn't have many expectations when he got to Urbana15, but through the course of the conference, he says, "I was surprised by the direction God put on my heart."
Being There to Receive the Invitation
Patrick was one of over 1,300 Canadian students in attendance. And during the week, he felt God inviting him to go on a Global Partnership, a short-term mission trip where Canadian students serve their peers in other countries.
"I committed to going on a Global Partnership at Urbana, but it was kind of like, 'I'll do this later on, when I don't have to worry about school or anything.' And as part of my Information Systems program, there's a co-op element, so I expected to work during the next summer with a software company. Obviously, God had different plans."
A Door Opens
At a campus retreat the following semester, Patrick heard about an upcoming Global Partnership and felt strongly that he had to go.
"We studied Matthew [at the retreat], and the point that got me was how you have to have courage to jump out of your boat and put your faith in God. I was like, 'oh shoot, God. No! I had it all planned out!' So it wasn't what I had planned, but I knew I had to go," he says. "I still get little shivers when I think about it."
Patrick and a small group of students spent two and a half weeks overseas. He visited refugee camps and heard incredible stories of perseverance through persecution and miraculous provision from God.
"The amount of hospitality and love we received there was outstanding. I learned a lot about how to host people. And being able to hear their experiences and pray for them was really moving."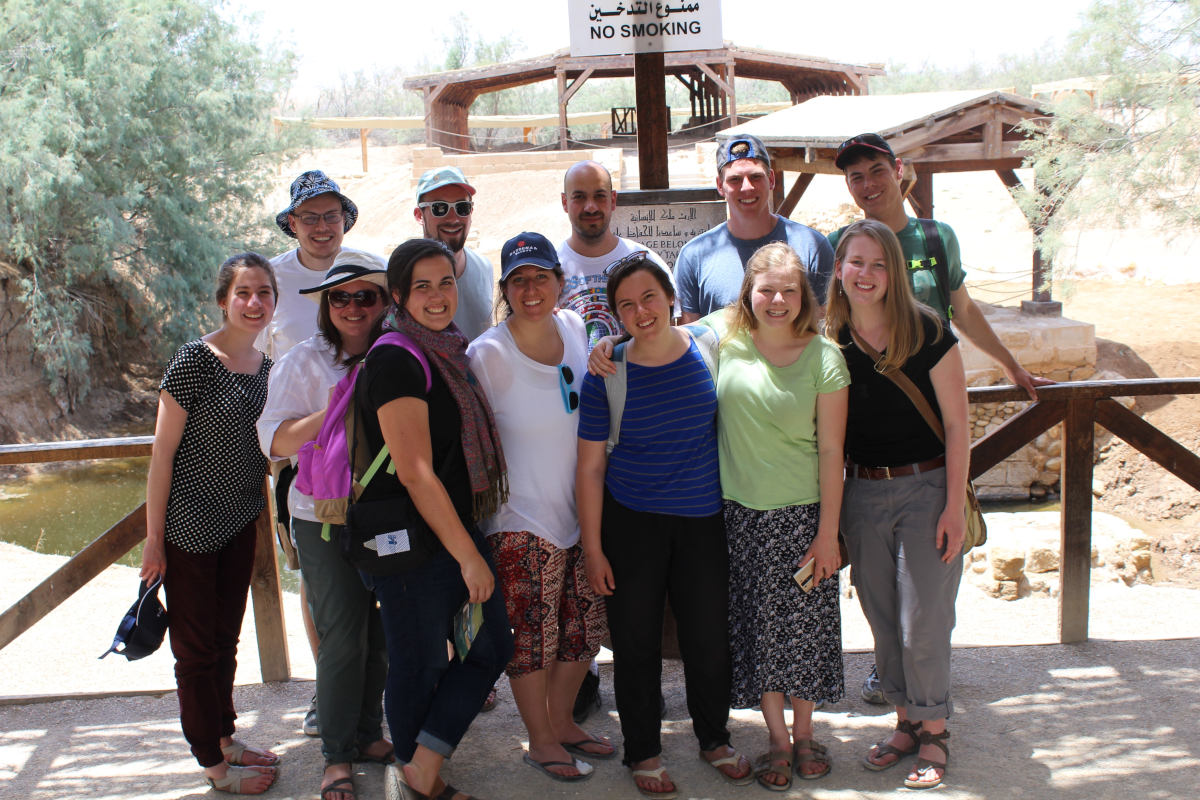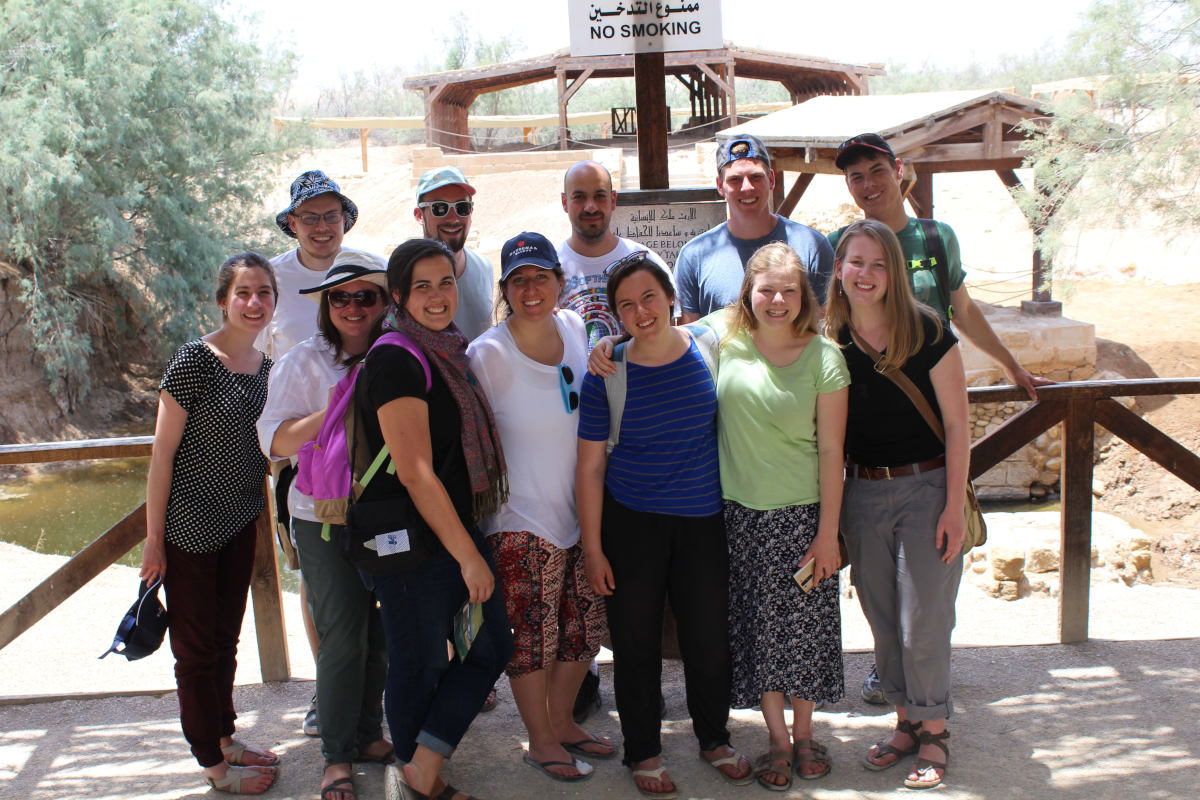 Patrick (back row, left) and other students and student leaders from the University of New Brunswick were inspired to reimagine how they approached life on campus while visiting cultural sites.
A Change Occurs
Because of his experience on this Global Partnership, Patrick brought a fresh perspective back with him to New Brunswick.
"I'm definitely more empathetic, more understanding of different people's cultures. Going into that new environment and being the new person who doesn't understand the language or culture really put things in perspective—I need to be someone who welcomes international students when they come to Canada. I've definitely developed an interest in that."
The Path is Revealed
As God has guided Patrick through Urbana, short-term missions and campus leadership, his plan for Patrick's life gradually became clearer.
"I've considered going back [overseas] full-time. The trip has definitely opened the door to possibly becoming a missionary for me. I definitely didn't consider that beforehand! But we'll see."
Patrick is currently serving at the University of Winnipeg for a nine-month campus internship with InterVarsity. He is working each day to introduce students to the Gospel, lead Bible studies and help students develop their faith. If you'd like to donate to Patrick's work in Winnipeg, you can do so here.
And this month, thousands more will gather in St. Louis to experience Urbana18 and once again consider God's call on their life. And there's still time to register! If you want to discover what God has in store for your life, visit www.urbana.org/register to sign up for Urbana18.
DECEMBER Wallpaper Downloads
MOBILE DIRECTIONS: To use this as your cell phone lock screen or wallpaper, click on the appropriate size link below, and add to your "Downloads" folder. Select the image as your lock screen or home screen wallpaper in your phone's settings.
MOBILE (iPHONE 6 | 1080 x 1920)
MOBILE (iPHONE 5 | 640 x 1136)
DESKTOP DIRECTIONS: To use this as your computer desktop wallpaper, click on the appropriate size link below and save the file to your computer. Select the image as your display wallpaper in your computer's settings/control panel.
DESKTOP (MEDIUM | 1920 x 1080)